I don't know what's come over me, but I am nesting like tomorrow's my due date.  Every free moment, I'm organizing, sorting, pulling items for donation, cleaning, and decorating.  It's weird.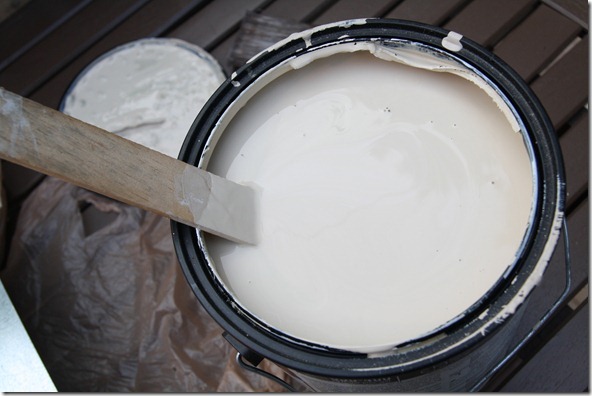 I feel like I've been possessed by a strange combination of Young House Love and Mr. Clean. 
First of all:  I'm really into farm house baskets.  I am slowly but surely amassing a serious collection in every room of my house.  They hold anything from towels to toys, and they do it in a beautiful way. I've been buying mine at Home Goods – which I really need to stay out of for a few weeks.
Also, I finally hung a new light fixture in our master bath.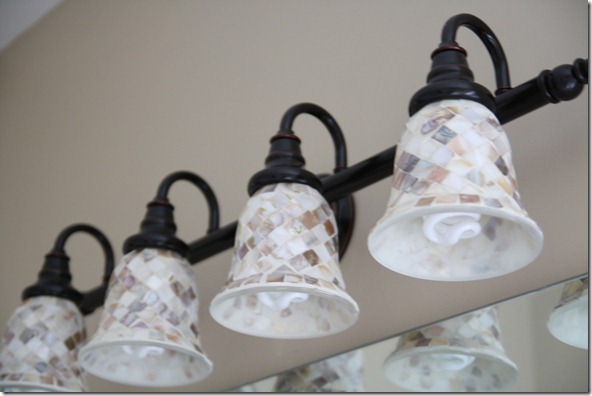 Our bathroom (actually, the entire house) is fabulous 1990s gold.  Everywhere.  Every single doorknob, cabinet pull, hinge, and light fixture is shiny, shiny gold.  Our bathroom was also covered in wall paper when we moved in.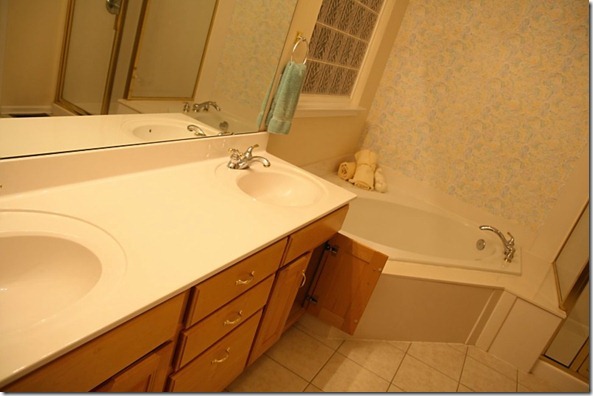 Oh boy.  We pulled that wall paper down so fast that I didn't even remember what it looked like until I found the picture.
Once the new dark fixture was up, those gold handles really started to grate on my eyes. I didn't want to buy new ones because we may eventually replace the entire sink.  So I pulled out the old spray paint and gave everything a nice coating of oil rubbed bronze spray to match the light. 
Before: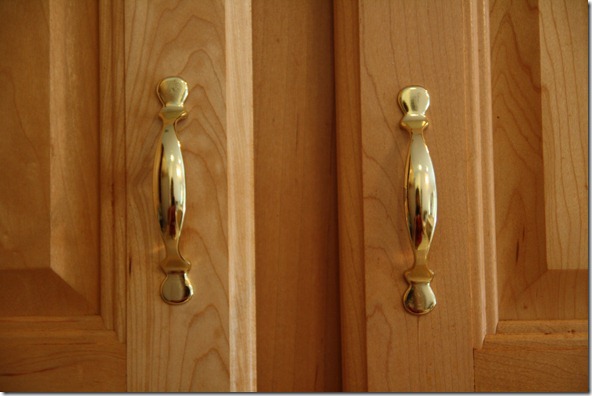 After (wood color didn't change; just took pictures at different times of the day).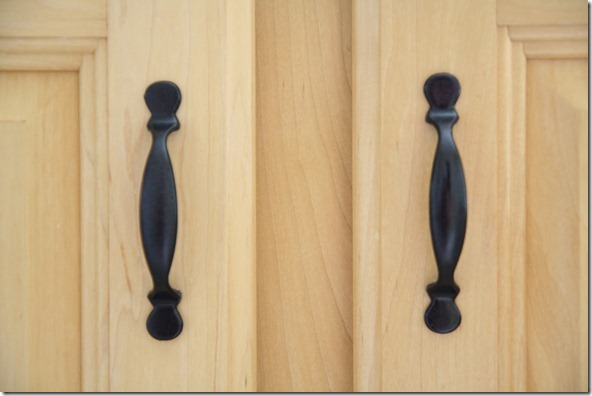 Cool, right?  It was definitely one of those five minute projects that make a big difference.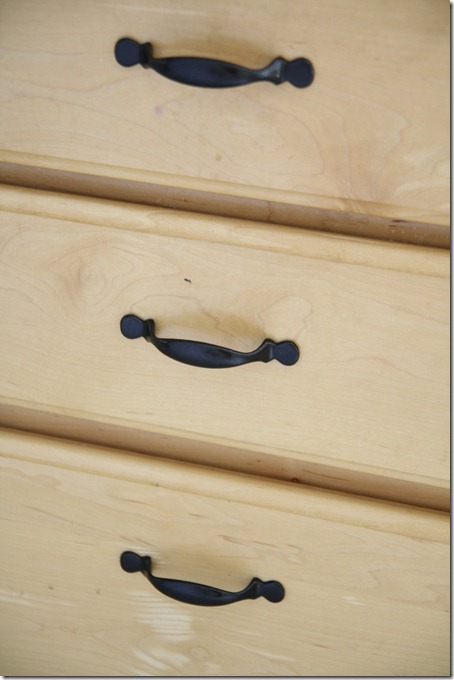 Can you guys help me with the hallway powder room?  It looked like this when we moved in….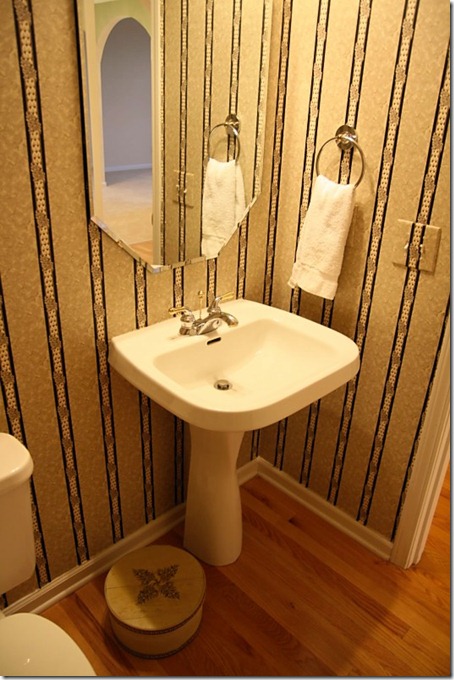 We pulled that wall paper off ASAP, too, and quickly painted it.  I think we were in a rush because Henry was going to be born in just a few weeks.  We picked the paint color too fast, and I totally hate it.  It's too gloomy.  I wanted cheerful blue; this is blah blue.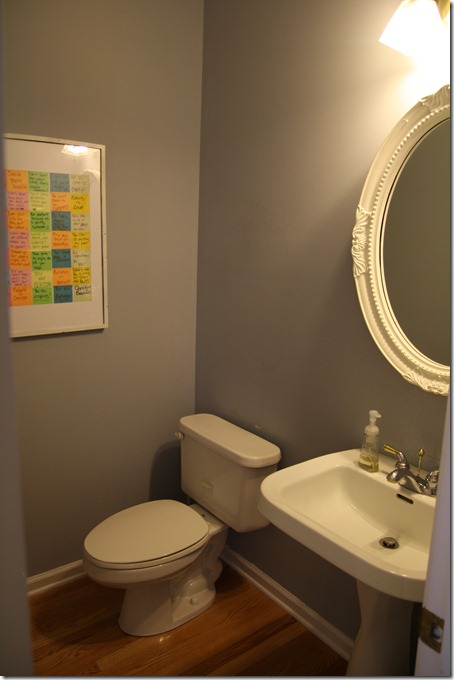 I do like the Operation Beautiful collage (a group of Girls on the Run girls gave it to me).

  But I just threw that up on the wall so it wasn't blank… I'd like to integrate it as part of the rest of the bathroom's decorations, not the only one.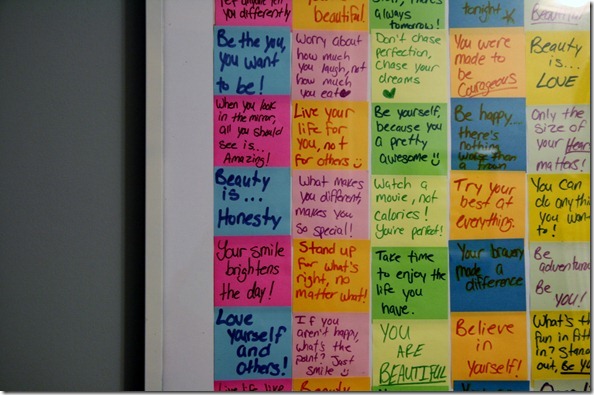 Gotta get rid of that paint, though.  I'm considering these colors (the lighter ones).  Thoughts?  Or any other suggestions?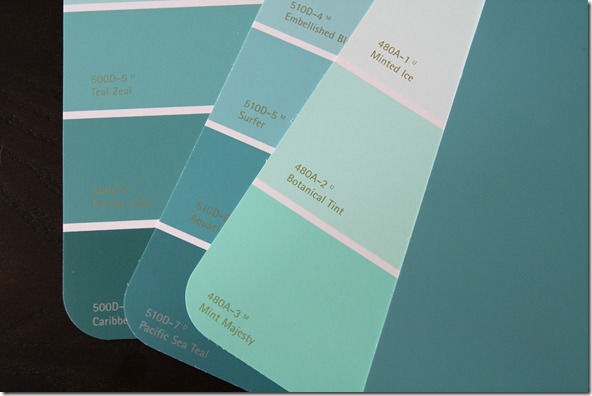 Blues are hard to get right!
Another little life hack: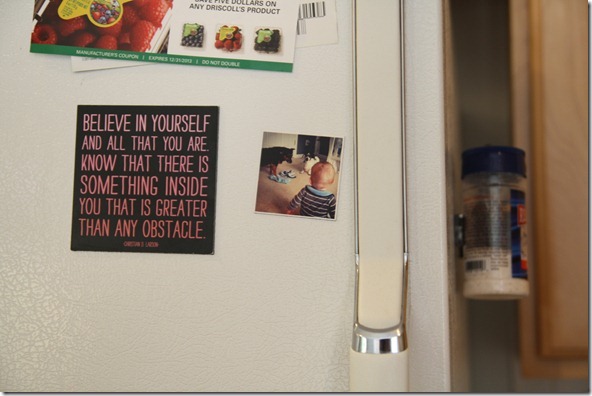 I've glued little magnets to the back of my salt and sweetener. I'm always looking for these items, and they always end up in different cabinets.  Now they get stuck to the side of the fridge!  No more getting misplaced!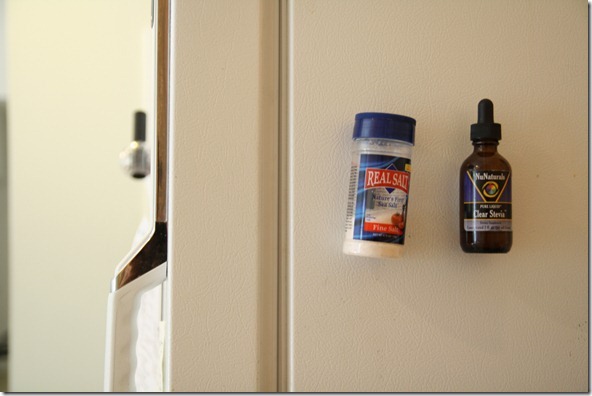 And last, but certainly not least, I've been cutting my own bangs. I'm trying to grow my hair out – I'm so over my short hair. I liked it at first, but I really, really miss my long tresses.  I've been avoiding the hairdresser, but my bangs grow very quickly.  I used to go in for trims every four weeks, but that's impossible with Henry, so now I just cut my own bangs.
I've been using this tutorial by Pretty Classy.  So easy – once you get over the fear of cutting your own hair (hint: be conservative – you can always cut off more!).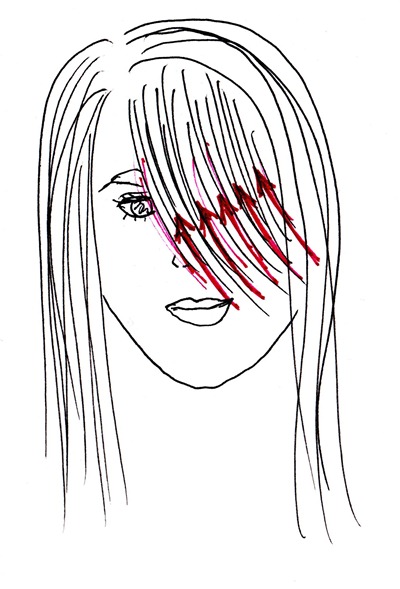 Anyone else on a decorating and organizing spree?