I just… I just don't even know how to start.  But I will say this:  I killed it.  I pulled out a half marathon that I really and truthfully had no idea that I had inside of me.  And it feels amazing.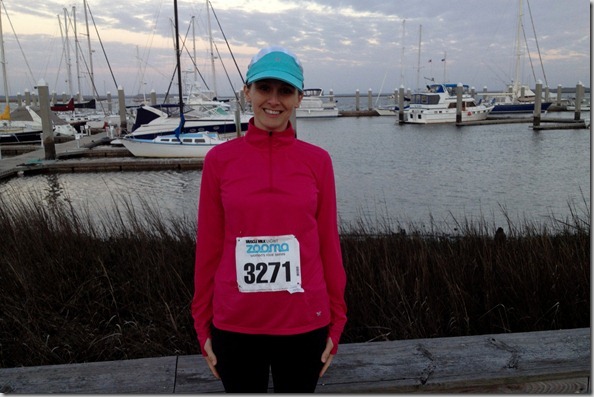 I was so nervous going into this race.  It was my first post-baby half.  I had trained as well as I could, given all the new in's and out's of my life, but I wasn't 100% confident.  I wasn't sure what pace I could achieve.  I didn't even publicly confess a 'time goal' – but I'm sure that you guys know that I totally had a secret time goal.  Hah.  I would've been happen with anything under 2:10:00.
I ran a 2:00:15.  For real!  My second best half marathon EVER.  And seven months after Henry's birth.  My mind is blown.
Okay… let's back up.  This race was a ZOOMA race; I was running as a race ambassador with a bunch of other wonderful bloggers.  When my alarm went off at 6:15 AM, I gave a big sigh of gratitude for a restful night's sleep.  It was so nice that the race started late (at 8 AM).  I got ready, ate a huge peanut butter sandwich, and made my way downstairs to meet up with my other bloggy friends.  We boarded a bus and were transported to the start line.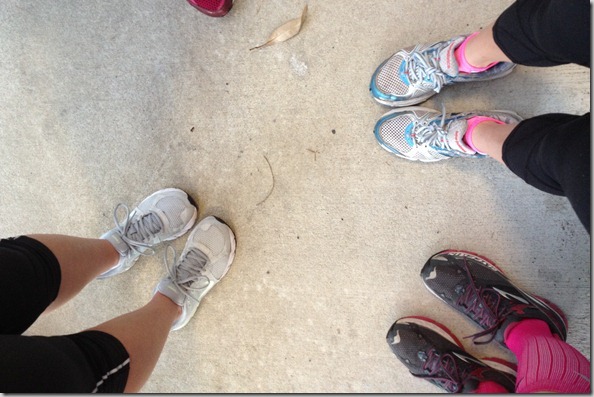 This race was a point-to-point course, which I loved.  My favorite type of race is really an out-and-back because you get to look at other runners as they pass you in the opposite direction, but point-to-point races are pretty cool, too.
Speaking of cool… it was FREEZING.  All the runners huddled up to get away from the chilly wind.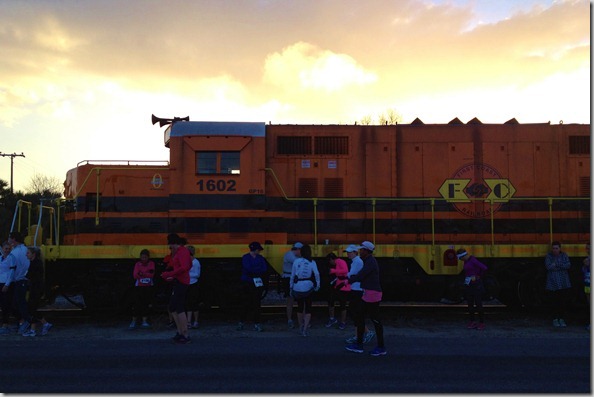 I hung with Julie from Peanut Butter Fingers at the start (she's so fun).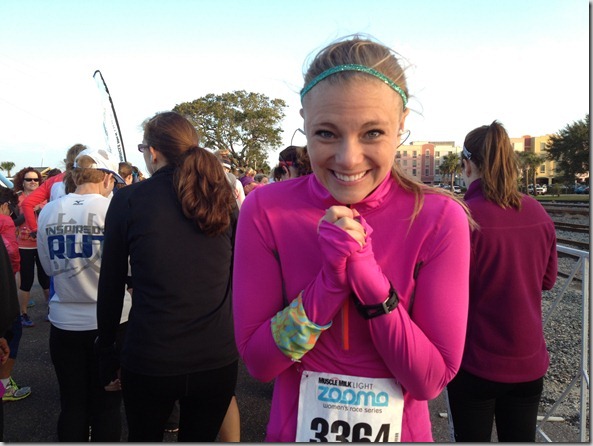 We had a last-minute discussion about fueling techniques and decided that we both start taking in fuel way too late in the race. I spontaneously decided to try a little something different and fuel up much earlier than I would normally would.
And just like that… before I knew it… we were off!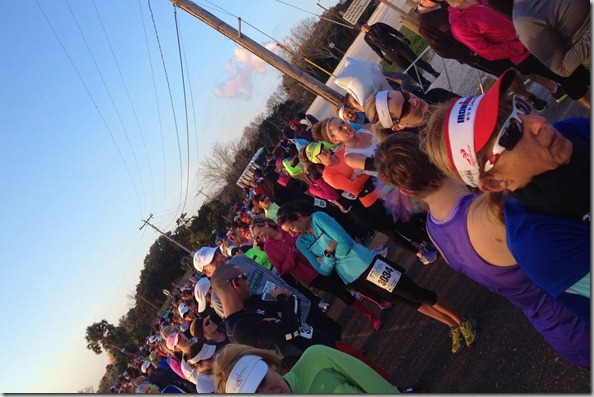 I usually pay attention to my surroundings during events – and this course was truly beautiful – but I got sucked into my thoughts almost immediately.  For some reason, I couldn't stop thinking about Henry's birth.
Even seven months later, I revisit his birth fairly frequently.  Not just because it was incredible to meet my beautiful, wonderful baby boy, but because our birth experience taught me so much about myself.  In all the races that I've done… the marathons, the triathlons… nothing showed me how incredibly strong my body and mind are like childbirth did.  It sounds clichéd – and maybe it is.  But as I ran the first three miles totally wrapped up in the memory of my water breaking, of driving to the hospital, of getting checked into my room, of going through that horrible transition period, and of pushing for three long and painful hours.  I thought about how my midwife kept promising the baby was 'almost here,' and I'd look at the clock and half an hour would pass without progress.  I thought about how I was in so much pain and so exhausted, but how amazing it felt when he was placed on my chest.   And more than anything, I thought about his little mewing cry and his sweet little face.  How the best things can come out of the most painful of experiences.
The first part of the course flew by – a blur of memories.  I forgot I was running at all until I tackled a bridge.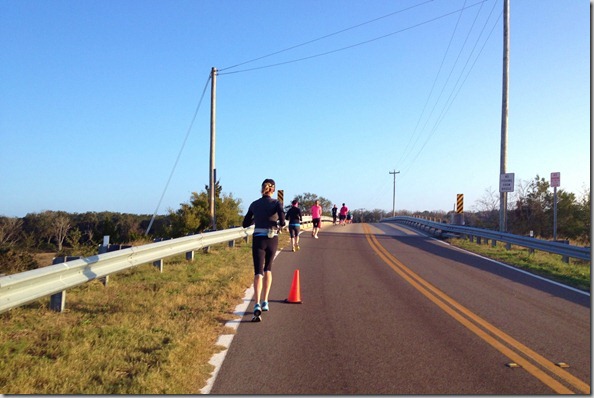 I had intended to run the race watch-less because I had generally trained without a watch, but at the last moment, I panicked about 'flying blind.'  I ended up downloading the RunKeeper app on my iPhone, which has a GPS device in it and automatically gave me updates over my music.  When the app announced that I had just run a 28 minute 5K, I suddenly thought: I can do this.  I can run a sub-2:00 half.  I just have to believe that I can.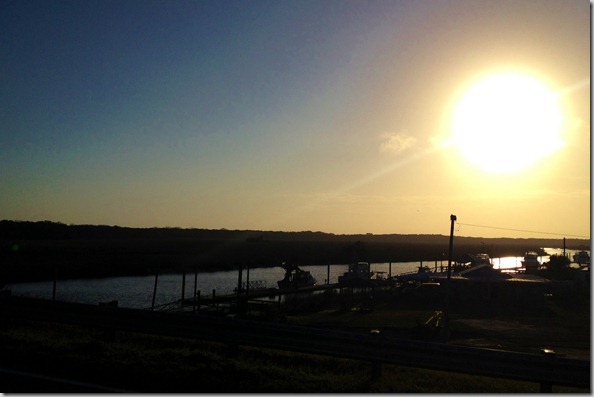 The course took us through Florida coastal plains and into a state park.  With my new goal in mind, I picked up the pace.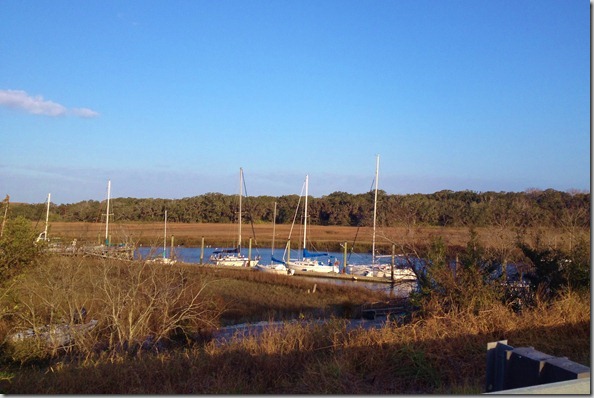 I also started to fuel.  In my past halves, I haven't eaten until Mile 7 or so.  But today, I ended up taking Gu at Mile 2, 6, and 9.  I also drank some CytoMax (like Gatorade) and a lot of water.  ZOOMA had an amazing amount of aid stations; it was one of the best staffed races that I've ever done.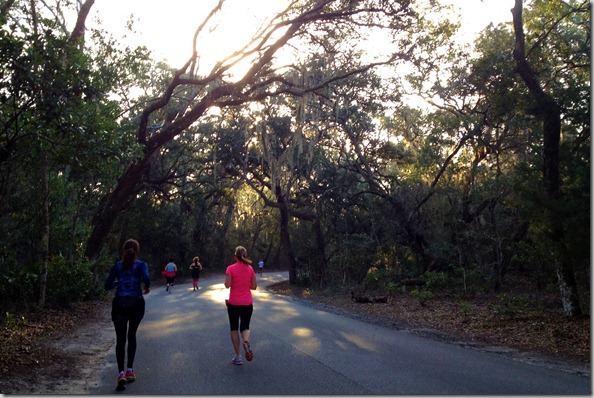 Most of the race was long back roads of the state park – there was a beautiful canopy overhead.  It was flat as a pancake from that point forward, and the trees sheltered the runners from the wind.  It was about 55 degrees – perfect weather. 
The miles ticked by, and RunKeeper kept announcing my average pace – "You're running an average pace of 9:28… You're running an average pace of 9:15…. You're running an average pace of 8:58."  It kept dropping and dropping – a perfect negative split.  I was getting faster and faster, not slower, and I still felt fabulous.
Around Mile 7, my hip started to ache – remember how it flared up on Thursday?  It wasn't a big deal, but I did stop to stretch it out.  Doubt crept into my mind but I quickly pushed it away.  I stayed so positive the entire race.  I thought again of Henry's birth and reminded myself… If I can do that, I can do a half marathon.
The last five miles or so were on A1A – the highway along the ocean.  By this point, the crowd of runners had thinned considerably (there were only 400 people doing the half).  I had forty feet of breathing room ahead and behind me.  I loved it. 
The last three miles hurt.  My body protested as I pushed myself to maintain sub-9:00 miles.  I started to do math in my head – "If I run the next three miles in 27 minutes, I may break my personal record of 1:58."  I would recalculate every mile marker.  I knew it was going to be tight.
Around Mile 12, I remembered my foe:  the sand finish.  I had been told that the last 0.3 miles were in the sand.  I started to run as fast as I could, as I knew I would slow significantly when I hit the beach.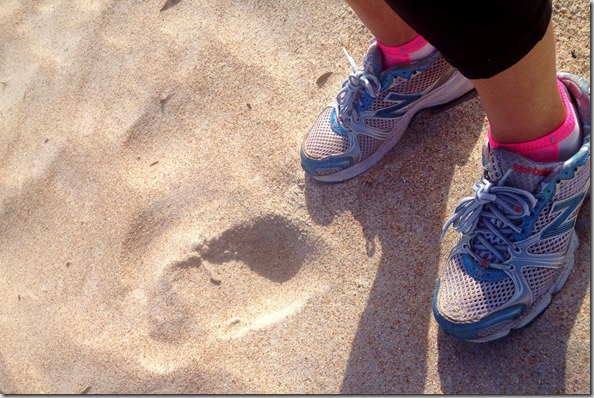 I am SO glad that I knew about the sand.  I don't think I would've handled it well otherwise – I was already fighting back tears because I wanted so badly to hang onto my pace, my lungs felt like they were about to burst, and my legs were screaming.
The sand lasted forever.  It went on and on (0.3 miles is a long way in mushy sand).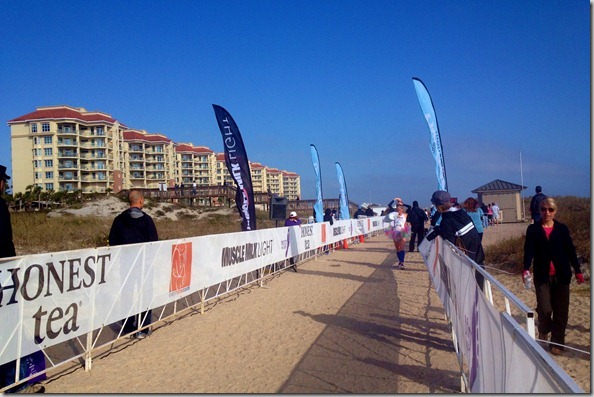 When I crossed the finish line in 2:00:15, I was thrilled.  If it hadn't been for that sand finish, I would've definitely ran a sub-2:00, and I may have even set a personal record.  But I am not disappointed at all by those 15 seconds.  It was my second best half time by a few minutes, and it's definitely not a time that I expected to run today.
I stumbled about the finisher's corral for a bit, and then I wiped tears from my eyes. It feels like I have come full circle after pregnancy, childbirth, and the first few exhausting newborn months.  My life has been forever altered by Henry, and although my primary role these days is as my sweet baby's mom, it felt so good to do something that was very the 'old me.'  Kids change a lot about life, but I'm still Caitlin – you know?  I shouldn't doubt myself so much.
Things that made a different for this race:
Hill Work:  The neighborhood I live in is super hilly – I basically do hillwork for every run.  The race was completely flat, making what is normally a fast pace seem much easier.
Fueling:  Fueling earlier and more often during the race made a huge different.  Lesson learned – do not wait until your hungry.  It's too late at that point! 
Stroller Jogging:  Henry and I have begun to run together using a jogging stroller. I owe you a post about this, but I'll say this for now – doing hillwork with forty pounds of baby + stroller makes for one strong momma.  We've done a lot of five and six milers together, and it is exhausting!  (I want to add that this is with pediatrician's approval – head control is a concern, but Henry is so far along with his motor skills that his doctor assured me it was completely safe to run on smooth roads together – please check with your doctor before running with bebe!).
Attitude:  I created so much resolve and determination from ruminating on my past experiences during this race.  Like so many things in life, if you can dream it, you can do it. 
On that note…. Post-race PARTY.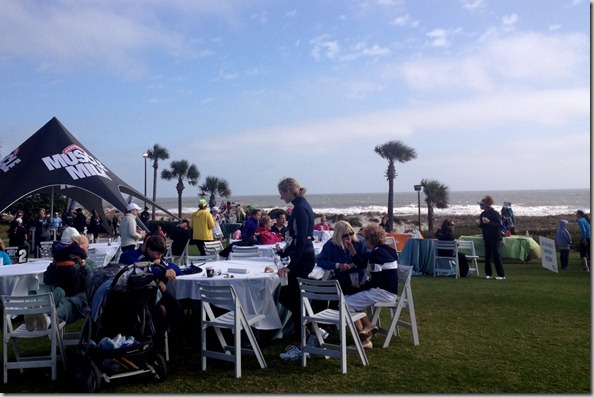 And a celebratory glass or two of bubbly champagne!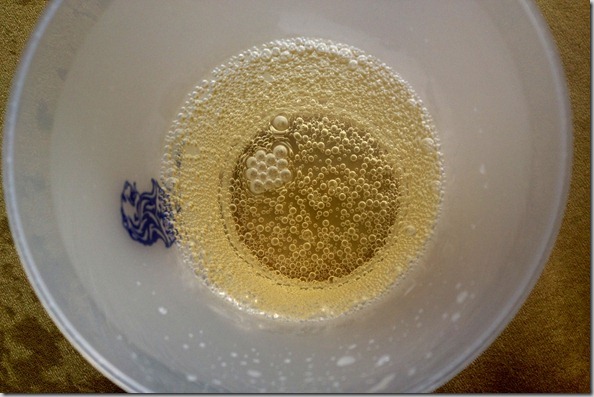 … That almost landed me on my ass.  See?  Some things never change. 

There was live music, free massages, complimentary yoga, food and drinks, and more.  ZOOMA definitely knows how to put on a great show.  It was a blessing to experience this race.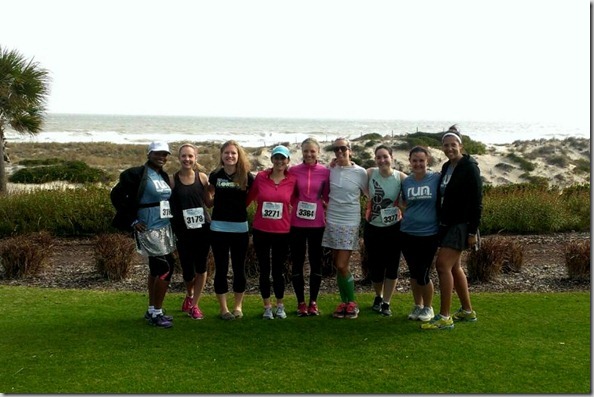 How do I feel?  Pretty awesome.  It will take a while for the shine of this event to wear off. 
My poor aching legs… now, that's another story entirely.  Whew!