When I was pregnant, I really did not think I would buy a jogging stroller.  I didn't check 'em out at the store; I didn't compare pricing; I didn't talk to my running mom friends for feedback.  The idea of a jogging stroller was not very appealing to me because running has always been me time.  I thought, "How can I have my alone time if baby is with me? I don't want to worry about pushing a stroller – I just want to RUN!"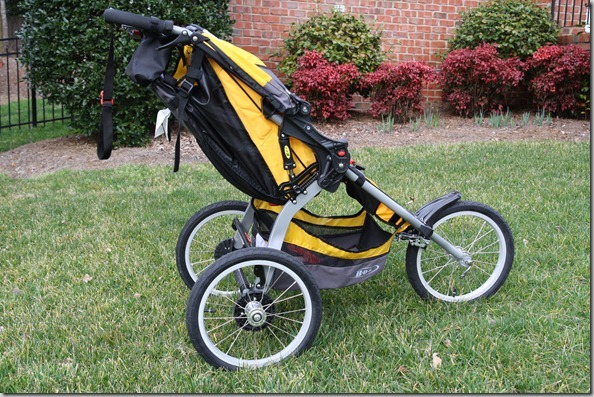 Side note: Since I've been talking up our horrible front lawn a lot lately, I want to assure you that is not our yard.  That yard is beautiful.  And green.  Thus, not my yard.
Anyway, so I thought I didn't want a running jogging, and then Henry arrived.  I promptly realized that it is very, very difficult to find exercise 'me time' four times a week and find that time during daylight hours.  So I decided to get a running stroller.
Actually, DadHTP offered to buy me a stroller for my Christmas present.  This was very nice and extremely generous.  I buy many baby things used; it was so exciting to get open a brand new stroller box.  After much debate, I decided on the BOB Ironman stroller, which is designed for long-distance running on streets and sidewalks (FYI – I linked to the BOB website, but all BOB strollers are much cheaper on Amazon.com!).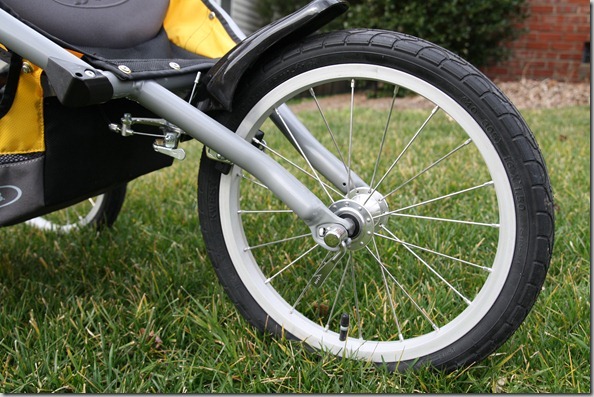 Let me start off by saying there are 'jogging strollers' and running strollers.  My City Mini (our beloved everyday stroller) is made by Baby Jogger but it is not a running stroller.  Additionally, there are lots of three-wheeled strollers that are not running strollers.  The main difference is that true running strollers have a hydraulic system so that when you hit a bump, baby is not thrown wildly about.
There are running strollers for trails and running strollers for streets, but one of the biggest dividers is the front wheel –  is it fixed or not?  The BOB Ironman has a fixed wheel; the BOB Revolution, for example, does not.  What does this mean?   Basically, a fixed wheel makes the stroller more stable – it can't hit a pot hole and veer to the side suddenly.  A fixed wheel also makes the stroller much more difficult to turn.  Running strollers without a front fixed wheels drive like a regular stroller – you can turn in tight spaces and turn quickly.   
Lots of people warned me not to go with the Ironman because of the fixed wheel.  However, I thought long and hard about it and decided that the fixed wheel was the way to go for me.  I am SO glad that I got a fixed wheel running stroller.  Yes – it is much harder to turn.  To turn, you have to either smack the side of the handlebar or lift the entire stroller by slightly tipping it back.  Turning with a fixed wheel is a skill that takes time to develop, but now, I don't even think about it.  I really value the Ironman's stability.  I love just being able to push the handlebar and know that the stroller isn't going anywhere but straight.  Although turning requires extra effort, I think the fixed wheel makes the overall run a lot easier.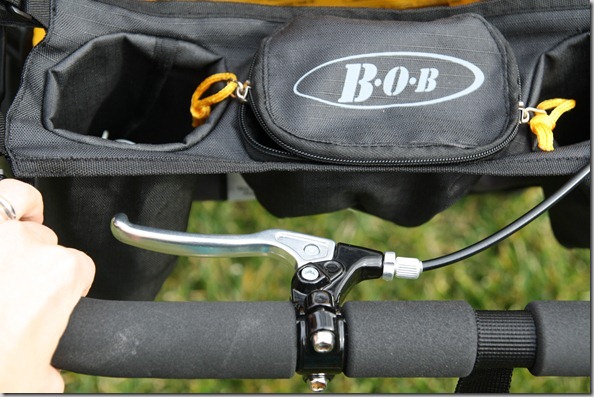 Speaking of the handlebar, the Ironman has two additional features that I love:  first, there is a hand break, which is very useful for running down hills.
There is also a hand strap.  This prevents the stroller from accidentally getting away from you.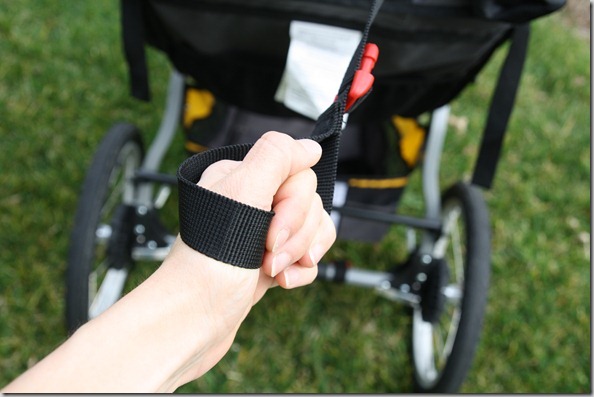 Another great thing about the Ironman:  STORAGE!  There is a basket underneath the stroller that easily holds my jacket and more; there is also a mesh pouch on the back of the stroller that can hold a water bottle.  Kristien gave me an additional water bottle attachment (you can see it in the hand break photo) that holds two large water bottles and has a zippered pouch for keys. 
Other odds and ends:  The stroller collapses really easily – you grab two special bars and press down, and then you flip it shut using a pull on the seat.  It is not very compact when folded, but considering the size of the wheels, that's expected.   The Ironman comes in two colors – yellow and blue – but I opted for yellow because I wanted to be as visible as possible to motorists.   Henry seems really comfy in the seat, too.  He generally hates being strapped into seats but doesn't seem to mind the Ironman as much. 
My one and only complaint about the Ironman is the sun shade.  While I like the two large plastic windows (so you can peek at baby), the shade doesn't come down far enough so Henry often gets blasted in the face by the sun.  Other Amazon.com reviewers say the same thing; it's definitely a fault in the stroller's design.  However, I also have the additional rain cover attachment (which I keep in the bottom basket just in case it starts to drizzle); this provides a little extra shade.
So – what's it like to run with a stroller?
Well, for one, it's really hard.  The stroller weighs 23 pounds, and Henry was 16.5 pounds when I began to run with him.  Pushing almost 40 pounds up Charlotte's hills makes 3 miles feel like 6.  My arms are often sore after running with Henry.  The longest we've run together is 6 miles; once I did a 6 miler, dropped him off with Kristien, and did another 2 for a total of 8.  I thought I was going to pass out by the end!  That being said, training for my half marathon with the stroller was GENIUS because I ended up being much stronger and faster on race day than I felt throughout training.
Secondly, from an emotional standpoint, I love running with Henry.  When I was pregnant, I just didn't understand that I would almost always want to be with Henry… even when I'm running!  It is so fun to take Henry out in the stroller and do our miles together.  He has started babbling more and more, and I like to listen to him talk while I run.  I just can't wait until Henry knows how to say things like, "Faster, momma! Faster!" when I push him up a hill. <3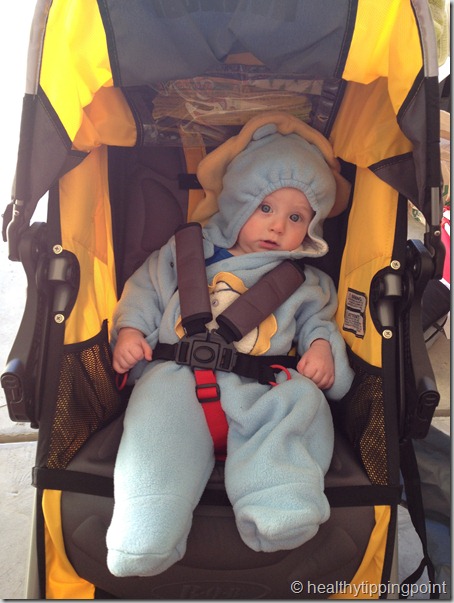 I know I'm super biased, but how cute is Henry?! Soooo cute.
I often say that I would go crazy without my running stroller.  It's true.  The Ironman is the best gift that I ever received; I use it all the time, it gives me so much flexibility in my schedule, and it allows me to continue my passion for fitness even though I'm a mom. 
Do you have a running stroller?  What do you love and dislike about your stroller?