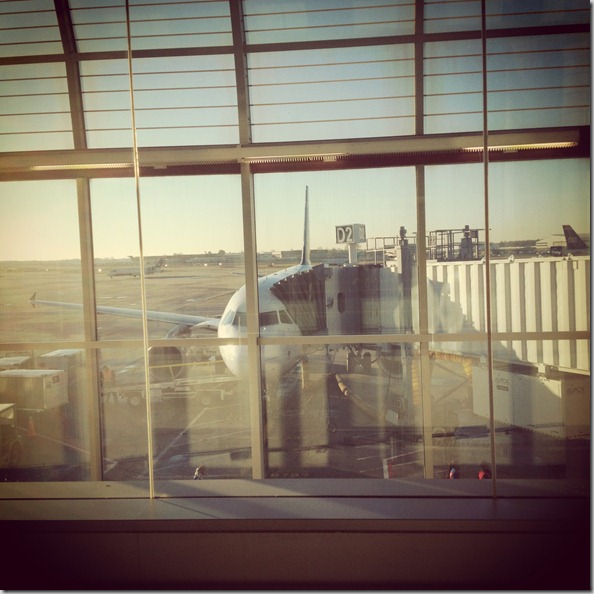 When my alarm went off at 5:45 AM, I was a little grumpy.  I jumped in the shower, dried off, and pumped.  When your baby is exclusively breastfed and you travel a lot for work, it's a little stressful to count the frozen bags of milk in the freezer and realize that, give or take a bottle or two, he's got just enough to make it through your trip.  Every ounce counts, right?
I was disassembling my pump when I knocked over the pumped bottles and spilled over 10 ounces of milk all over floor (that is a lot of milk).  Not only did I spill it, but I dumped it all over the outfit I was planning on wearing to the airport.  Whoever said, "There's no use crying over spilled milk," was not a pumping momma.  I let a loud four letter word escape my lips and then took a deep breath.  I reminded myself that Henry has enough milk; those bottles were just extra. 
A quick glance at my phone told me that I was getting late.  I started flipping through my closet like a mad woman, trying to find something that was clean and matched.  I was getting all worked up over being late.  Again – I took a deep breath and thought, "Maybe I spilled that milk because  I would've been in a horrific car accident on the way to the airport if I had left on time."  Everything happens for a reason.  I suddenly felt a lot better.
I made it to the airport – safely – and got to my gate.  When I walked up, they announced a mechanical error and said the flight was delayed an hour and ten minutes.  I thought, "Uggggh, great. I woke up early for nothing."  I was pissed.  I was doubly pissed because I had a layover; I'd still make my connection, but I really hate layovers.  I had only booked a connection because a direct flight was an extra $200 more.  The delay was the icing on the cake.  I sent a whiny text to Kristien.  Then I took a deep breath and decided it didn't really matter that my flight was late.
Over the loudspeaker, I heard an announcement – "Caitlin Boyle, can you please come to the podium?"  I walked up, nervous that I was about to get screwed, and I'd miss the presentation that I'm giving at the ZOOMA expo tonight.  The US Airways rep said, "Hey, I thought I'd move you to a direct flight so you don't have to worry about making your connection."  I was so happy and thanked him profusely.  He clicked around on the computer for a bit and said, "Wow, your connection home tomorrow totally blows. Do you want me to move you to a direct flight for tomorrow, too?  I'll do it free of charge." I couldn't believe it!  He was so proactively nice to me.  It completely made my morning.  You can bet that I'll be writing US Airways an e-mail telling them all about the wonderful Christopher Gossner.  Flying is usually such a headache, but the experience made my morning.
I guess this is my way of saying… Positivity pays off.  If your day seems to be going horribly, it can really all turn around on a dime.  That's the nice thing about life, huh?  Even when you've got pumped milk all over your shoes, great things can happen.