I really loved putting together the Sweet Santa Photo Contest post.  Now more than ever, I so appreciated seeing all the sweet babes with their wonderful holiday smiles.  That being said… there is something really, really funny about Scary Santa photos.  I'm sure Scary Santa pics aren't everyone's cup of tea, but it's kind of a childhood right of passage, isn't it?  Trust me – I have my own Scary Santa pictures, and the 1985-version of me looks pretty damn funny as I scream in (poor, poor) Santa's face.
I'm not sure why wee ones are so freaked out by Santa – maybe it's the beard, maybe it's the red suit, maybe it's just the pressure of being 'on' in front of the camera.  But man, oh man – does Santa elicit some major freak outs.  Of course, Henry experienced his first Scary Santa moment last week.  I'm hoping next year is sweeter – when do kids figure out that Santa brings presents?  I bet that will turn his frown around!
The Scary Santa photos were judged based on the following categories:  the overall creepiness of Santa; Santa's own freaked out expression; and the oh-so-dramatic expression on the kiddo's face.
First up… The Scary Honorable Mentions
Jillian wrote,  "At least some of us were having fun…"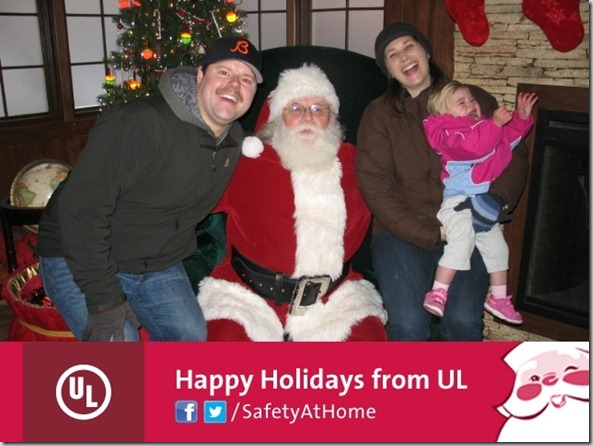 Christina wrote, "This is my daughter Annika when she was 2 years old, last year.  She hated Santa that year!"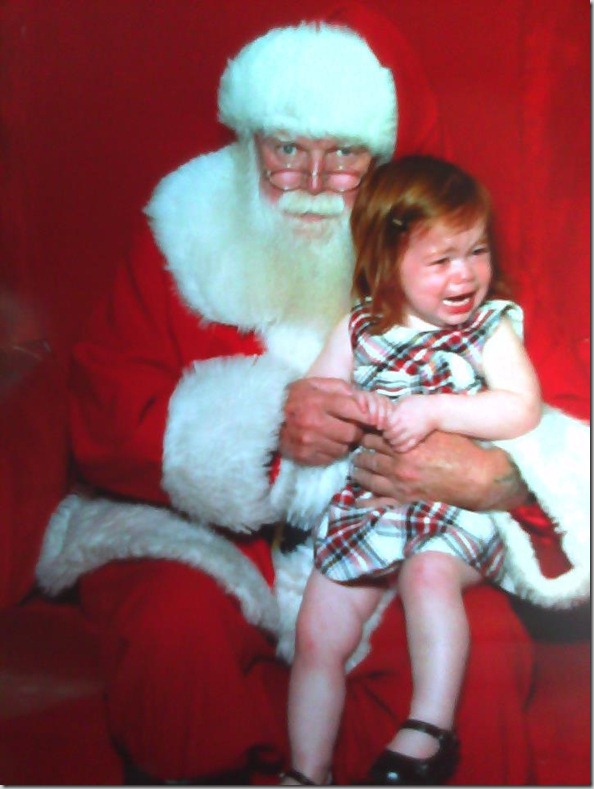 Michaela wrote, "My son James completely flipping his shit. Santa is a scary dude."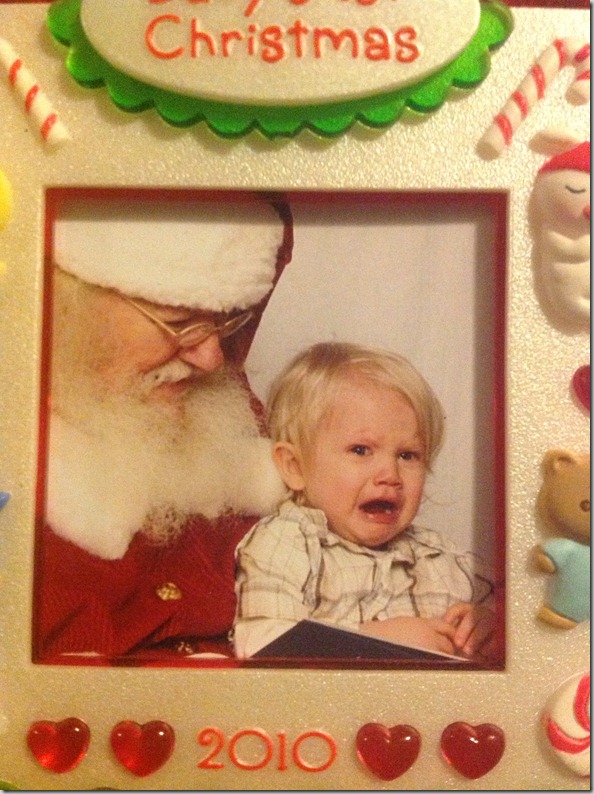 Erica wrote, "Here's my son G, almost 9 months (how did that happen?) with his first visit to Santa today.  He was fine until Santa tickled him to get him to smile!"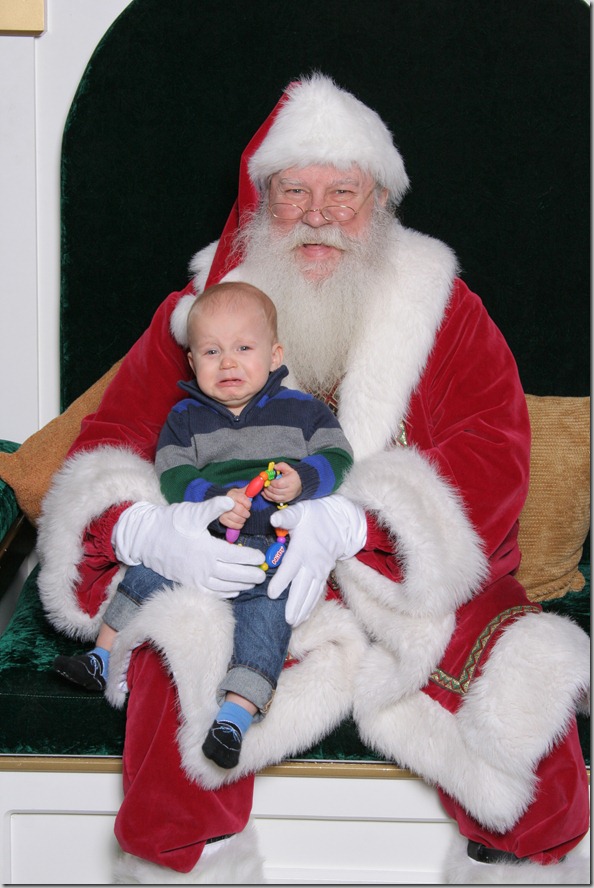 Melissa wrote, "This is Brynn, age 2. She's 9 now and it still makes me laugh!"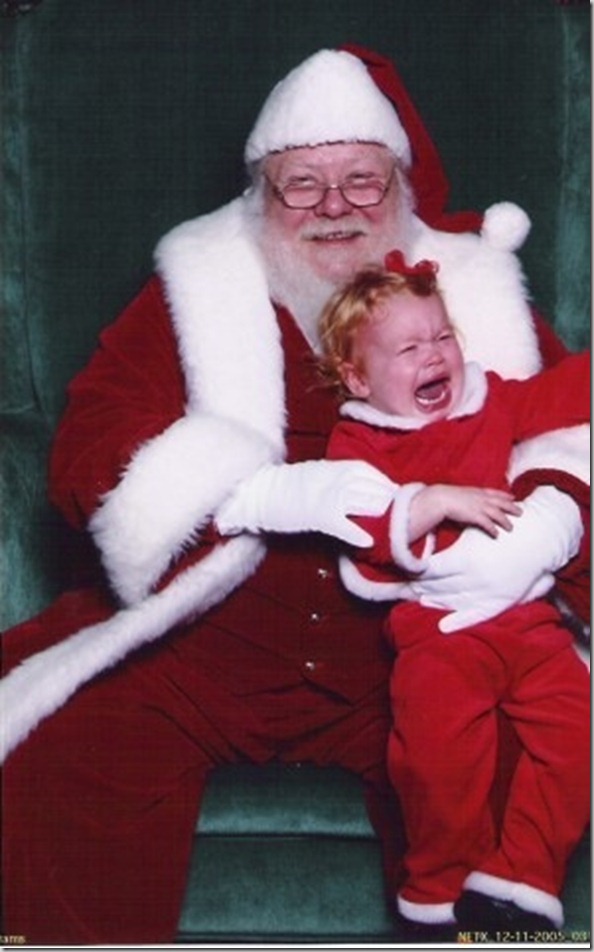 Holly wrote, "Sam is 4 months old in this one and could not get a smile out of him!"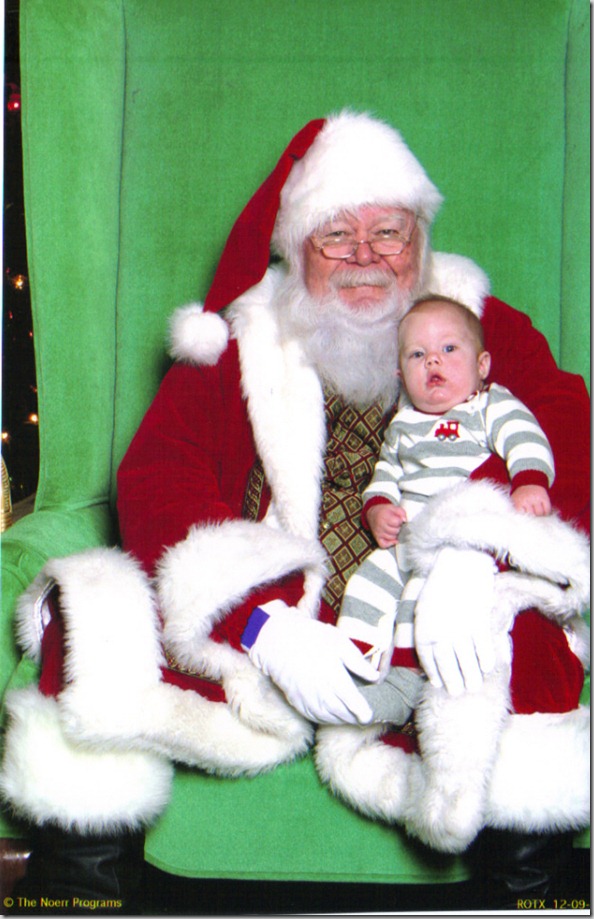 Ali wrote, "To say Addie's first Santa experience was a bust would be the understatement of the year! It was hands down the most terrified she's ever been in her life. I felt bad, but it was also incredibly hilarious."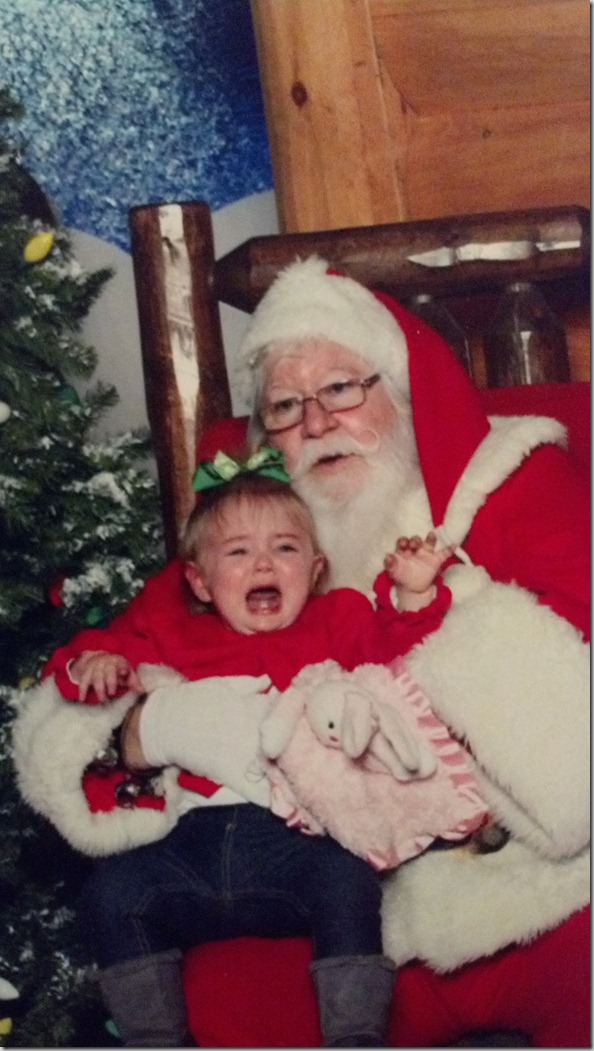 Rachel wrote, "My 1 year old twins were not happy with Santa."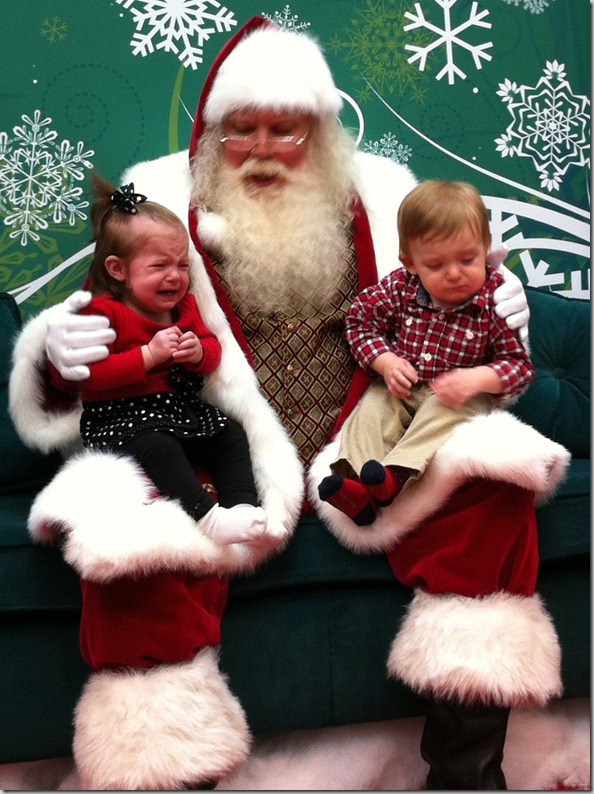 Shannon wrote, "This is a classic!  3 years later she still won't get near any Santa.  Poor Santa-he was really a good sport too!"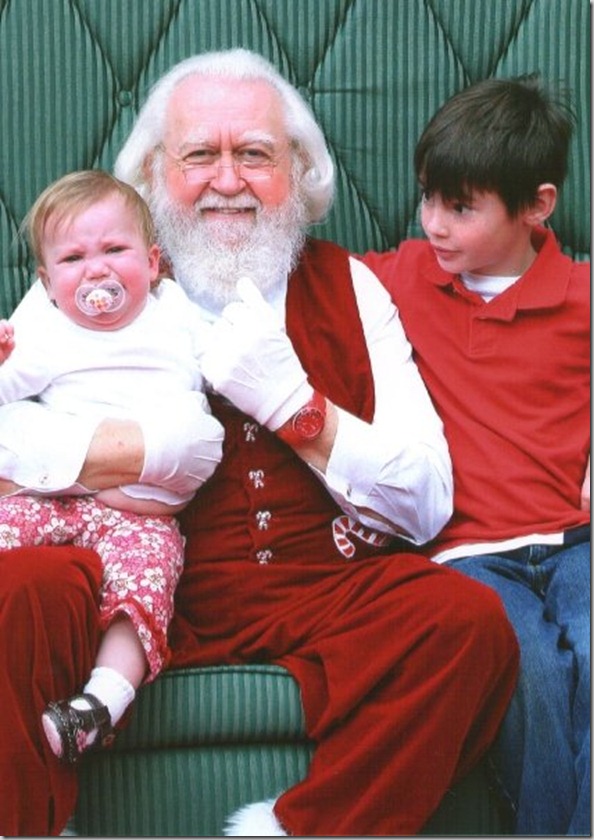 Kelly said, "This was not William's first trip to see Santa (he's 20 months) and it was indeed, still scary.  I had to jump in to hold him there."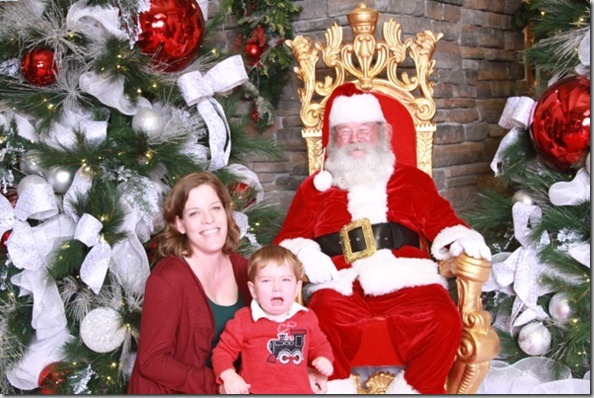 Megan wrote, "My little Isabelle wasn't a fan – but I still love this picture!"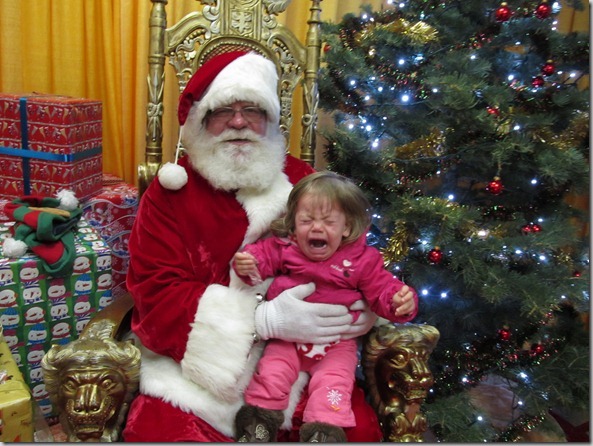 Kimberly said, "She was soooo excited to see him, well, until she actually "saw" him!"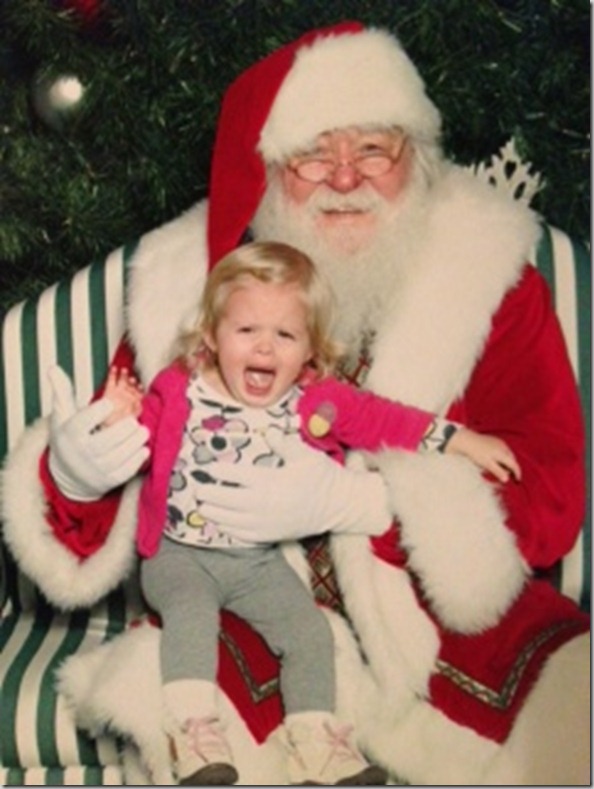 Casey sent in this picture of her daughter Kendall.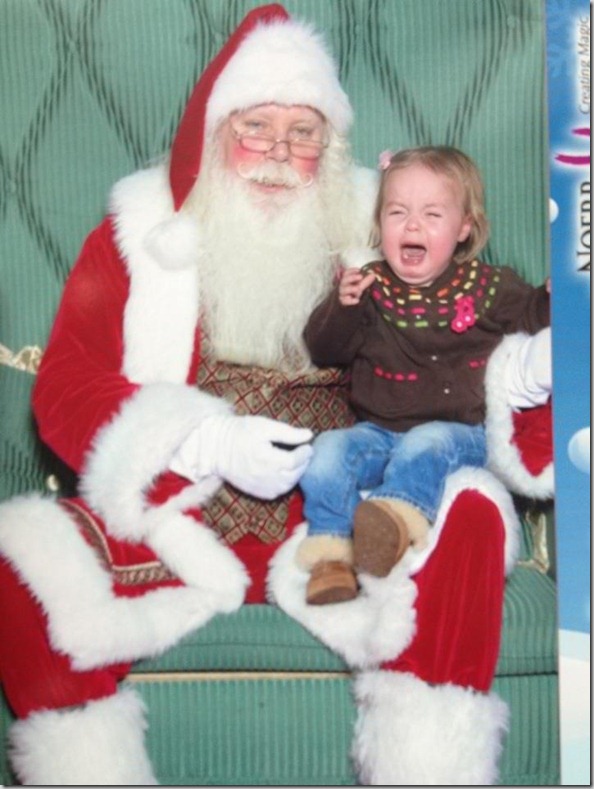 Jessika wrote, "Eli met Santa for the first time last night, and he was not pleased."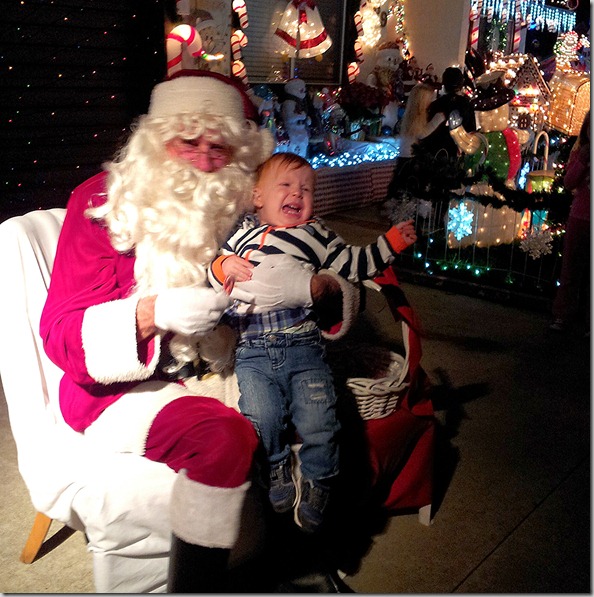 Barb wrote, "Here's a picture from 1971.  I am on the left.  The crying baby is my sister Trish, who is 41 years old now!!!"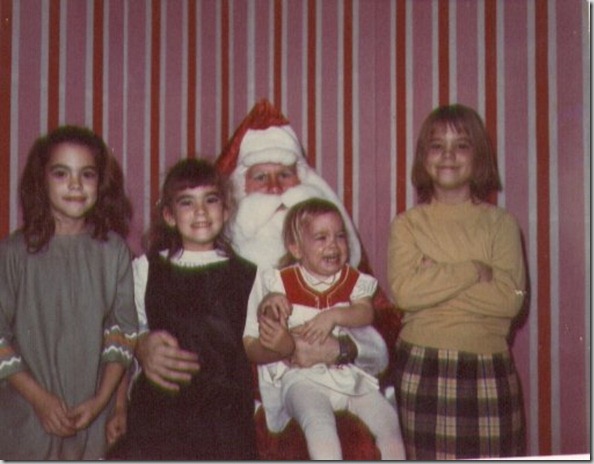 Julie wrote, "These are some of my most favorite pics of my daughter ever!  She's 13 now.  She started off terrified of Santa but generally got better (and more serious) once she realized she needed to communicate to Santa what gifts she wanted him to bring."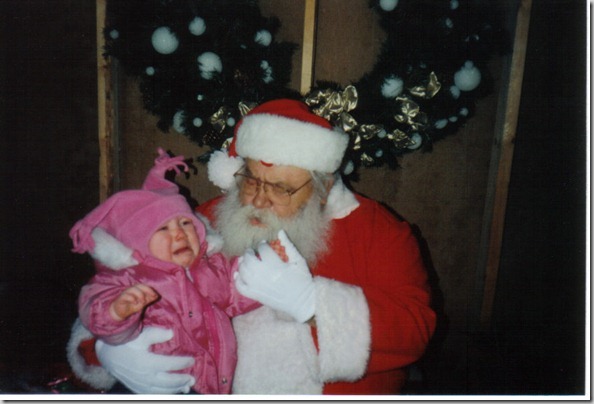 Simi wrote, "She wasn't crying but she was frozen and not happy, she didn't know what to do."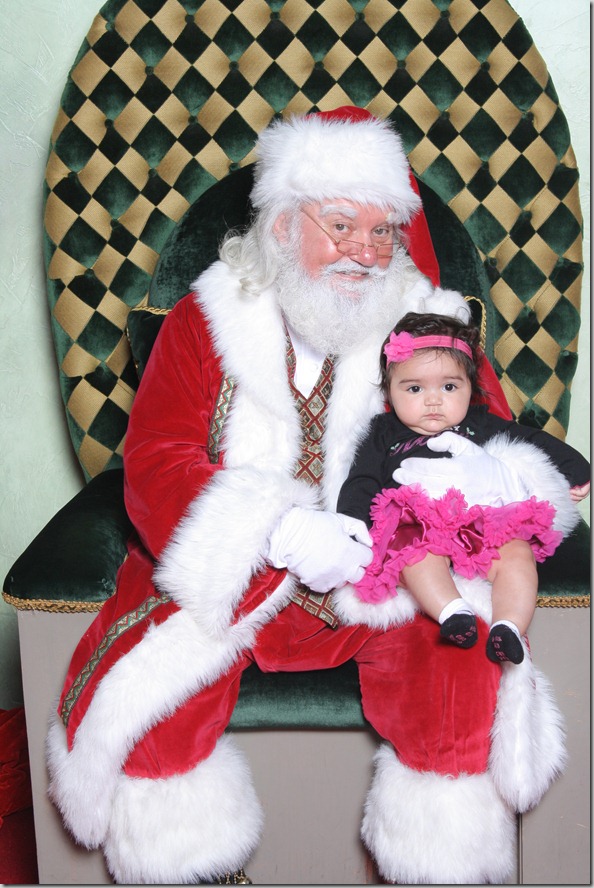 Emily wrote, "This is a photo of my son, also named Henry, last year.  We haven't even tried this year…"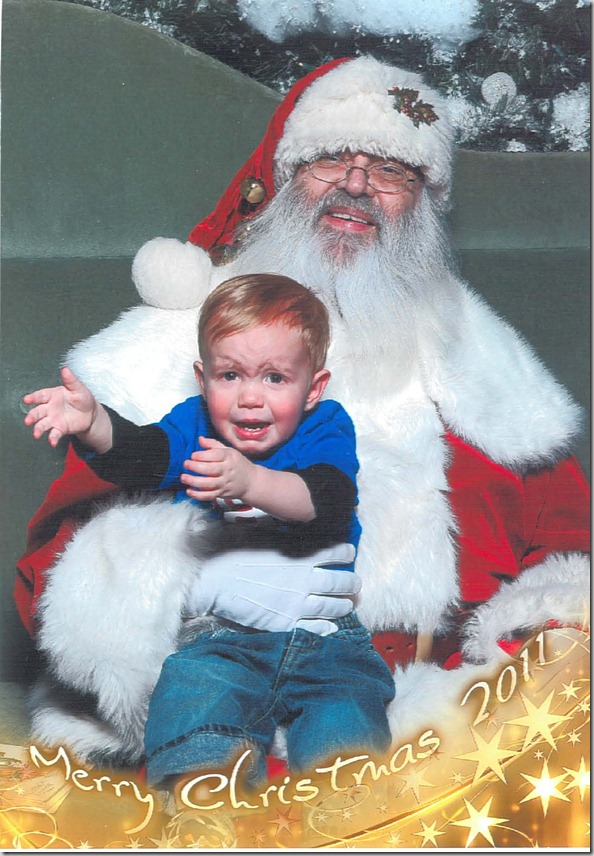 Charity wrote, "Here is my 4.5 month old Alexander. He's afraid of strangers so I'm surprised he's not screaming but he doesn't look to sure of what's going on."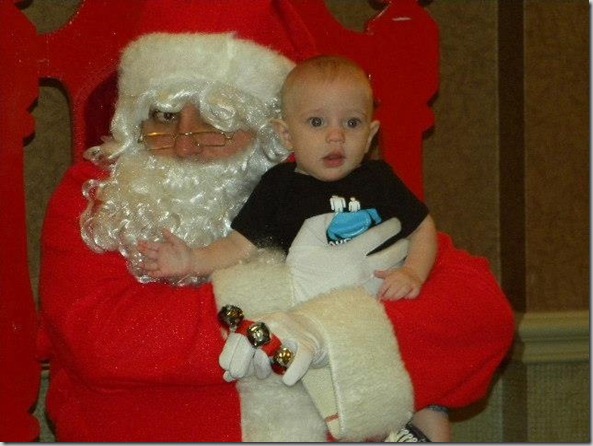 Katie said, "My Dad dresses up as Santa every year for his office Breakfast with Santa, and we were trying to get a Sweet Santa picture of them gazing at each other, but got this instead!  Oh well!"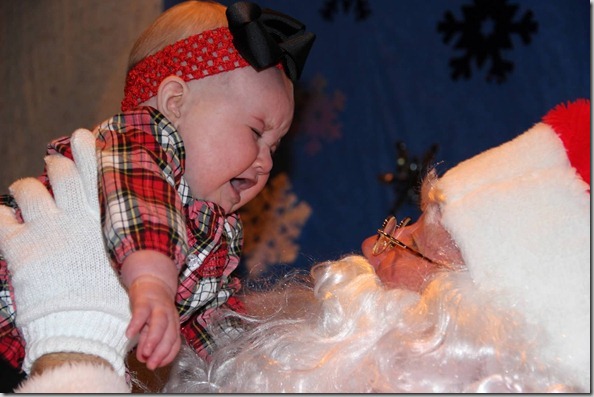 Elizabeth wrote, "My daughter, Ashlyn is a pro!  We told her to smile no matter what Weston's reaction was.  Weston on the other hand was terrified!  He, like Henry isn't afraid of strangers but I think it was a combination of the beard and him being way overstimulated by all the noise and chaos at the mall."
Robyn wrote, "This is actually a picture of me from when I was younger. I was pretty old to be that terrified and Santa looks to be hating his life!"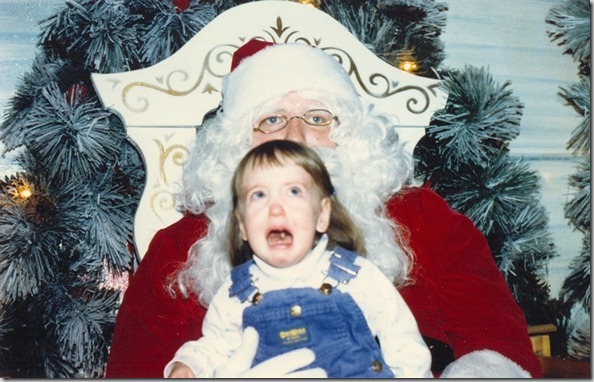 KT wrote, "This is Carlyn and Leah. Leah said hi to Santa but was not happy to have to sit on his lap! Love this picture!"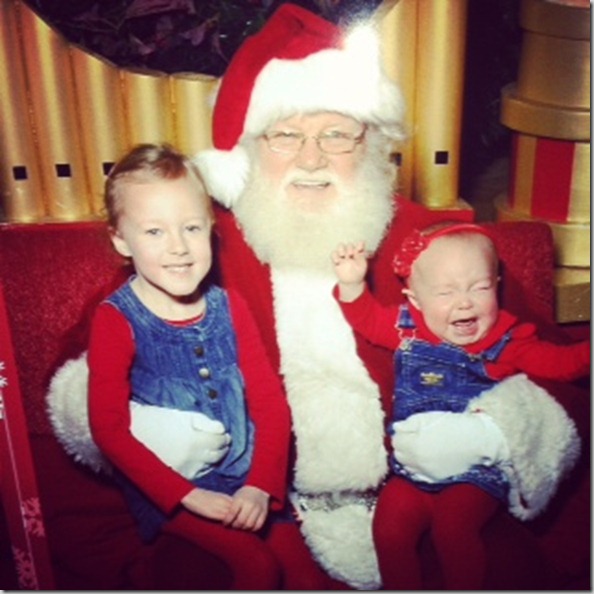 Callie shared this picture.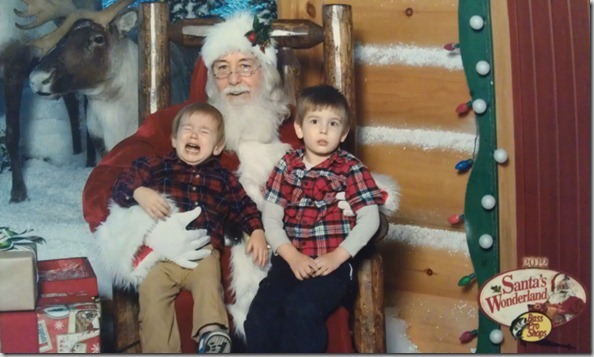 Courtney wrote, "These are my furry kids.  I get their photos taken every year with Santa and this is one of the best."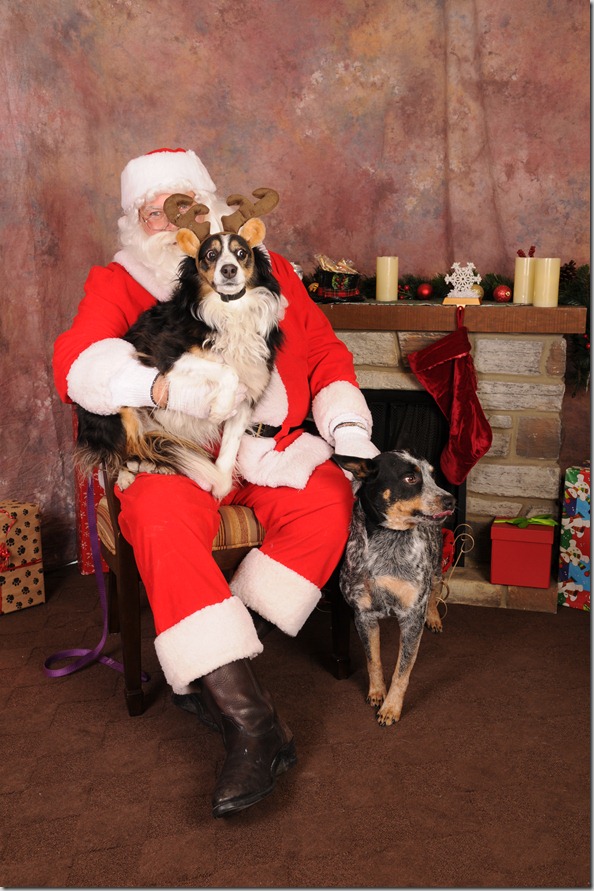 And now… The Scary Santa Photo Finalists
Scary Santa #1 was chosen based on the sheer scariness of this Santa.  Rachel said, "I had to share this one from my childhood.  His eyes look creepy and that fake beard… ahh!  Santa's have come a long way in 30 years…"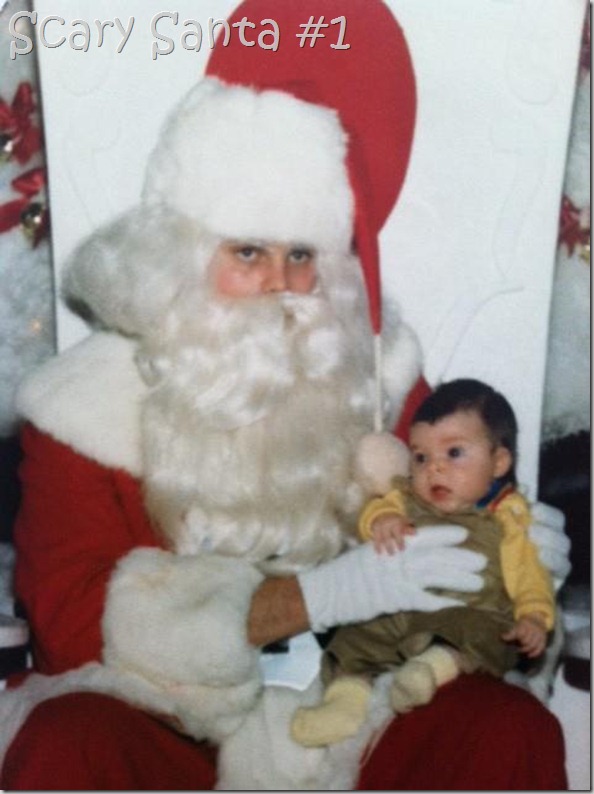 Scary Santa #2 was select because of Santa's awesome "come on, kid" face and the baby girl's hysterical expression.  Katherine sent this gem in!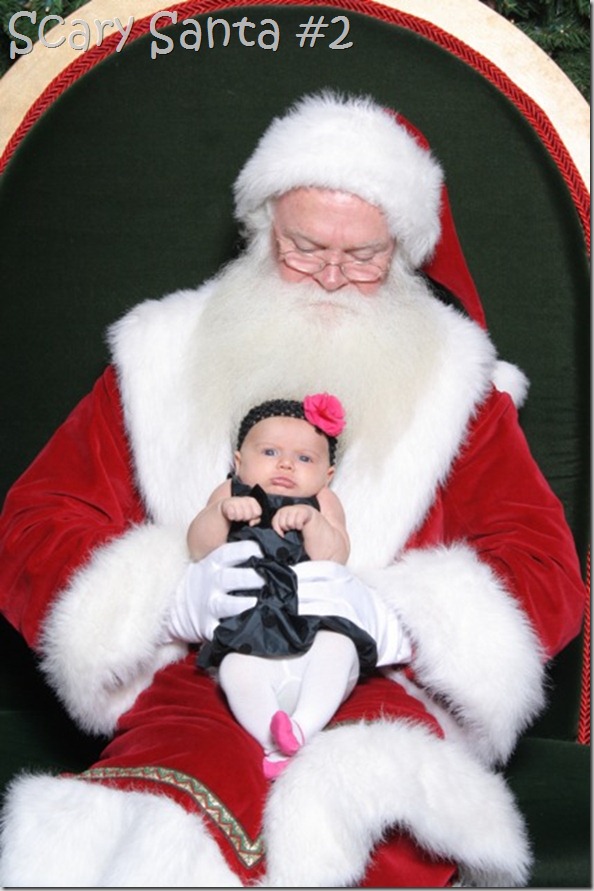 And this is #3, our one furbaby finalist!  Laurel wrote, "So I don't have kids, but I do have a dog. Dogma, our neighborhood dog store, does a Santa picture fundraiser each year for local animal rescue groups with a pet photographer named Jeanne Taylor. We've taken our dog Alice twice, and while Jeanne's photos are gorgeous, Alice is completely freaked out by Santa."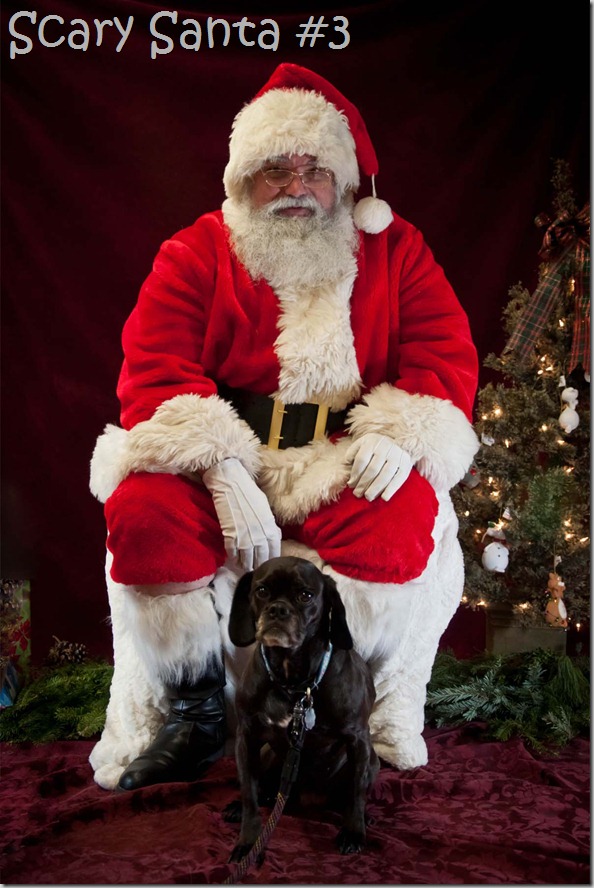 Scary Santa #4 was chosen purely for Santa's expression.  Jessica wrote, "I, of course, love my daughter's get-me-out-of-here cry face but Santa's I-hate-my-life face makes me laugh more."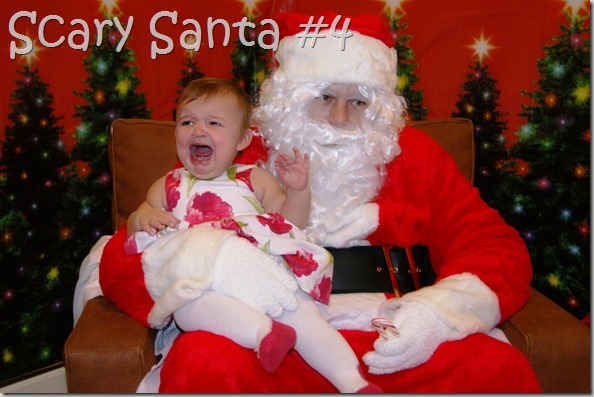 #5 earned a spot because of everyone's silly faces.  Kristen wrote, "Our brand of crazy even scares Santa."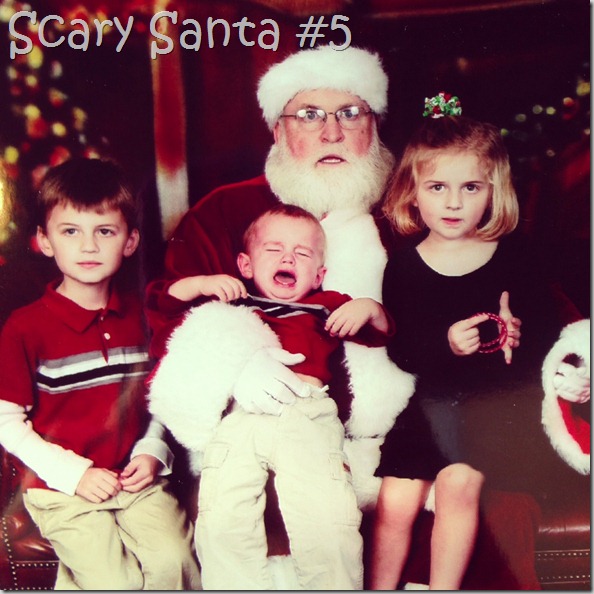 Scary Santa #6 doesn't need an explanation!  Nina said, "I don't think much can top Vincent's first meeting with Santa (although I know I'm biased). He is definitely a fan of the beard."
And last, but not least, Scary Santa #7 wins a spot because of the juxtaposition of the two boys.  Hayley wrote, "These are my boys last year with Santa. Anthony was 4. He's always loved Santa. Jackson was 2, and he's still scared of Santa, though not as bad as last year."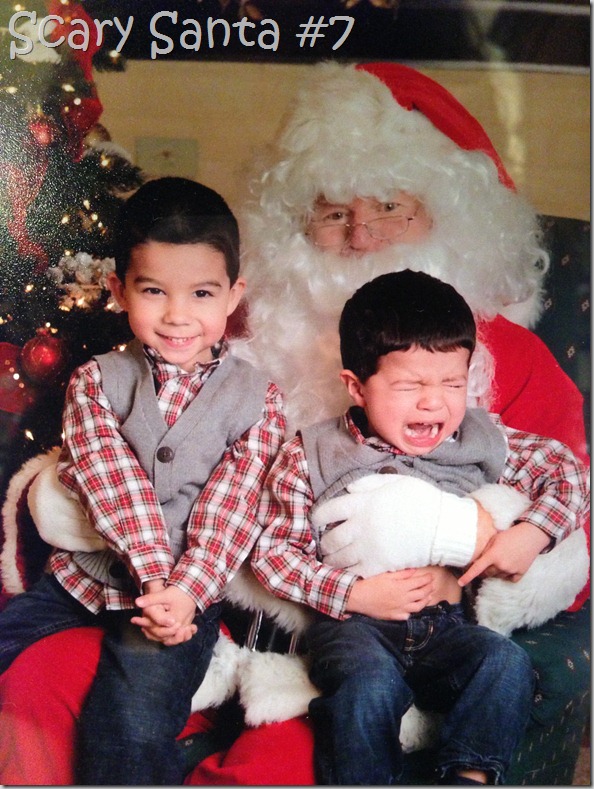 Now it's your turn to choose a winner…  Which Scary Santa is the most classic – 1, 2, 3, 4, 5, 6, or 7?  Can you tell I had trouble whittling it down?!  I'll choose the winner on Friday.