This weekend was full of running – running errands, running the vacuum, and a bit of literal running, too.  By Sunday, I was burnt out.  So yesterday afternoon, I locked Henry and myself in our TV room, turned off nearly all the lights, and spent a good five hours cuddling, kissing, playing, and staring at him.  It was pretty awesome. 
Sometimes doing nothing is the most fun of all.
Last week, I put out a call for prep-ahead breakfast ideas.  Making breakfast ahead of time is super convenient for a new mom like myself, but it's probably something that we all should do on busy mornings – it guarantees we'll have something healthy to eat!
Over the weekend, I made Anne P's peanut butter bars (but skipped the chia seeds and flax because I was out, and I subbed in almond butter) and bought a bag of boiled eggs.  This made for a very fast breakfast.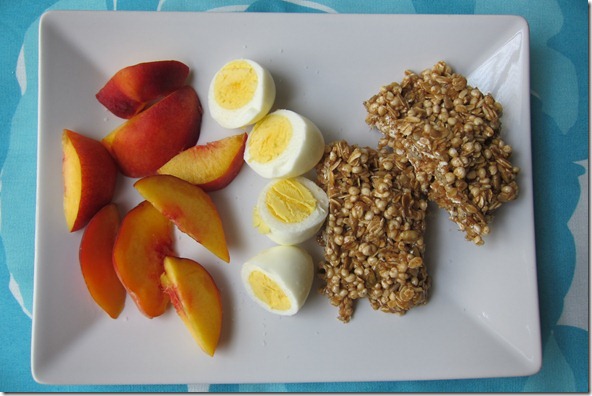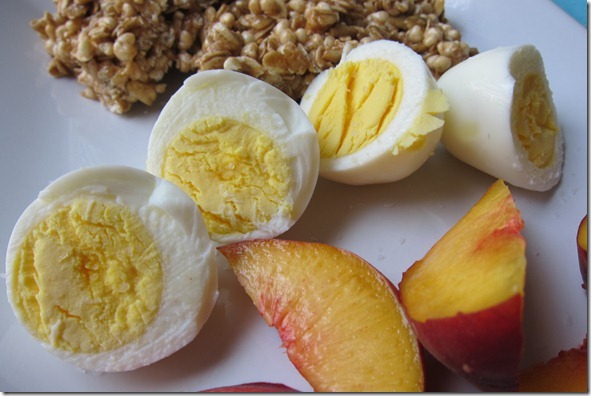 Here's a selection of readers' recommendations for other prep-ahead breakfasts.  Yum.  I'm getting hungry again already…
Many people suggested that I make

the Fitnessista's Breakfast Cookie

.  I've had the Breakfast Cookie several times before; it's such a simple and great recipe.
Jenny suggested

baked oatmeal

, specifically

this recipe

.
Sarah said this book –

Parents Need To Eat, Too

– is filled with great prep-ahead recipes, one-handed meals, and quick snack ideas.  There is also

a website

by the same name.
Jennifer makes breakfast wraps for her busy husband.  She makes the stuffed tortillas ahead of time, wraps them in saran wrap, and freezes them – all he has to do is unwrap and microwave.
Sally likes to make veggie and cheese quiches.  "They're a favorite of me," she wrote. "Just cut a slice and warm up or eat cold – always with a slice of buttered toast on the side!"
Jen

said, "I put all of the

ingredients for a smoothie in the Vitamix

ahead of time, leave the blender cup in the fridge overnight, and then, if I want to add anything frozen, like banana chunks, I throw them in that morning and just blend and serve. That way I don't have to worry about the smoothie getting weird or separating overnight."
Sara said, "I love my orange dreamsicle smoothies. I make a big batch the night before and have some for dessert and then the rest for breakfast. I use two pealed oranges, 2-3 large heaping spoonfuls of vanilla Greek yogurt, I put in some protein powder (vanilla so it doesn't change the flavor), depending in how sweet the oranges are I might add a little sugar, and then about 16 ounce of ice and blend. In the morning I give it a quick stir to make sure nothing has separated out and breakfast is done!"
Kirstia wrote, "I make

steel cut oats for the entire week

on Monday. Cook up a big pot, portion it out into individual containers, stick them in the fridge, and then you can heat and eat that morning."  She does something similar to

this method

.
Before

Alli's

baby arrived,

she made an entire loaf of French toast

.  She froze the French toast on a cookie sheet so they'd freeze individual and put two frozen slices into a Ziploc bag.  "All I had to do was pop them in the toaster oven and smear them with peanut butter and some agave," she said.
Have a great Monday!