Note:  Sometimes, it is so hard to think of post titles, especially with posts as random as this one.  I cover: the Shark steam vacuum, my sore biceps, a delicious dinner, my purple dining room, and Ashley Judd.  How to tie that all together… I just don't know.  Read on, friends.
When we moved into the new house, I bought this Shark steam vacuum for cleaning the hardwood floors.  First of all, it is an amazing cleaning tool and makes my floors all pretty and shiny.  But secondly, it is a serious bicep workout. 
(Source)
It took me a while to figure out how to use the Shark – instead of long pushes as you would do with a regular mop, you do short, fast pushes to pump up the steam, which cleans the floors without chemicals (hoorah for saving money and the environment!).  However, this motion is hard to do – or maybe my 7-month baby bump makes it seem so difficult – and I end up with sore arms after doing the floors!  Psssh.  Who needs a gym?!
Dinner: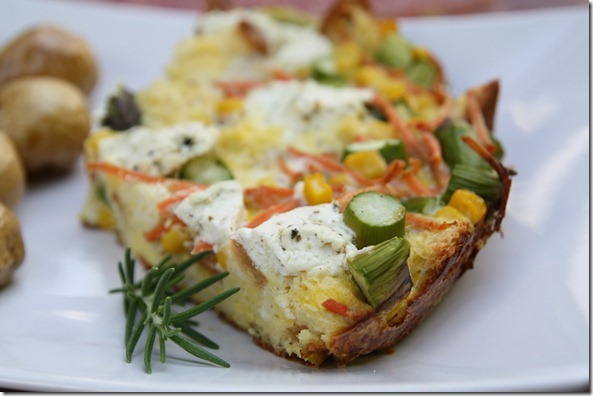 This was one of those "throw ingredients into a bowl without measuring and be surprised when it turns out delicious" dishes. 
The idea behind the dish was a makeshift crust quiche – instead of creating a real crust, I used chopped-up pieces of Udi's bread.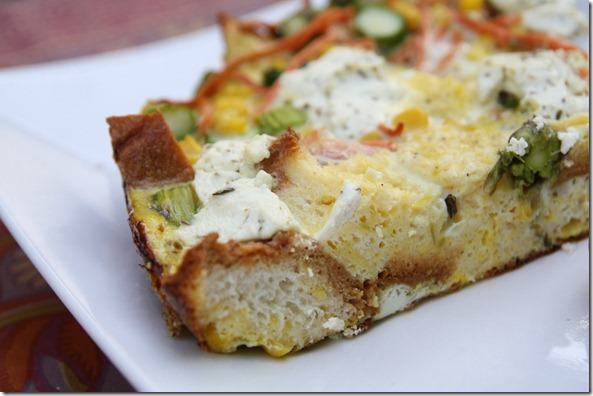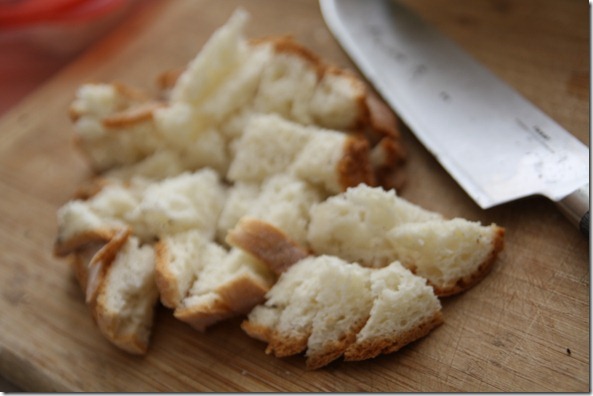 To prepare, I combined the following in a cast iron skillet.  I laid down the bread first and then mixed the other ingredients together, and poured the eggy mix on top of the bread.  The goat cheese went on top (some quantities are just guesstimates; make at your own risk!):
Four pieces of Udi's bread (which are small, so I would use three pieces of regular-sized bread)
6 eggs
1/4 cup soy milk
1/4 cup shredded carrots
8 large pieces of asparagus, chopped
1/4 cup corn
Salt and pepper to taste
1/4 cup crumbled goat cheese
Actually, I only put the goat cheese on my side; the Husband wanted his cheese-less.  It turned out good both ways.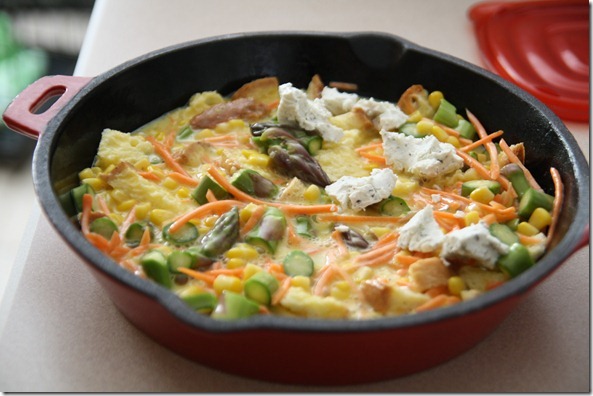 Baked at 415 for 40 minutes… and then it was ready to eat!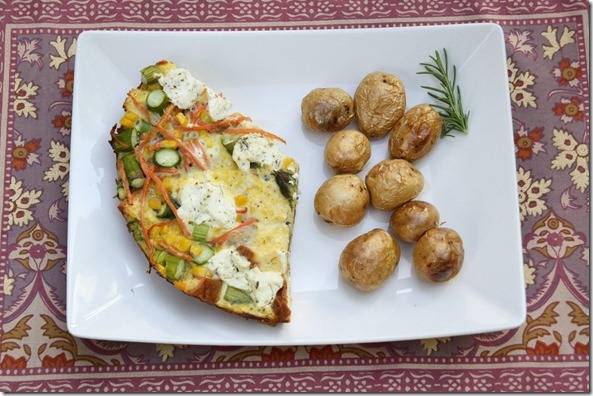 Oh, and guess what?
We've done a rather good job at eating dinner in the dining room and NOT in front of the TV.  This was one of our big goals for the new home and something we want to instill in BabyHTP.  Having a sit down meal feels like a real luxury.  I love it.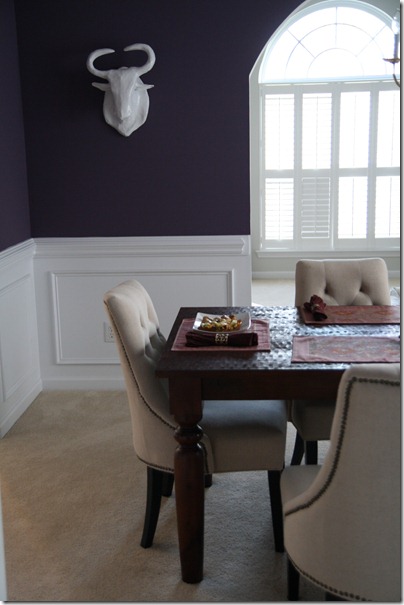 You've Got to Read…
Heather passed on this extremely well-written piece by actress Ashley Judd on the media and women's worth, and I simply had to share it with you because it so relates to some conversations we've been having on HTP lately.
The photo comparison and article that prompted Ashley's piece:
(Source)
In the piece, which is entitled Ashley Judd Slaps Media in the Face for Speculation Over Her 'Puffy' Appearance (by the way, an amazing title), Ashley asked questions such as, "Why was a puffy face cause for such a conversation in the first place? How, and why, did people participate? If not in the conversation about me, in parallel ones about women in your sphere? What is the gloating about? What is the condemnation about? What is the self-righteous alleged "all knowing" stance of the media about? How does this symbolize constraints on girls and women, and encroach on our right to be simply as we are, at any given moment?"  
Intense, right? Trust me – it's worth reading and worth passing onto your friends!