As promised, here's the tour of our tea cabinet.  It is literally a cabinet – and entire section of the kitchen devoted just to tea.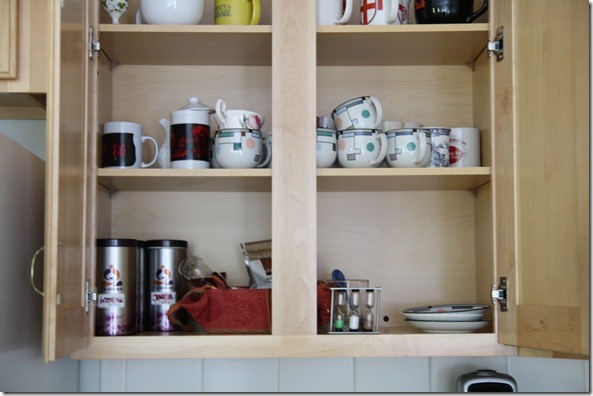 First, and most importantly, we have two tea pots.  Tea tastes better when it's made in a tea pot (just like margaritas are yummier if they're in proper margarita glasses – right?!).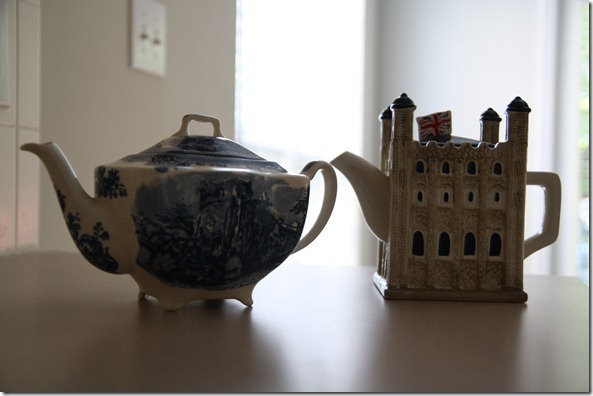 I prefer the pot on the left because our Tower of London pot is hard to clean, although it is very cute.
The other key accessories include:
A strainer – again, trust me – loose leaf tea really tastes better than the bags.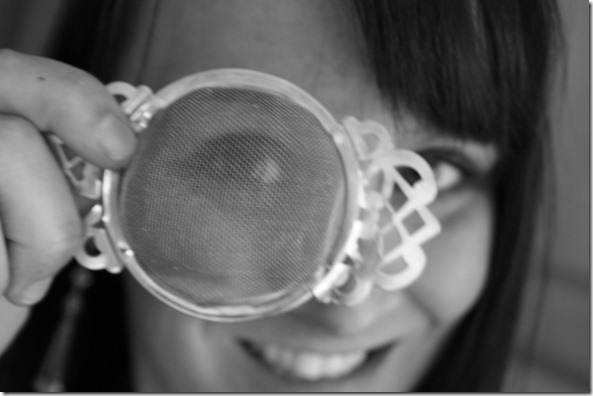 And a tea timer.  Lighter, more delicate teas generally require a shorter steeping time.  Bolder teas need more time to really settle into the flavor.  But all teas taste like crap if they brew for too long – they become all bitter and yucky.  Hence, the need for a timer.  Tea is a science!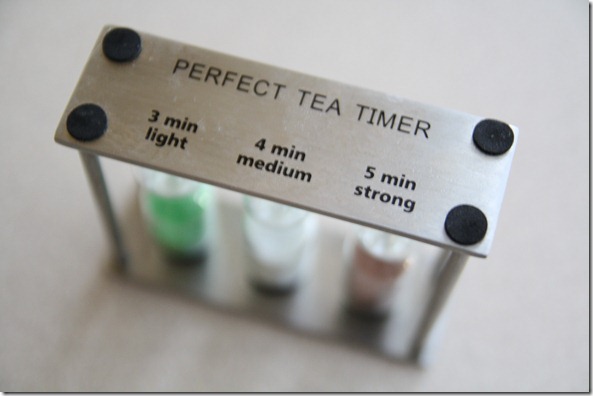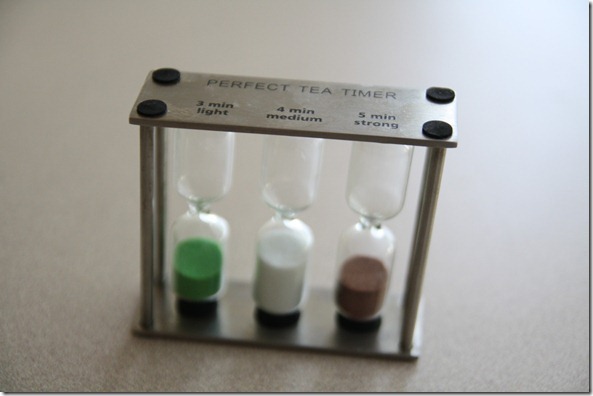 To boil the water, we use an electric kettle.  If you do not own an electric kettle and make tea frequently, I HIGHLY suggest buying one.  They are so convenient and much more efficient than boiling water on the stove.
While the water is boiling, I scoop the tea into the pot (side note: some people say you must scald the pot first with boiling water – maybe their taste buds are more sensitive than mine, but I don't noticed a different when I do this).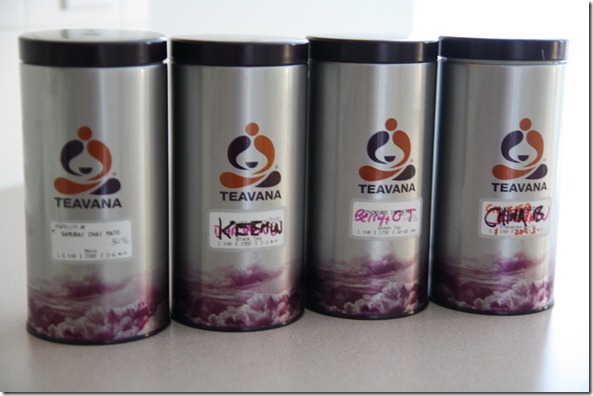 Right now, our three main teas include Keemun (a black Chinese tea), a berry and green tea blend, and China Breakfast.  We keep them in Teavana containers, which keep air and moisture out.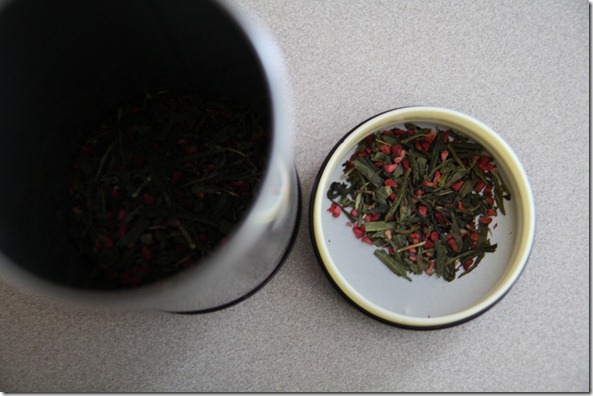 We have a few other teas, including some bagged teas that I'll use if I'm feeling lazy and don't want to dirty the teapot.  But quite honestly, it's a rare moment when there is not a dirty teapot sitting in my kitchen sink.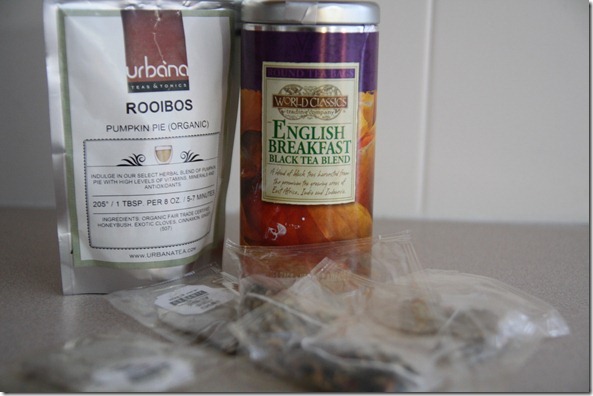 Regardless of what tea I brew, I'll usually mix in local honey (and sometimes cream, too – China Breakfast is great with cream).  The whipped honey from Cloister Honey is the best honey that I've ever tasted.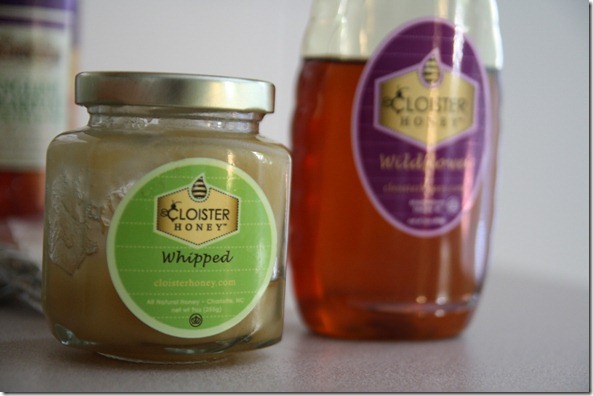 Oh, and a little trick:  keep your tea cups, saucers, and spoons in the same spot as your tea supplies.  I love being able to brew my tea and prep my cup in the same area…. especially in the morning when I haven't had a caffeine fix yet.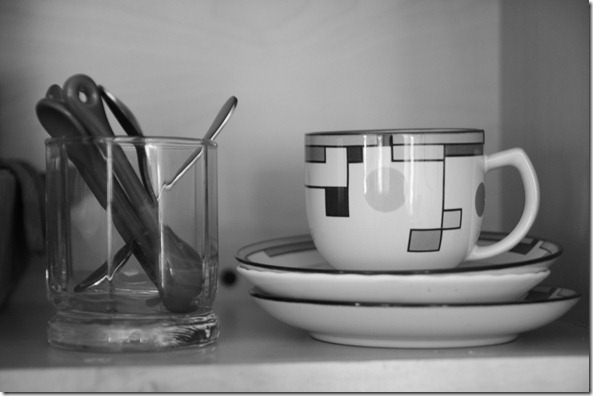 I'm sure some tea collections are much more extensive than ours, but that's the tour of our beloved tea cabinet!
Time to debate:  tea or coffee?  Which is better?  Two years ago, I would've been firmly in the coffee camp, but now I'm a tea lover.  I've been converted!