On cloth v. disposable diapers
My, what a difference a month – and six pounds – makes!
Here's what BabyHTP is up to this week: "By now, your baby weighs 3.75 pounds and is about 16.7 inches long, taking up a lot of space in your uterus. You're gaining about a pound a week and roughly half of that goes right to your baby. In fact, she'll gain a third to half of her birth weight during the next 7 weeks as she fattens up for survival outside the womb. She now has toenails, fingernails, and real hair (or at least respectable peach fuzz). Her skin is becoming soft and smooth as she plumps up in preparation for birth." (Source)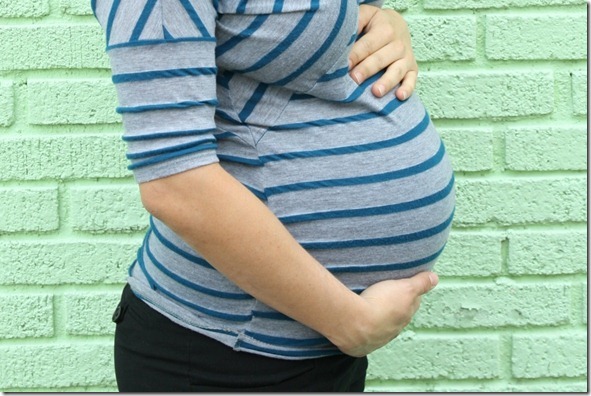 Here's Week 32 in a nutshell:
Total Weigh Gained: Official weigh-in at the doctor says that I'm up 28 pounds. 

How I'm Feeling:  Great but tired.  No sleep is enough sleep.

What I'd Up To:  Decorating the nursery!  It should be done in a few weeks.

Name Debate: We've added a third boy name to the list, but said name reminds me of a dog's name, so I'm not sure that it's a definite contender.

Workouts:  At this point, legit workouts seem to be giving way to 'just survive the day' workouts.  I've gone walking a few times and hit up the gym once, but stuff like cleaning the house and carrying baby stuff up the stairs leaves me feeling so sore.
This week's discussion is cloth diapers v. disposable diapers.  Which to choose?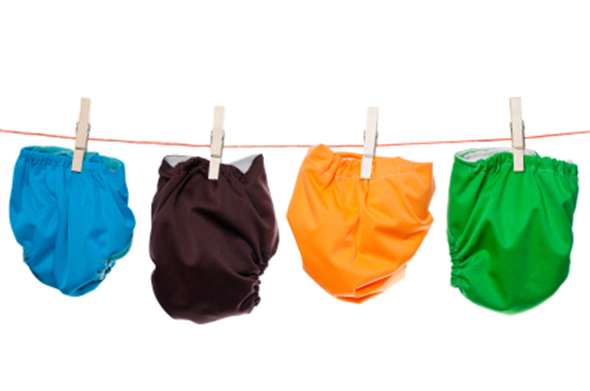 (Source)
I had never heard about modern cloth diapering until I started to read blogs and then, suddenly, it seemed like everyone did it.  Fans of cloth diapering say it's cheaper in the long run, not that messy, and better for the environment.  If they love it, they love it.  In fact, I'm not sure that prior to preparing this post, I'd ever read a post in which a blogger said she prefers disposables (I'm sure there are more out there because 95% of parents choose to use disposables!).  Since the practice is so widely popular in blogland – heck, even Young House Love does it – I figured that there had to be a reason.  Right?
Before I get into my plans for diapering, let's briefly look at two very important aspects of the diaper debate – money and the environment:
A baby will go through thousands of diapers before being potty-trained, and a parent can expect to spend $1,500 to $2,000 on disposables. If you opt for environmentally-friendly disposables, as I would, the cost would range from $1,600 to $2,500. (

Source

)

Cloth diapers have higher start-up costs than disposable diapers, usually costing about $18 or so per diaper.  Consumer Reports argues that, even with the cost of laundering the cloth diapers at home, cloth diapers will cost 'hundreds of dollars' less.  (

Source

)  

This website

breaks down all the costs of different cloth diapers; most cloth options cost around $1,400 – $1,600 total.

If you opt for a laundering service to clean your cloth diapers, the price between cloth and disposables will be roughly the same, based on my own research of such services in Charlotte (rates vary from city to city).

It takes around 80,000 pounds of plastic and over 200,000 trees a year to manufacture the disposable diapers for American babies alone. Although some disposables are biodegradable, it can take several hundred years for the diaper to biodegrade because it is rarely exposed to enough oxygen in the landfill.  (

Source

) 

Although it would seem that cloth diapers are always the most environmentally-friendly option, some people believe this is up for debate.  One large study by the Environmental Agency concluded "that disposable diapers have the same environmental impact as reusable diapers when the effect of laundering cloth diapers is taken into account."  The study states that a cloth diaper uses six times as much water to launder it as a disposable diaper requires to be produced, and that this water usage is environmentally equal to the landfill impact of the waste.  Opponents say this study is seriously flawed. (

Source

)

And lastly, as a side issue, there is evidence that babies who are cloth diapered suffer from fewer diaper rashes and allergic reactions (one reason: there are fewer or no chemicals in cloth diapers, especially when compared to 'conventional' disposables).
When I mentioned last week that I really needed to order some diapers, I know some people were surprised.  I got several e-mails that said, "Really, Caitlin? You're going with disposables?! You're the one who told me to stop using conventional tampons and switch to the Diva Cup, for goodness sake!"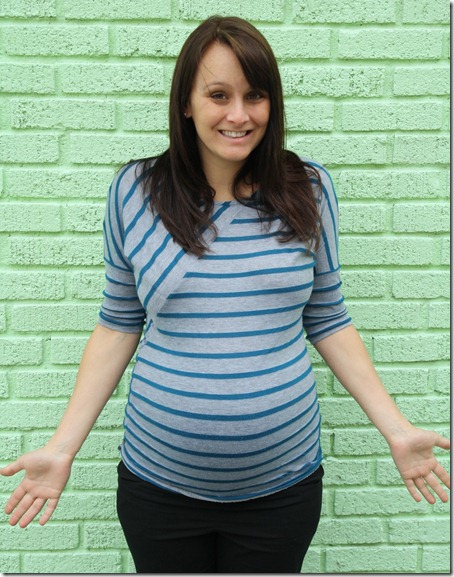 But.. yes.  I have no immediate plans to cloth diaper.  I'm not opposed to the idea – there are clear money, environmental, and health benefits to the practice – and, as someone who works primarily from home, it's logistically possible (daycares often won't allow cloth diapers).  But I'm just not sure that it's the right fit for my family. 
With parenting, it's really easy to get sucked into the Superwoman Syndrome.  Not only do you have to be an awesomely healthy and fit pregnant momma, but you need to read a ton of books, carefully research every baby purchase, and interview dozens of midwives and pediatricians…. oh, and most of us are working full-time, too.  Plus, there's a lot of pressure (at least in the 'holistic' world that the Husband and I operate in, both professionally and personally) to deliver naturally, breastfeeding exclusively, make your own organic baby food, and cloth diaper.  A lot of these 'musts' I want to do… but there's still a lot of pressure to be that Super Mom.  And I know that I don't have the time or energy for it all.
Basically, I realize that I need to choose my battles.  Despite all the benefits, I honestly just don't want to deal with cloth diapers.  Our plan is that we will both continue to work at 75% capacity and provide 100% of the childcare (the details are here); I am very nervous about how this will work because we are both already so busy.  I have spoken to so many people who say it's really not that time-consuming or inconvenient, but I really struggle to believe this.  I hate doing laundry and the thought of washing poop off a diaper every day, multiple times a day, makes me want to hurl.   If I can make just one aspect of my life easier, I'm all for it.  And that, for me, means disposables.
As a side note, I know I'm writing as if I would be solely responsible for the cloth diapering.  Of course, with the Husband at home with the baby twice a work week, he could be responsible for it.  He is actually really behind the concept of cloth diapers, so I told him that I would agree to cloth if he would take on all the responsibility associated with it… and then he admitted he would rather not, for all the same reasons that I don't want to do it.  Hah!
That being said, we're open to changing our mind down the road.  I realize it may seem easier – and worth the effort – when the baby is bit older.  So I'm not saying "never, ever!" to cloth diapering, but I am saying, "Please, let me just get a grip on my new life" for right now. 

Since I can only present one side of the argument, I collected comments from readers and bloggers who are pro-disposable and pro-cloth.  Read on!
PRO-DISPOSABLE FEEDBACK
When Babies Destroy the Planet by Fit-Bottomed Mamas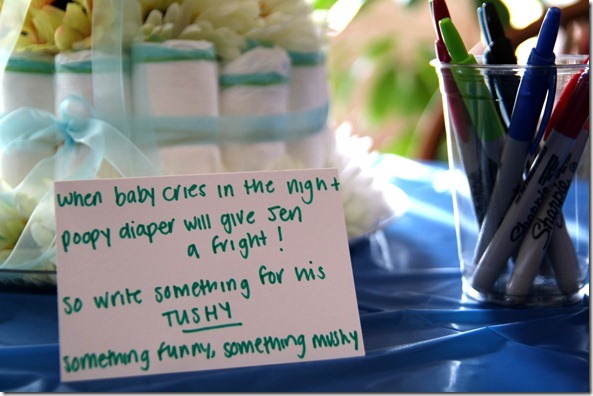 (Image from the baby shower I hosted for my friend Jen)
"Being a parent is tough stuff, as is keeping your house from being a totally drooly, Cheerio-filled disaster area. If paper towels and disposable diapers and wipes can help keep me sane (and drool and spit-up free), I'm willing to have a slightly larger environmental impact until we pass the diaper-and-wipe stage."
Thoughts on Disposables by an HTP reader named Melissa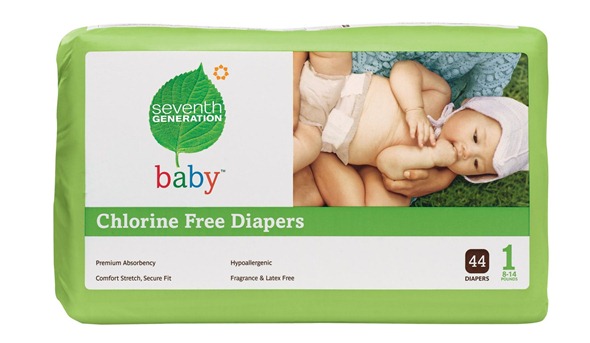 (Source)
"For my family, disposables were the best option.  We both work full time – my husband returned to work 2 weeks after my son was born, and I went back at 12 weeks. For us, it's not so much that disposables are wonderful (though they aren't bad – we use mostly Huggies or Pampers and have had relatively few problems with leaks or diaper explosions), they are just a better option for us time-wise.  We have so little time with our now 6 month old son, and with each other and our pets, that I would hate to spend more time than I already do on laundry or stuffing diapers.  I have quite a few friends who invested in cloth diapers and then found them so time consuming that they ended up using disposables.  We've also never had issues with diaper rash or skin irritations.  When I was pregnant, I felt like there was a lot of pressure to plan on being the "perfect" mom, which included doing things like breastfeeding exclusively, cloth diapering, babywearing, having the perfect nursery, etc.  I had to figure out what was actually important to me to do and not what I "should" do.  Breastfeeding was important.  Babywearing wasn't necessarily important but it was convenient, and both my son and I ended up liking it in small doses.  When we really thought about cloth diapering, it just didn't seem like something we would have the time, energy, or wherewithal for and I think we were right.  I am happy with my decision to let it go and do what was right for us, even though it might not be the popular choice right now."
Disposables CAN Be Budget-Friendly by an HTP reader named Lauren
"One pro is that disposables can be VERY cheap.  If you use coupons and buy diapers while they are on sale @ places like Walgreens, CVS, or Target, then they cost next to nothing.  My husband and I picked up two jumbo packs of Huggies for less than $3 at Walgreens yesterday.  Very budget friendly."
The Less Body Fluids, The Better by an HTP reader named Jessica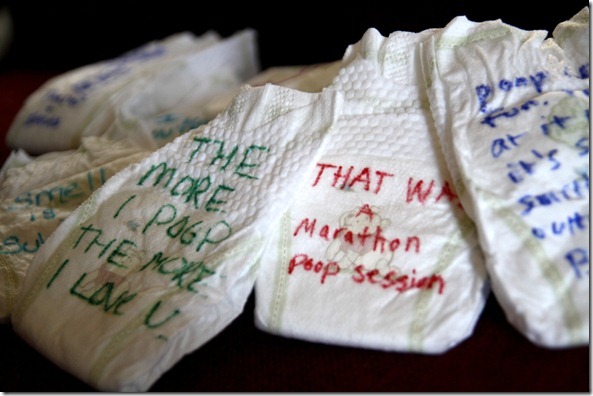 "I will give one disclaimer about why my husband and I are pro-conventional diapers: we are both scientists (he studies immunology and virology and I study cancer), and both of us have extensive experience in microbiology (bacteria, viruses, infectious materials).  I am not saying that cloth diapering is less sanitary, only that our work has influenced our perspective on germs.   In our minds, our family will be safer the less we have to handle any human fluids.  We have used conventional diapers from day one with our son Henry.  There would be days where we would easily go through 20 diapers (and nearly as many outfit changes).  Those two weeks helped seal the deal on conventional diapers for us.  I couldn't imagine the additional laundry or ick factor (personal opinion) that cloth diapers would have added to those weeks.  We also live in a 2 bedroom condo so we have a tiny, stacked washer and dryer that can only fit about half of a traditional load of laundry.  Cloth diapering never seemed to fit into our daily routine.  Like anything I think there is a compromise to choosing either style.  There are more environmentally friendly and more inherently natural disposable diapers available than ever before and cloth diapering has its environmental impacts as well.  Convenience also must get weighed in to the equation.  I work full time outside of the home (my husband does, too) so the thought of devoting my free time to laundry is not enticing."
PRO-CLOTH FEEDBACK
Adventures in Cloth Diapering Part I and Part II by The Concrete Runner
"Cloth diapers were the one thing I was looking forward to most about having a baby, but also the thing I feared the most.  I knew I wanted to use cloth diapers even before we decided to have a baby.  However, there are so much things to know about cloth diapers since they've changed so much in the last 30 years.  I actually had to teach my mom how to use them, but I assure you, they are much easier than the diapers of cloth diapering past."
Lots of Pros (and a Few Cons) of Cloth Diapering by a HTP reader named Julie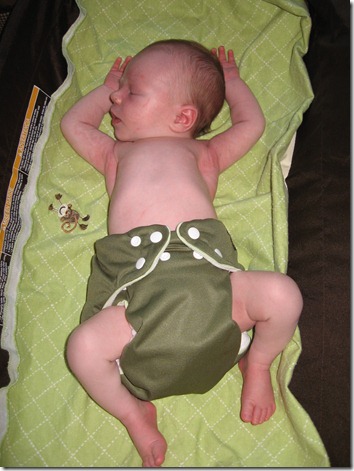 "I actually ENJOYED doing laundry for the first time ever.  I liked folding little baby clothes, but I loved stuffing cloth diapers back with their absorbent pockets and getting them all ready to be worn again."
How to Pay Less for Cloth Diapers by Baby Cheapskate (thanks to Jennifer for passing this along!)
"Cloth diapers run you $18 to $20 dollars new, and it's pretty rare to find them on sale for more than 15% off at retail stores. That doesn't mean you can't cut the cost of cloth diapers by more than that, though. Far from it."
Suggestions for Those Who Are Pressed for Time by HTP reader named Ali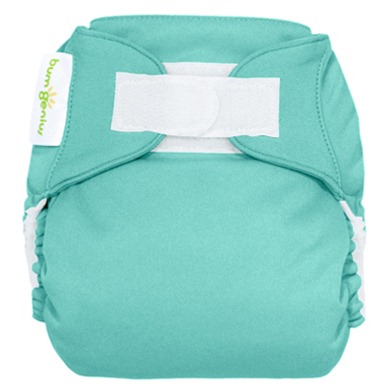 "For people who are really busy, the diaper I would see as a good fit would be the bumGenius Freetime. It is an all in one diaper so it is as simple as a disposable, just in cloth form. No pockets to stuff, no prefolds, no separate covers and inserts. I have about six of these diapers and LOVE them. Like, slightly obsessed with them. They are my husband and grandparent diapers. 🙂 There are a million other kinds and I'll tell you all about them if you want, but maybe it isn't necessary.  Breastmilk poop is completely water soluble. No rinsing needed. As gross as it seems, it'll all wash out. You just do a pre wash in cold with no detergent, then a hot wash with a tiny bit of detergent and an extra rinse. Hang all the diapers to dry (saves the waterproofing for future babies) and they are completely dry in the morning. Once solids enter in the mix, you either need to rinse off the poop or use flushable liners. Some people swish in the toilet, I love my diaper sprayer because solids mixed with breastmilk is more of a peanut butter situation than and actual piece of poop. Sorry, things just got gross.   To store the dirties, just put in them a trash can with a lid and use a pail liner or use a hanging wet bag. Both options get washed with your diapers. And when you're out, you just keep a smaller wet bag in your diaper bag and when you get home, open it up and the whole thing goes in the wash with everything else."  (Heads up: Ali works for CottonBabies.com, which she linked back to in her response.)
gDiapers: The RMR System by Run Ma Run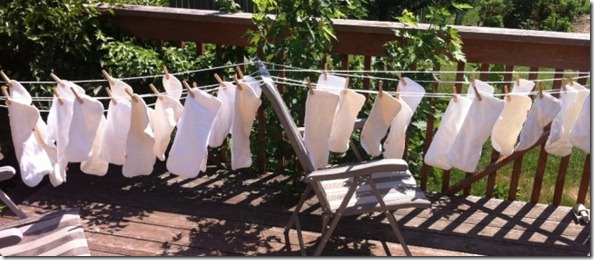 A really helpful and informative post.  Kelly says, "I believe this process might be too overwhelming to try to do with a newborn.  We actually waited a few weeks after Lula was born before we began using cloth diapers since we did not want to purchase a newborn set and then a small set, plus we had no idea what we were doing (in any capacity).  Most days, we still don't know what we're doing, but at least we've got a system down for diapers!"
We Tried it Both Ways by an HTP reader named Juliene
"I am a first time mommy and have used both cloth and disposable diapers.  We started with disposables mainly because we got a ton at my baby shower, and I didn't know if taking on cloth diapering would be a good idea if I worked full time.  I loved the ease of the disposables with a newborn because you will go through a ton of diapers at first, and since you are pretty sleep deprived, it is definitely easier.  The other perks include the ease of toting them in the diaper bag (they take up less space than cloth) and being able to travel for more than a day without the worry of lugging diapers, covers, a wet bag, and diaper wash with you is nice.  However, that being said there are downfalls.  First: my son developed sensitive skin and we could only buy Seventh Generation or Earth's Best. Now that I have done the research, that's all I would buy knowing the chemicals that are in the others.  Second: Disposables do leak, a lot, especially with newborn poop blowouts.  There is nothing worse than having to change the baby's clothes and yours because of a blowout (we haven't had a blowout in cloth yet).  Third: The smell! Disposables have so much perfume that when they mix with poo or pee they reek! Even if you change your garbage in the nursery everyday, there is inevitable smells that will happen."
Cloth Diaper Series by Mother of Ambition
"My husband was not really excited about my decision to use cloth but he's a total convert now and can use pretty much any type of diaper we have in our stash. We got a lot of diapers used or on supersales (BOGO) so we've spent about $300 for a diaper collection that will be enough to have two children in diapers in just a few weeks!! I don't even want to imagine the cost of diapering two kids with disposables! We also never struggle with diaper rash and the smell from cloth is much easier on my pregnant nostrils than the chemical burn smell of disposables."
Whew!  What a post.  I would love to hear your feedback on diapering options – what worked for you and what didn't.  Feel free to link to blog posts or resources that helped you make your decision.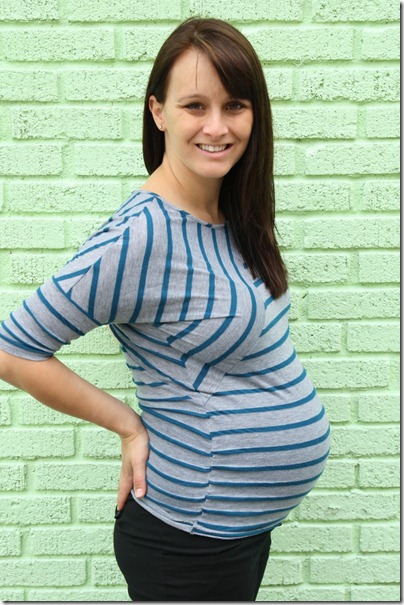 Until then… I'll just keep growing this baby, grateful that I don't have to deal with his or her poop quite yet.