Oh yeah.  Look at me.  Doin' another legit dinner.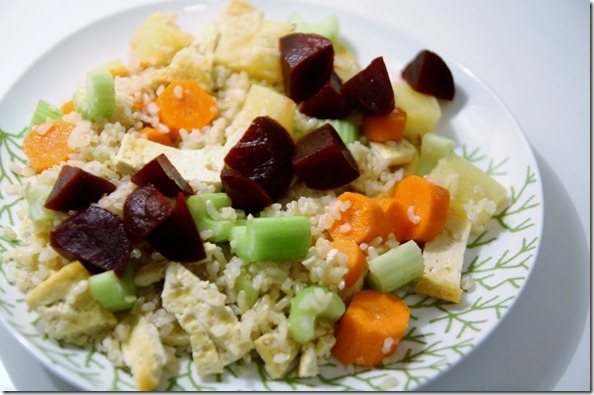 As mentioned, this week is Eat Real Dinners Week.  So far, I'm two for two. 
This meal was a simple mix of brown rice, pineapple chunks, raw celery, raw carrots, baked tofu, beets, and a splash of pineapple juice to give it some moisture.  To make the tofu (quickly), I thinly sliced it – about 1/4 inch – and laid the pieces out flat on a glass casserole dish.  I drizzled some extra pineapple juice over the tofu and baked it at 425 degrees for 20 – 25 minutes.  Pretty easy.  The pineapple juice definitely took this dish from blah to flavorful.
I also snagged some chips and salsa from the party raging on in my living room – the Husband invited a few guys over to watch a basketball game.  It's so funny to eavesdrop on the opposite sex.  So far, they have discussed sports, cute cheerleaders, crazy neighbors, sports, the Scrabble national championship, Papa John's pizza, this weekend's plans, babies (?!), sports, and more Scrabble.
Anyway – onto this afternoon's eats.
Greek yogurt, raw oats, puffed brown rice, and banana: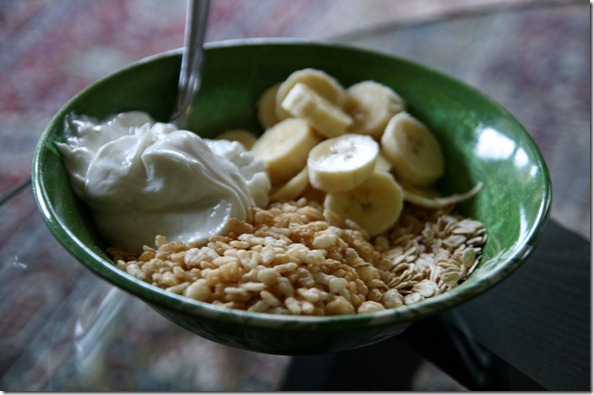 And a pear: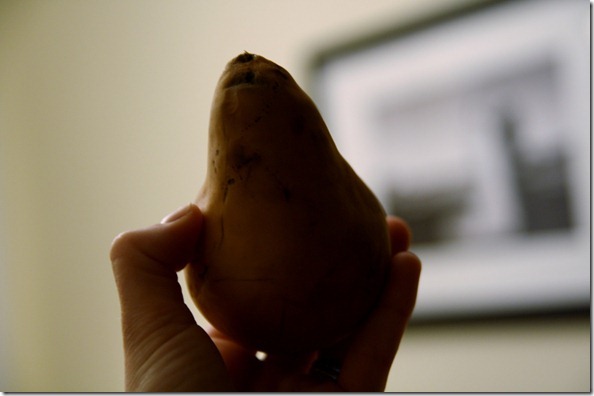 Oh, and last, but not least, I wanted to THANK YOU all for your recent advice on my sleep issues.  I've been incorporating some of your feedback, like eliminating most caffeine and doing meditation before bed (as well as squeezing in 5:00 naps <— definitely necessary during the second trimester), and it is making a huge difference.  I feel so much happier and more balanced.  It is definitely worth the effort.  Thank you, thank you!
On that note… off to bed!