Earlier in the week, I wrote a blurb about Kristen Stewart's November 2011 Glamour cover, and I argued her left arm had been Photoshopped out.  A little controversy erupted in the comments section about whether the recent Endurance Magazine cover that featured Operation Beautiful – and me in on my bike – was Photoshopped to make me appear thinner (specifically, in the left thigh/leg area).  This image is also my blog 'headshot' on the right side of my blog.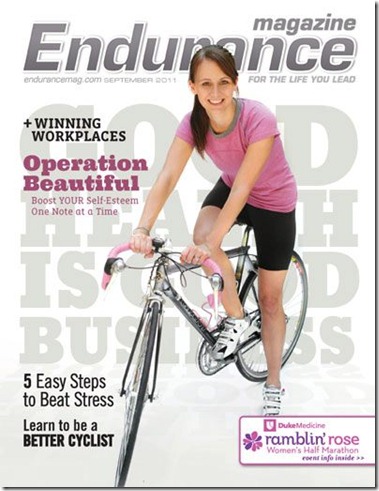 I wanted to clarify this issue because 1) Endurance Magazine is a great, inspiring publication that really encourages women and men of all shapes and sizes to be healthy; 2) the photographer who shot the cover was really sweet, genuine, and supportive of the nature of the Operation Beautiful movement; and 3) I never, ever doubted that it was actually 100% my body (granted, stretching out a leg and standing on tip-toe while wearing compressing bike shorts makes for a flattering pose). 
Furthermore, it is very, very important to me for you guys to know that if I was ever on or in a magazine that did Photoshop my body (something that would be totally out of my control, by the way), I would publically flame the magazine for doing so.  It would be a social media takedown of truly epic proportions.  Ha!
Anyway – to clear up any lingering issues about whether my body was Photoshopped on the cover of Endurance Magazine, here is the out-of-the-lens original photo and the edited (but not slimmed down) cover picture.  Of course, there is some editing in regarding to removing my in-laws' backyard and improving the lighting.  But as you can clearly see, there is absolutely no difference in regards to my body shape.
Thanks for reading HTP and promoting healthy discussion!