Whew.  After a whirlwind weekend of emotions (wedding on Saturday; head-shaving party on Sunday), I am so relieved that it's Monday.  Even if we are pulling a 14-hour day at the clinic.  I'll take it!
Dinner last night was so stand-out; I simply must share!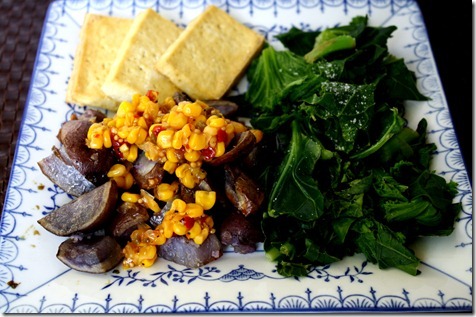 A
Although the baked tofu and steamed greens were delish, the really special part were PURPLE POTATOES with corn relish (from a jar).  I simply sliced, drizzled in olive oil and sea salt, and roasted the purple potatoes for about 45 minutes.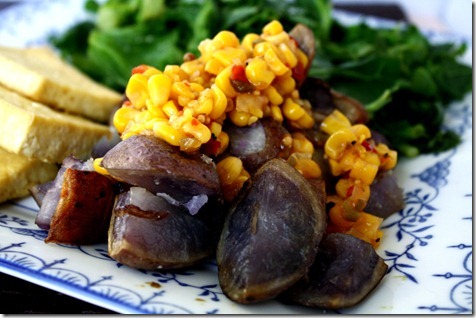 Fun fact:  Unlike white potatoes, purple potatoes are rich in the antioxidant, anthocyanin. This flavonoid is most often found in blue, red and purple produce such as berries and pomegranates and has been shown to be an immune system booster and aid in the prevention of certain cancers.  (Source)
Breakfast was simple but tasty, too.  GF bread, sunflower butter, and a banana: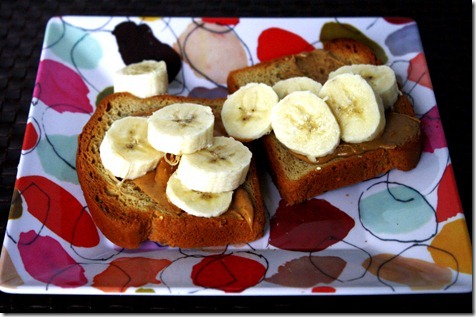 Race Etiquette:  The Water Station
A reader wrote in with a great question, so instead of just answering her through e-mail, I thought I'd share my thoughts with you guys, too.  Plus, maybe other people have different thoughts on the topic – can't wait to see what you think about this race etiquette question. 
Katie wrote, "I just ran my first 5k race today (yay!) and around mile 1 they had water, as I assume they do at all races.  I grabbed a cup, took a couple sips, poured some on my head, and then did what everyone else around me was doing – tossed the cup on the ground.  Then about 15 feet ahead I spotted a trash bin and instantly felt guilty.  I know the race volunteers are probably used to this, but is it expected to just toss your water cup on the ground or are you generally supposed to toss it in the bin if there is one?  Or does it not matter?"
If you've never ran a race before, let me explain water stations.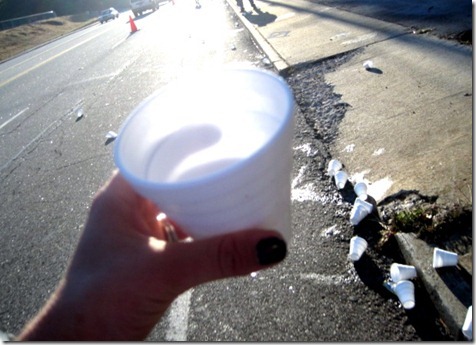 Every mile or so (it really depends on a race) is a water station.   As you approach a water station, it is good etiquette to decide ahead of time whether you are going to stop and grab water.  If you're going to pass through the water station, check behind you and then pull to the opposite side of the road to allow other racers to easily access the tables.  
The water station is usually staggered with drink options.  The volunteers in the front of the station will have water, and the volunteers in the back might have Gatorade.  They will usually yell out which that have in their hands, "Water! Water! Gatorade! Gatorade!" so you know which one you are grabbing.  The water station is staffed by awesome volunteers, so be sure to say "THANKS!" as you grab a drink.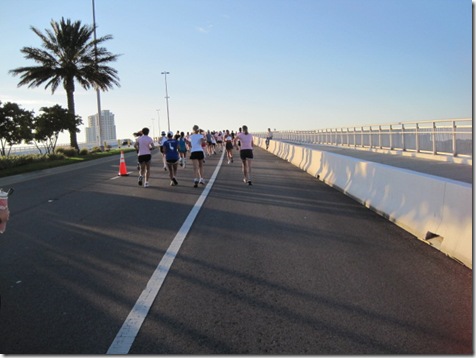 Once you've gotten your drink, check behind you again before coming to a stop or walk.  Coming to a dead stop during a race is considered rude because someone behind you might be gunning for a personal record and could slam into you.  Actually, this rule applies to the entire course – don't ever just stop moving without looking behind you!
After drinking, it is perfectly acceptable to just crush your cup and toss it on the ground.  If you're near a trash can, toss it in, but remember – check behind you before crossing to it!  If you have to cut in front of someone to get to the trash can, it's not worth it.  There's really nothing wrong with tossing your cup on the floor. 
And lastly, just for fun, I'll show you the perfect way to drink from a water cup while running. 
Step 1:  Grab the cup.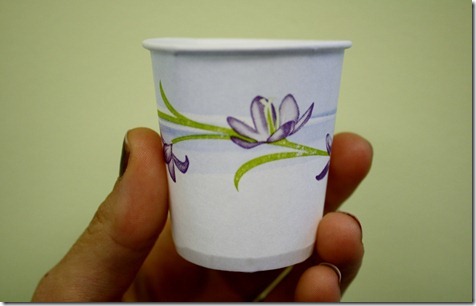 Step 2: Pinch the top of the cup to create a funnel.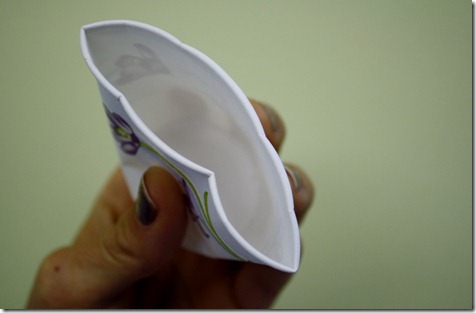 Step 3: Pour into mouth!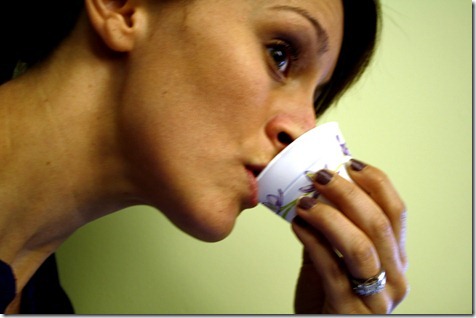 Most people walk through water stations, but if you're really focused on your time, you'll probably want to keep moving.  As long as you know this simple trick, the water will end up in your mouth and not down your front!
More Race Etiquette Posts:
Is it OK to Transfer a Bib Number?  Or Bandit a Race?
How do you keep it polite while running through a water station?