Good morning!  Today, I"m attempting something that I've never done before – I'm using my blog as a platform to help my friend, Megan of MegaNerdRuns, find a post-college job.  We all can sympathize with current college graduates who, despite being awesomely qualified, cannot find employment due to our economy.  
Sometimes, all a graduate needs is someone who 'knows' them and puts their resume in the hands of the right people.  I believe social media can be a unique solution to this problem. Forward get this post to anyone you know who works in the engineering field! 
Here's Megan: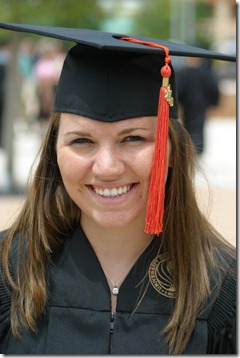 Insanity, as defined by Albert Einstein, is doing the same thing over and over and expecting different results. I realized six months into my so-far-unsuccessful job search that maybe it's time I took a fresh approach at tackling this goal of finding a job. Thinking outside the box is what engineers are known for, right? 🙂
As a recent civil engineering graduate, I am determined to find a career in my field. I worked hard for my degree, and plan to continue to pursue my dreams no matter what the cost. Failure is not an option, which is why I am reaching out and coming up with a new plan of attack. The solution (a job) is out there, and it's my job to find it!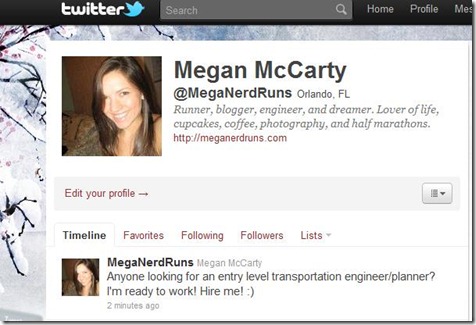 Back in August of 2005, I came to the University of Central Florida as an eager freshman, ready to tackle the world. I knew from the start that my roots would be founded somewhere in engineering, but I had no idea what exactly. My logical thinking, and love for figuring out how things worked were solid indicators that engineering would be a career suited for me.
It wasn't until driving home from school one day that it really clicked for me. I got SO frustrated with jammed traffic and poorly designed Orlando intersections (the old Interstate-4 East onto 408-East ramp to be precise) that I realized something: I could have done a better job at planning this road! I immediately changed my major from "Engineering: Undecided" to "Civil Engineering: Transportation."
Fast forward a couple of years. As a junior in college, I landed an internship at The Big Construction Company. I started in the Estimating Department, eventually moving out into the field (an airport reconstruction job), and back into the construction office. In the year and a half I spent with the company, I got a taste of a little of everything construction had to offer. I got to dabble in cost estimating, surveying and layout, and quality control. I learned to manage subcontractors (I was responsible for 9 of them on my own!) and became familiar with LEED and sustainable practices.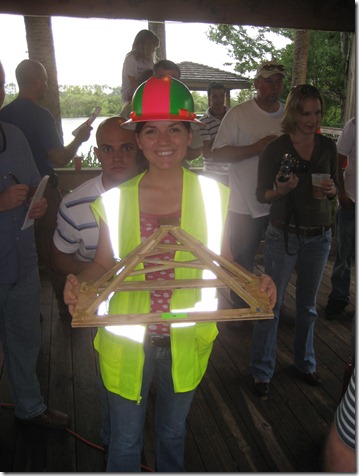 During my senior year, I enrolled in Urban Systems Design. I was fascinated from day one. Our professor brought in a manual traffic counting device and told us to count cars at the intersection. My inner geek thought this was so cool. During the course, our mission (which we chose to accept) was to analyze three (3) major intersections and make improvement recommendations. Surprisingly, the semester flew by! Pretty soon, the signal warrants, turn lane, and access management analyses were complete! I now held marketable skills, such as experience using software like MicroStation and Highway Capacity Software. I knew terms that once were foreign: AASHTO, MUTCD, LOS, oh my!
Training for my first marathon, studying and passing the Fundamentals of Engineering Exam (FE) and obtaining my (EIT), and starting my own freelance consulting business were the highlights of my last year of college. I made a pro-active choice to begin freelancing while completing my degree in order to gain some real life experience in the transportation field. I've gained some valuable experience working on Alternative Impact fee studies, creating methodology letters, and collecting and analyzing traffic data for engineering studies.
Since graduating with my Bachelor's in August 2010, I have sent out over 100 job applications, resumes, and cover letters. I've attended networking events," tweeted" myself out, and been on 3 job interviews. Each interview has been the same: I nail it, they love me, the position gets cut. Darn you, economy!
So this brings me to today. I'm a highly motivated, focused, organized, and goal-oriented individual. I make a great employee because I work well with a team, yet am perfectly capable of working independently. I have a strong desire to work in the transportation planning or engineering fields, and I am willing to go anywhere to get my start.
My long-term goals are to become a Professional Engineer (PE) and/or certified planner (AICP) and make a tangible impact on the transportation community. My dream job is to design bike trails, or make cities more bike and pedestrian friendly.
I'm reaching out to you, blog-world. I'm looking for a full-time job in transportation engineering or planning! Please contact me at megmccarty@gmail.com if you are looking for an out-of-the-ordinary, focused, and intelligent engineer to join your team… or if you just want to tell me how crazy I am for putting myself out there like this!  🙂
Can you help Megan find a job?  Are you in a similar predicament?