Recently, someone told me that casseroles were old fashioned and out of style.  I begged to differ.  After all, if casseroles are wrong, I don't want to be right! 
Right?!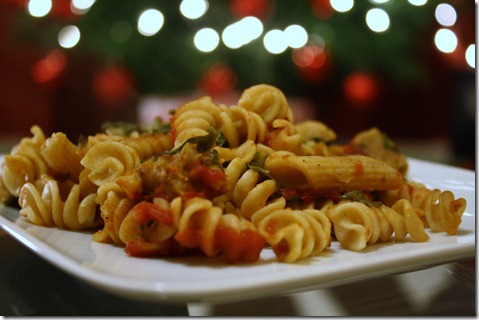 Why do I call this the Cross Your Fingers Casserole?  Well, I literally tossed random ingredients in a dish and crossed my fingers.  I doubted it would turn out for a little bit – but then I popped a forkful of the casserole into the Husband's mouth and he said, "Mmmm! This is AMAZING."
The ingredients include whole wheat pasta, hummus, canned soup, faux vegan sausages, and spinach.  Plus – the magical ingredient:  KETCHUP!

Yes, ketchup was a last-minute addition.  I think a tomato-sauce or ketchup is a good addition to a cheese- or egg-less casserole.  It adds flavor and oomph.
Ingredients (for 6 servings):
4 cups whole wheat pasta (measured dry)
1 can Amy's Vegetable Barley soup
1/2 cup hummus
2 Field Roast faux vegan sausages
4 huge handfuls of spinach
Pepper
Generous squirts of ketchup
Directions:
Preheat oven to 375.
Boil water and prepare pasta according to package directions.  Cook under al dente.
Pre-heat a wok.
Meanwhile, tear up the spinach with your hands.  In a large bowl, combine the soup, hummus, pepper, and spinach.  Stir and let the spinach soak up the flavors.
Chop the sausages and add to the wok.  Cook until browned.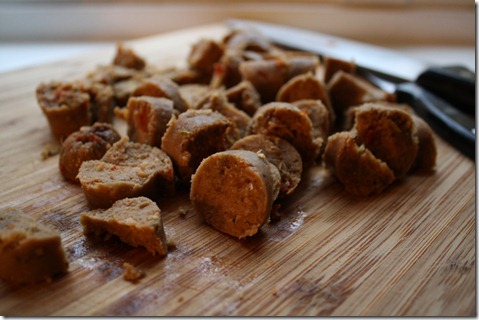 Drain pasta and add to spinach mix.  Add sausage.  Mix thoroughly.
Grease a large casserole dish and pour mix into the dish.
Squirt ketchup generously on top, cover with tin foil, and bake for 35 minutes.
Let cool for a few minutes before serving.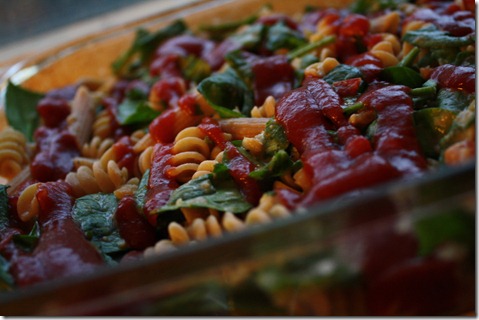 This casserole was the perfect dish for a spontaneous dinner party with Nicole and Isaac.
Nicole brought over the veg!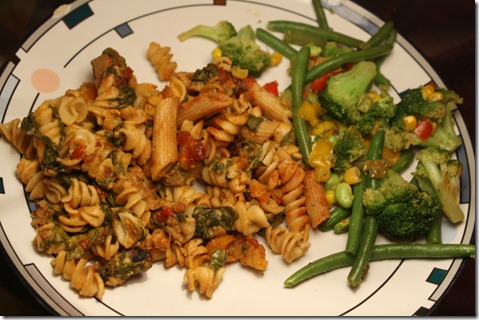 And I went back for seconds.  Soooo good.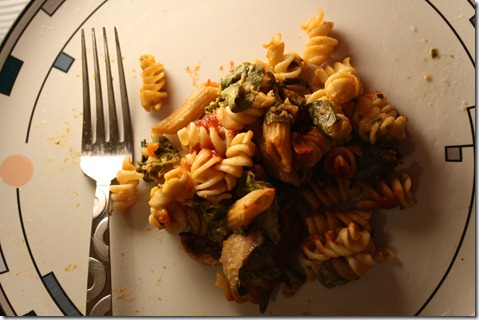 And then we played several intense rounds of Scattergories.  Love that game!!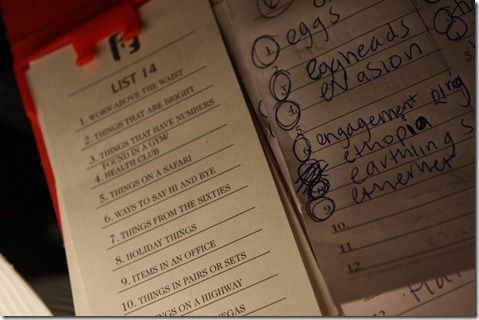 Let's see – I also ran 4.0 miles today, which was an accomplishment because I've only ran that far a few times in the last four weeks.  I was very proud of myself!  I didn't wear a watch so I have no idea how long it took, but I didn't walk at all.  Watch out – Caitlin's on a comeback!