I've been racking my brains for some new recipes (well, specifically non-dairy recipes since the Husband is pretty hardcore right now).  And I think I finally have a great one for you.  Plus, it's super simple (as always)… I bet you already have most of these ingredients on hand!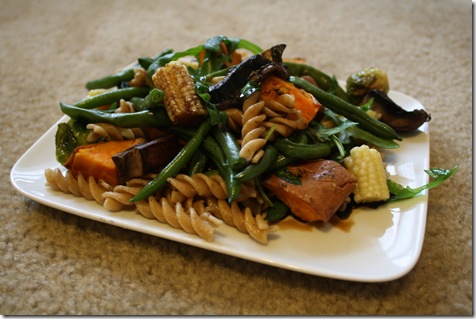 This great pasta salad is warm – not cold and not hot – and is drizzled in a sweet, tangy balsamic reduction.  Drool!
Vegetable Pasta Salad
Ingredients (2 servings):
2 servings whole wheat pasta
1 sweet potato
1/2 can baby corn
3/4 cup frozen green beans
1 cup arugula
1 portabella mushroom cap
10 Brussel sprouts
1 tablespoon vegetable oil or olive oil
3/4 cup balsamic vinegar
Salt and Pepper
Directions:
Preheat oven to 400 degrees.  Wash sweet potato, stab with fork, wrap in wet paper towel and microwave for 3 minutes.
Rinse Brussel sprouts and trim.  Cut into bite-sized pieces and then microwavable glass bowl.  After the sweet potato is done, put the Brussel sprouts in for 4 minutes.
Bring pot of water to boil and add pasta.  Cook for 10 minutes.
Slice slightly cooked sweet potato and place on cookie sheet.  Drain Brussel sprouts and add next to the sweet potatoes.  Roast at 400 degrees for 15 minutes.
Slice mushroom.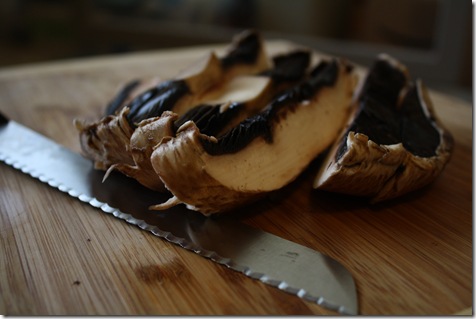 Add to cookie sheet and cook everything for an additional 5 minutes.
Drain pasta, mix with arugula and baby corn (the arugula will wilt when you add it to the bowl).
Remove vegetables and put on top of pasta.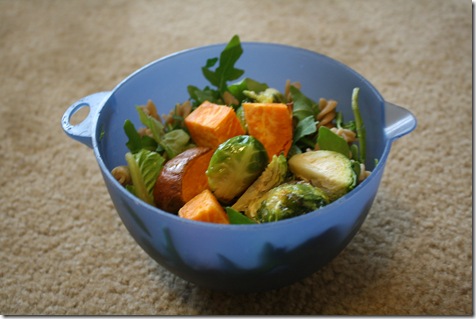 Add vegetable oil, salt, and pepper.  Toss and let stand.
Meanwhile, bring balsamic vinegar to boil and reduction using the method in this recipe.
Plate pasta and pour balsamic reduction on top.
Serve and enjoy!
It… was… divine.  One of the best at-home dinners I've had in a while!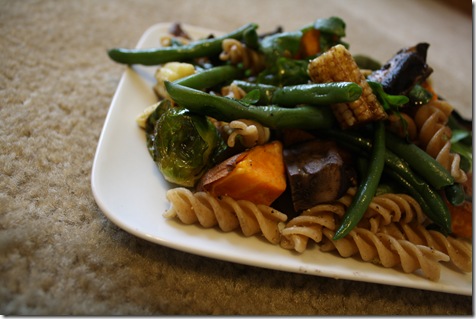 Yes, we ate on the floor.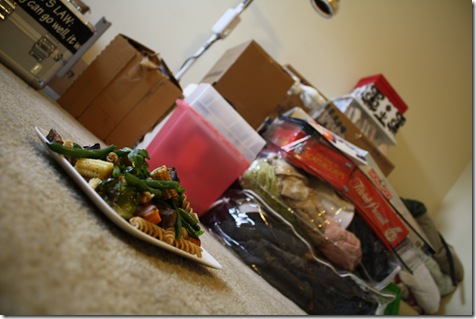 I had a great dessert as well!
I microwaved 1/4 cup oatmeal with 1/4 cup almond milk and then added a crumbled brownie.  Topped with cinnamon!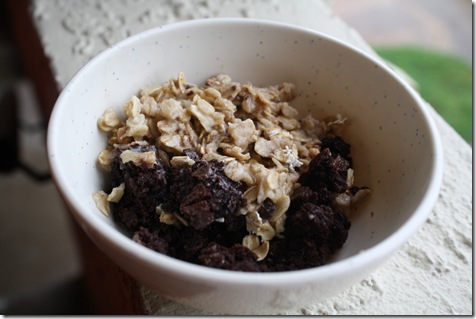 Off to work on my Speedy 5K/No More Trouble Zones training plan!  Will reveal tomorrow!  Oh, and I'm munching on more melon!
Hope you had a good weekend, too.  🙂