Another sneaky way to squeeze in vegetables!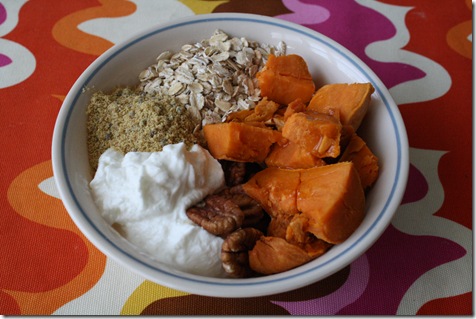 A cold mashed sweet potato makes an excellent addition to a bowl of yogurt + raw oatmeal.
Mashed sweet potatoes aren't time-consuming to prepare.  All I do is wash the potato, stab it with a fork, wrap it in a wet paper towel, and microwave it for 5 – 6 minutes.  To chill it quickly, peel the skin, cut into small squares, and pop in the freezer for 5 minutes.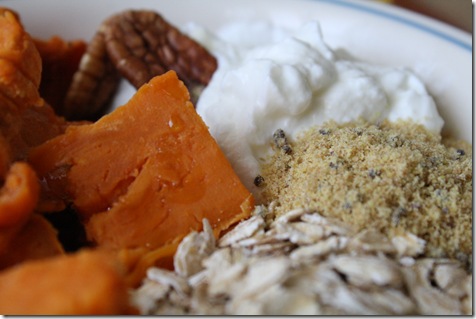 My yogurt bowl contained:
1 serving plain Greek Yogurt
1 small cold sweet potato, drizzled in maple syrup
1/2 cup raw oatmeal
Pecans
1 tablespoon flax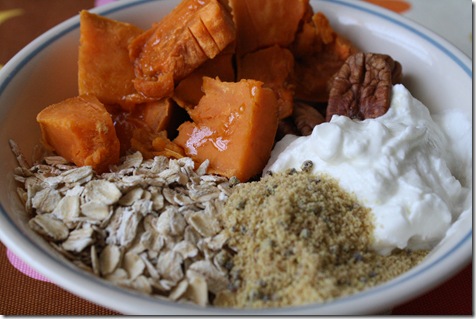 Carrie H's Marathon
As you know, I love to share stories from readers of their accomplishments.  Carrie H is one of my favorite readers.  She recently ran her first marathon, and when she e-mailed me to recap her experience, I asked if I could share it with you.
(Side note: Doesn't she look like Kath from KathEats.com?)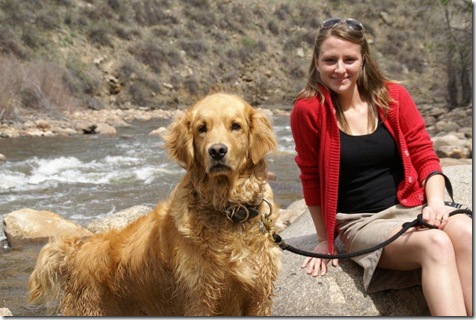 Prepare to be inspired!
On Sunday, I ran the Colorado Marathon, which was in Ft. Collins, CO, about 45 minutes from where I live in Wyoming. I finished in 4:32:55, a time I am very happy with! I won't qualify for Boston or anything of course, but my "secret" goal that I really tried only to tell my husband was to come in at 4:30 (but would have been happy with anything under 5 hours!).
The marathon started (obviously) 26 miles out of Ft. Collins in a beautiful canyon along the Cache la Poudre River in the Rocky Mountains. No spectators were allowed until mile 17, since the rural canyon highway is so windy and was closed to traffic. It was great, though, because I love the solace of running alone, and tried to thoroughly enjoy the first 16 miles alone. I could hear the river flowing by, which for someone who has grown up and hiked and camped in the Rockies my whole life was very comforting. The views were literally breathtaking, and really made me feel like I was right at home during the marathon.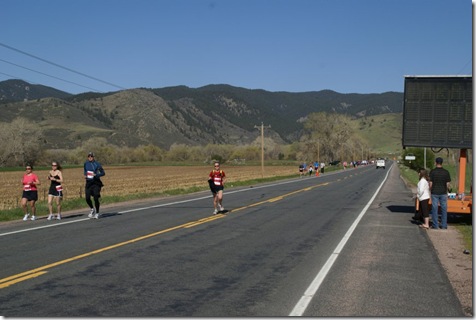 Of course, as Caitlin and many of you know firsthand, it wasn't easy, and miles 21-24 were hellish.  I thought I might die … but there was NO WAY I was going to stop or walk, because I knew I'd never start again. I saw my family (one of my sisters, my two nieces, a brother-in-law, my parents, my husband and my golden retriever) at miles 17, 20 ,and at the finish, and having them cheer me on was wonderful!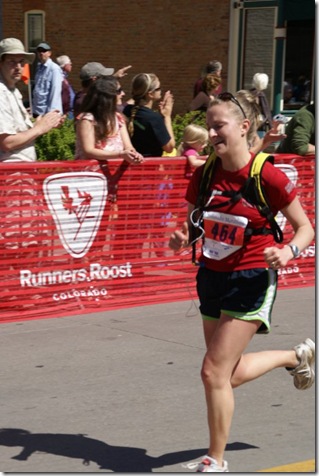 I know I couldn't have done this marathon, first, without my family and husband, but also if I hadn't found healthy living blogs and Operation Beautiful! 
A few years ago, I was eating a bowl of cauliflower, broccoli, six Triscuits and a sliver of cheese for lunch every day, and hardly anything else, trying to limit my calories to under 1,000 or even under 700 on a "good" day per day. And I was going to the gym for listless workouts (cause I was hangry!) and throwing up from time to time. I was mean, cranky, and unable to focus on anything. I decided I had to get better right away or I was going to get waaaaay worse, and went to counseling … and started my journey to a healthy lifestyle that would sustain me and help me become the person I wanted to be.
When I found this group of female bloggers living their lives, exercising, staying healthy and EATING, I was inspired. I learned so much from you all, and from Operation Beautiful, I remembered that I am worthwhile, and one of the best ways to remember that is by encouraging other women to feel good about themselves. (Not that I am always perfect now, but I'm way better!) 
Because the marathon course was closed yesterday, all the runners had to take a 30 minute bus ride to the starting line at 4 a.m. yesterday morning in the dark. I, of course, was self-conscious to be alone and didn't know where to sit with all the "hard-core" runners everywhere … so I sat near the front of the bus next to a woman named Beth. She said she had done several marathons and has a grown college-aged son. I told her I was running a marathon for the first time, and she was so encouraging. She said that she believes women are especially inclined to run, because of our propensity for endurance (hello, childbirth!). She said something like, "Women are strong. You can do this," which was so simple and direct, but made me feel like I could finish the marathon. She said she tries to view the marathon as the celebration of her training, and I had that thought in the back of my mind during the race. She even told me that she struggled with disordered eating as a teenager, and we talked a little about irrational pressures on women to look a certain way. (I think something about the bus ride in the dark made us willing to really share with each other!)
I know each woman's journey is hers alone, and she has to find her own way to health and happiness, but it certainly helps when you don't feel alone doing so!