Catching up on the weekend?:
Don't forget!  Tickets for the 2nd Annual Healthy Living Summit, which will be held August 13- 15 in Chicago, will go on sale Wednesday, May 19 at 9:00 PM EST. There are 200 tickets for sale at $75 each and will go on a first-come, first-serve basis.  The complete agenda will be available before Wednesday, but here's a rough draft of what to expect.  We're using a new ticket system this year so things will hopefully go smoothly, but last year we sold out in 20 minutes… so GET READY!
Today marks the beginning of an insane period in my life, so I figured I needed a stabilizing breakfast.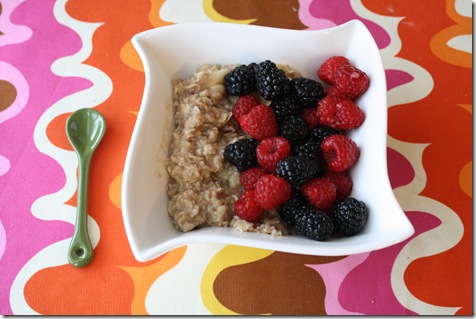 My oatmeal contained:
1/2 cup oatmeal
1/2 cup rice milk (We bought a case of rice milk from Costco so expect to see no almond milk in my immediate future)
1/2 cup water
1 banana
Cinnamon
Toppings: raspberries and blackberries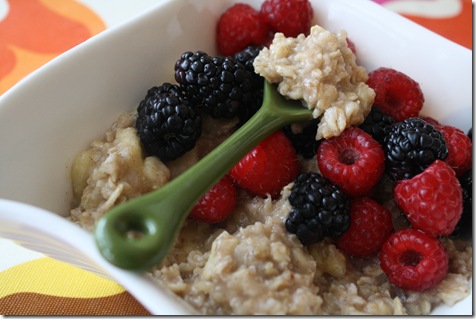 There is no oatmeal topping better than fresh berries, in my opinion!  Mmmm.
It's kind of dreary out, so I think I'm going to hit the gym instead of cycling or running outside.  Hopefully, I can squeeze in one last ride tomorrow because I need to figure out how to take my bike apart and put it in a box for the airplane ride to California, and I don't want to wait until the last minute!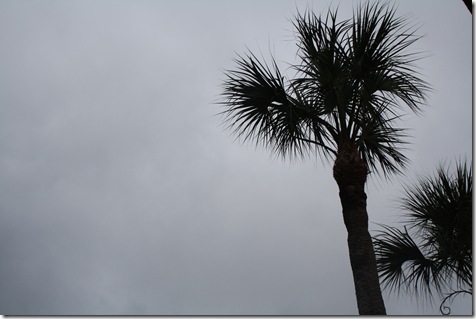 The Beginning of Insanity
Why is my life about to become so insane?  Well…
This week:  Travel to Napa Valley and complete my Century race.
Next week: Travel to Pittsburgh for my best friend Sarah's bachelorette party.
The week after that:  Travel to Charlotte to find a new home.
June 7: Our friends + their baby come to Orlando to visit.
June 14: My husband graduates from acupuncture school!!!  Family will be visiting.
June 21: Pack up our house.
June 28: Move to Charlotte.
June 30: Drive to Tennessee to see my mom and drop off our dogs.
June 31: Drive to Altoona, Pennsylvania for Sarah's wedding.
July 5 – 9: Couch surf in Pennsylvania for the week.
July 10: Celebrate our other friends' wedding.
July 11: Drive back to Tennessee to pick up our dogs.
July 12: Drive back to Charlotte to finally unpack our new home and start our new life, including the Husband's practice.
The rest of the month seems like it will be calm, but then…
August 3: My book is released!
August 13 – 15: The Healthy Living Summit in Chicago.
Also, at some point in the process, I need to write Book #2 proposal and work with my agent to sell it.  I nearly hyperventilated just thinking about it all!
Are you going through major life changes soon, too?  Any suggestions on how I should manage the stress?  There's going to be a lot of it!