I've had an eggplant in our fridge for a few days, but I had no idea what to do with it.  When Megan told me about the Eggplant Pizza recipe on our run last night, and I immediately knew I had to try it for myself!
The premises is simple, but Megan has a step by step recipe on her own blog:
Cut an eggplant long ways and scrap out the center.
Dice the center into small bits and add to wok with other fixins'.
Put stuffing back into eggplant, top with cheese, and cook for 30 minutes at 350.
My stuffing included:
Diced tomatoes
Olives
Tofu
Arugula
Spices
Megan used green pepper and sausage in her pizza.
I really enjoyed this WAY more than I thought I would.  And it did taste a little bit like pizza.  🙂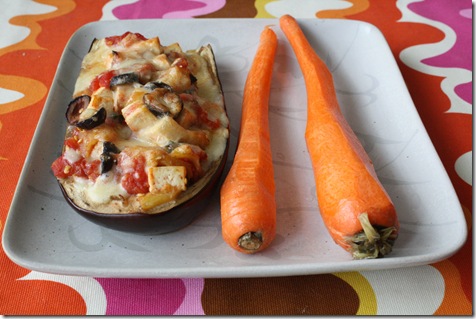 For breakfast, I had a yogurt bowl: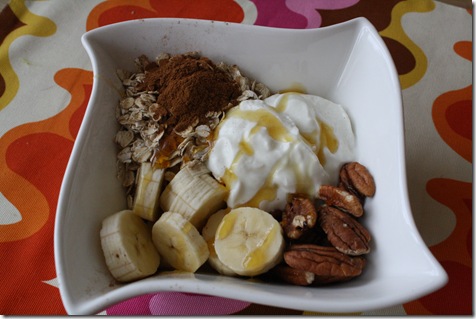 Yogurt mess contained Greek yogurt, 1/2 cup raw oatmeal, a banana, pecans, honey, and cinnamon.
Can you believe that I have NO BIG PLANS for this weekend?  This is the first time it's happened it a long time.  I'd love to read, write, bike, and relax.  I'm also helping Ryan move to a new apartment.
What do you have planned for the weekend?  Anyone doing any big races?