WOAH!  I guess I was tired because after I posted breakfast, I collapsed back in bed and slept for almost FOUR HOURS.  Traveling and the stress of presentations sure takes a lot out of me, I guess!
I woke up and had some fruit.  I love just eating half of a melon.  It requires almost no prep, which is the worst part about eating melons, don't you think?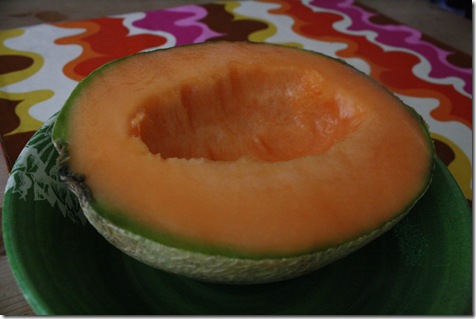 And an hour or so later, I had lunch: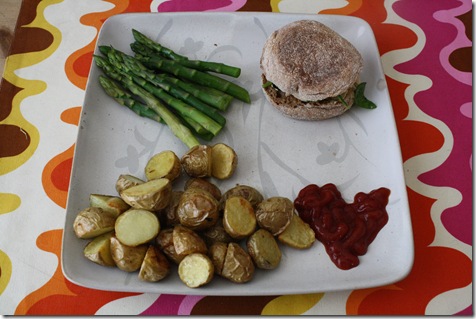 I had a whole wheat English muffin sammie with hummus and spinach: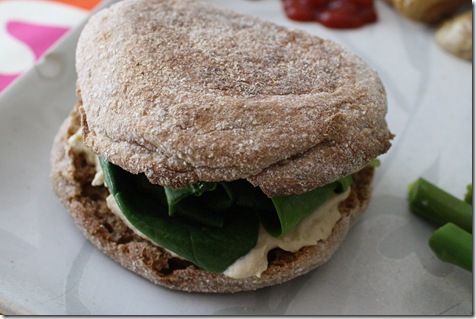 A huge pile of roasted potatoes with ketchup.  A lot of people have recently asked about my roasting technique, so I added it to the recipes page along with a description of my favorite veggies to roast.  It's simple but foolproof!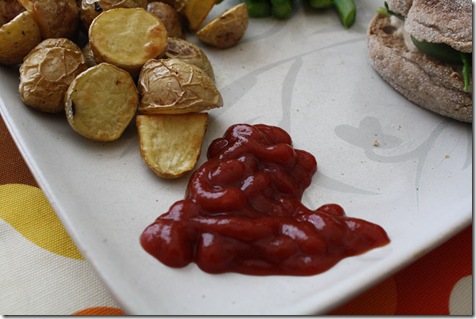 And steamed asparagus:
I've got to get some work done – since I slept away the morning, I'm a little behind – and then the Husband and I are going to the gym.
On Careers
Yesterday's post on goal setting promoted a few e-mails and comments from people who are about to graduate college.  In this economy, I know it's hard not to freak out about finding work, but trust me when I say that ALL graduates have a hard time dealing with the transition.
The funny thing about Healthy Tipping Point is although it's a fitness and food blog, it also documented my personal career story for the last two years.  Some readers have been following me for a while and know the whole story (and I love you for it), but I'd thought I'd share my post-graduation career story for newer readers, too.
I graduated from University of Pittsburgh in April 2006 with a double degree in English Writing and Political Science.  I had no idea what I wanted to do at the time; my main concern was making money after being a broke college student for so long.  I actually insisted that I didn't care what I did, as long as I made money.
I applied to a bunch of jobs before college ended, but I only interviewed at one.  When they offered me a job, I accepted immediately because I didn't want to waste any more time looking for work, and the job seemed cool.
I started work as an Urban Planner/Technical Writer.  I was an entry-level minion who did paperwork and data sheets for the Project Managers at my company, which primarily designed master-planned communities.  Because the company was headquartered in California, I got to go to the West Coast a few times on business, which was awesome.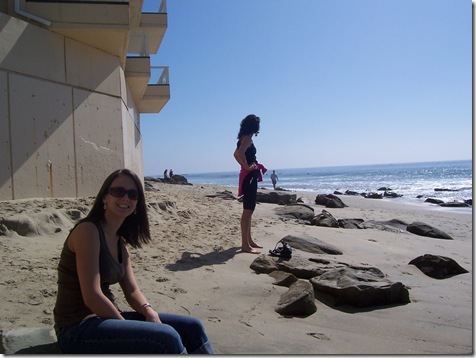 Some things about my job were GREAT.  I had an awesome boss (I liked her so much that I even invited her to my wedding) and the hours were great (40 hours, max).  So, when the Husband graduated college one year later and we decided to move to Florida, I asked the company if I could continue to work for them from home.  They said yes and I was thrilled.
However, beginning in Summer 2007, the atmosphere in my office really began to change.  The housing market was tanking, and our workload was going down with it.  We went from 45 employees to 15 in one year.  It was terrifying to go to work everyday and think, "This could be the day I get axed."  I know I was up for being fired a few times, but I had a good reputation with the company and was always saved by my awesome boss.  Somehow, I even got a promotion (to Project Planner) and a raise.
But the job was beginning to take a toll on me.  I wasn't working with my awesome boss as much anymore, and I had to work under someone who was… ahem… less awesome.  I felt disrespected a lot at work, and I was ALWAYS scared of being fired.  I started to make many stupid mistakes because I felt so pressured to perform well. So,  I decided that I just had to make it through my wedding (January 2009) and then I was going to quit.  I began interviewing for other jobs in the field and looking into graduate school.  But the wedding came and went, and I was still at my job.  I kept making excuses because looking for work seemed so hard.
I was careful about what I said on the blog about my job because I was afraid my boss would find it.  But it was obvious that I was stressed, unhappy, and worried about being fired.
Then… Everything changed.  I got the book deal.   I found out about the deal after 6PM, but I called into work the next morning and quit immediately.  It's scary being my own boss, but now I have a job that I love and don't feel stressed out about all the time.  I don't hate Monday morning anymore. 
Obviously, you don't have to be self-employed to love your job.  But, I made a lot of career-related mistakes while in college and immediately after.   Here's what I've learned:
Don't major in something just because it's fun to study – think about how you can use the degree as a career, too.  I don't think enough of us think of college as job preparation.
Actually, everyone should do internships… as many as possible.  Doing more internships would've helped me figure out what I wanted to do, and it would've also helped my resume.
Money is NOT the end-all-be-all.   If you think you'll be OK in a job you hate just because you make a lot of money, you are going to regret it.  I promise.  No amount of money can make up for your soul being sucked out of you.
Make use of Career Services! All colleges have a Career Services department to help students write resumes, prepare for interviews, and job search.  And it's FREE!
If your job sucks, look for other work and make a change.  A job isn't forever, and it's not worth being miserable.  Yes, I know it's hard in this economy, but there are opportunities out there.  Even if you can't find something right away, just looking for work will help keep you sane.
Everyone will have to work "just for the money" at some point.  If you hate your job but cannot move on just yet, ask for different responsibilities that you think would be more interesting or find a really fun post-office hours hobby to keep you busy (like blogging!).
And last… but not least…  Graduating and making huge life changes is hard!  I remember what a shock it was to my system, and the economy was in much better shape.  I bet a lot of soon-to-be graduates are super stressed out, but it WILL work out.  Make use of your Career Services resources and take deep breaths.  What will be, will be.
What advice do you have for upcoming graduates?  What do you wish you had known?  What was your post-graduate career path like?  If you're about to graduate, what are your thoughts on finding a job?