Sometimes, I surprise myself with my workouts.  It rarely happens so it's kind of nice when it does!  🙂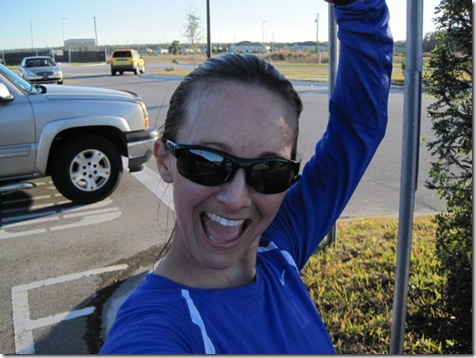 I planned to do a brick workout this afternoon – simulating the Olympic triathlon that I have in two weeks, I set out to do a 20-mile bike and 5.6 mile run.  My initial goal was to complete everything (including the transition) in 2:10. 
I knew it was going to be INTENSE.
I decided to drive to the Wal-Mart near my bike route so I could immediately start pedaling hard (instead of weaving through traffic for the first few miles).  The Chevy Traverse is pretty awesome for hauling lots of sports gear!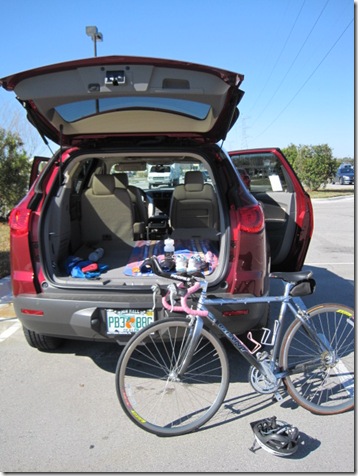 I set my transition area up so I would be good to go when I got off the bike.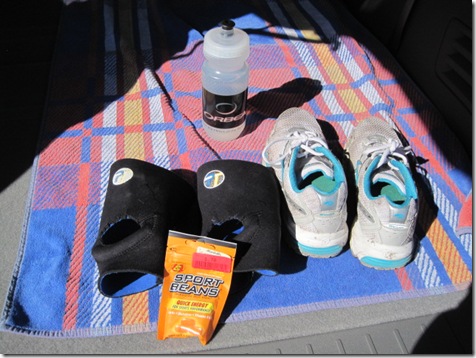 My initial goal for the bike was to wrap it up in 1:10, but I knew immediately it was going to be impossible.   The wind gusts were about 15 mph! There were moments on the bike that I could barely go 10.0 mph!  When I was biking and the wind was coming at me from the side, it literally pushed me into the curb. 
Biking into the wind is soooo hard.  My quads were screaming in pain at some points.  I was grunting, chanting mantras, and cursing the weather the entire time.  BUT – I reminded myself that hard training rides are the KEY to a successful race.  You never know what race day conditions will be like – and mentally and physically challenging training days makes race day that much easier.
Final statistics for the bike:
Duration:  1:17:07
Distance: 20.0 miles
Average Pace: 15.6 mph
Considering the wind, I was pleased with my bike time.
I immediately hopped off and transitioned.  Off came my bike shoes, and on went my knee sleeves and sneakers.  I took off my helmet, fixed my hair, and took off my bike gloves.   I also started to shove these sport beans down my throat: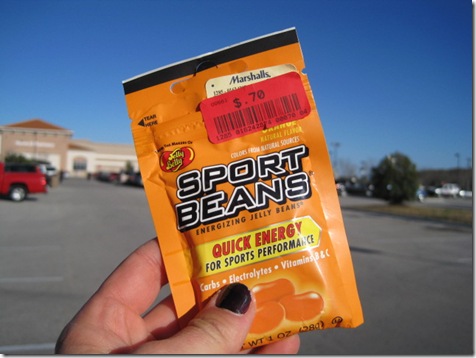 The entire transition took 3:29.
And… then I was off on the run!  I was SO grateful to be off my damned bike and be running that I took off pretty fast.  My legs felt like BRICKS (hence, the brick workout) for the first 0.5 mile. 
I actually forgot my iPod at home, so I was forced to focus on the run and my surroundings.  I actually REALLY enjoyed it.  I think I went much faster as a result.
My goal for the run was to negative split and finish in 55 minutes, and I managed to crush both goals.  I was working SO hard towards the end.
Duration: 52:10
Distance: 5.6 miles
Mile 1: 9:44
Mile 2: 9:46
Mile 3: 9:48
Mile 4: 9:24
Mile 5: 8:57
Mile 5 – 5.6: 6:53 (a 7:49 pace!)
All I can say is "YAYYYY!"  My overall time for the workout was 2:12:17, only 2 minutes over my goal.   I am MORE than pleased.  If it hadn't been windy, I would've easily surpassed my 2:10 goal.
I AM SO EXCITED FOR THE TRIATHLON!
Here are my eats for the day…
This morning, the Husband and I went to a British pub to watch the Manchester United game.  I ordered a egg and cheese breakfast sammie:
We ended up running errands after the game, and I was stuck without a snack.  Like any good athlete, I had a packet of Goo in my purse and ate that (ewww!).  It did the job.  🙂
I came home and had a Green Monster, which contained 2 cups spinach, 1 banana, and 1 cup rice milk.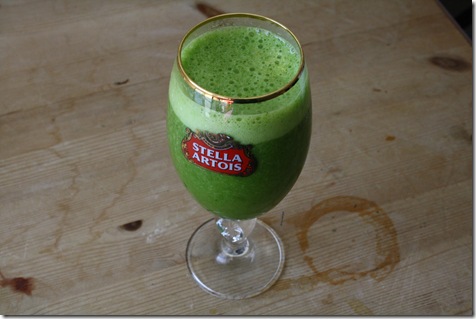 Post-workout, I had a whole wheat bagel with PB, strawberries, and Chobani pineapple: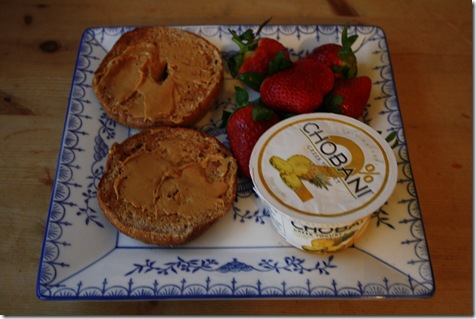 After such an intense workout, I'm going to need a BIG dinner.  I'll be eating 2 to 2.5 servings of cheese tortellini with red sauce, roasted canned artichokes, and sundried tomatoes, plus a bunch of asparagus on the side.  Mmm.
What a lovely way to cap off my weekend. 🙂 Now, I just need to emotionally prepare myself for the next week – it's going to be a doozy with work.
Have a great night!