Good morning!  Today is a rest day before my long run.  I'm moving this week's long run up to Friday because we'll be in Miami this weekend.  We're going to watch the Miami Hurricanes play (and have a super-healthy tailgate courtesy of Arnold Bread!).
In preparation of tomorrow's 14.0-miler, I did some strength training this morning:
30 push-ups
100 bicycle crunches
Two 30-second planks
And then I ate a wonderful breakfast: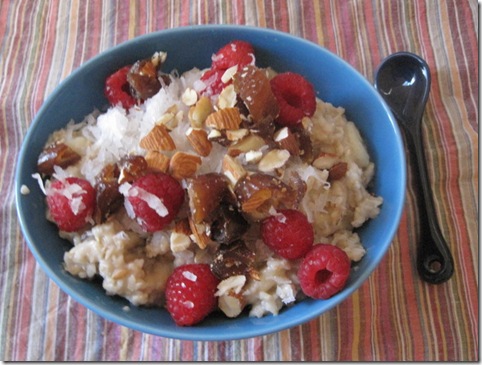 My banana oatmeal contained:
1/2 cup oatmeal
1/2 cup milk
1/2 cup water
1 sliced banana
Toppings:  raspberries, dates, almonds, and coconut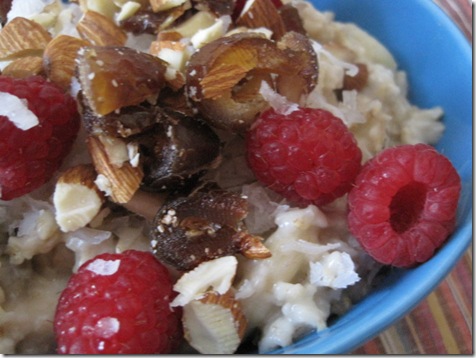 Happy World Vegetarian Day!
*Throws veggie-shaped confetti in the air* (a la MizFit)
World Vegetarian Day kicks off Vegetarian Month, and non-vegetarians are more than welcome to celebrate, too!  🙂 Use this month to explore some yummy vegetarian recipes.   
Don't you love it how every lifestyle, food, activity, and ideal has a "day"?   Hell, there is even Waffle Day, Coffee Day, Blog Day, Running Day, and International Women's Day.   Basically, there is ALWAYS something to celebrate! 🙂