Today's Relax Week task included tearing myself away from the computer to take the puppies on a nice walk before work.
I think they enjoyed being outside in the sunshine as much as I did!
It was so nice and sunny out this morning, but now it's dreary and raining.  I'm glad I got to enjoy the nice weather while it lasted!
I came home and did some strength moves.   Now that I realize HOW IMPORTANT strength training is for my running, I am pretty dedicated to arm/leg/core work.
10 Minute Strength Training
40 push-ups
50 bicycle crunches
20 reverse crunches
1/2 of my Physical Therapy moves for the day
Afterwards, I made a lovely brekkie:
Which included Flax French Toast!
Plus blueberries and blackberries:
And then I got to work.  I don't think I mentioned this before, but not only do I only have a four-day work week this week, but I am also working shorter hours at my full-time job (8 opposed to 9).  It's a nice change; I wish it would be like this always!
Lunch was something a little creative:
I had 1 serving of veggie and potato soup leftover from this weekend.  I drained the broth and added 1/4 cup chickpeas to the mix before microwaving and mashing.  Then, I stuffed it all into a wrap….
Viola!  Veggie Soup Wrap:
Plus, a plum:
Free Roam?  Not So Much
When I announced I was going vegetarian, many people in the comments section remarked that I should simply just eat "Free Roam" meat.  I recently stumbled upon this interesting article of free-roam pork.  Check it out for a thoughtful comparison between the evils of factory farm and free-roam farming.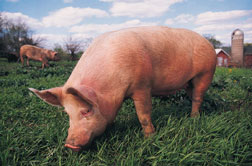 Highlights from the article:
As responsible consumers, it's easy to decide to avoid factory-farmed pork. The hard part is what to make of the most acceptable alternative. Does free-range farming justify the mutilation that's often required to keep pigs outdoors? As an ethical matter, the question is open to endless debate. What the conscientious meat eater can take away from it is not so much a concrete answer as a more nuanced way to think about our food choices. In this age of deeply convincing attacks on factory farms, consumers must be careful not to immediately assume that every alternative to factory farming is as "all natural" or humane as its advocates will inevitably declare. The alternatives might require still more alternatives.
Thoughts?