To be honest, I don't remember what Sloppy Joes taste like, but this was AMAZING.  The Husband really liked it, too!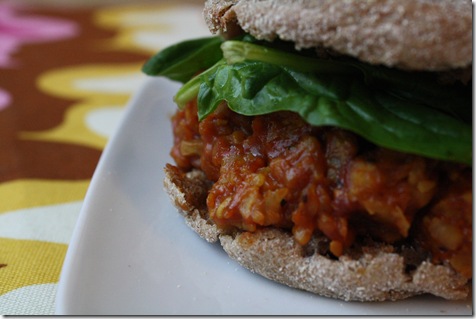 Ingredients (for 2 burgers):
1/2 cup organic ketchup
1/4 cup organic yellow mustard
3 tablespoons honey
1 tablespoon soy sauce
1 tablespoon apple cider vinegar
Sprinkle of cinnamon, chili powder, and pepper
2/3 packet of organic tempeh, chopped and crumbled
Spinach for garnish
Bun of English Muffin
Directions:
Preheat oven to 350.
Combine first 6 ingredients in a small pot on the stovetop. 
Turn on low and heat for five minutes, until it starts to bubble.  Stir thoroughly!
Add in crumbled tempeh and stir.
Pour into oven-safe casserole dish and place in oven.
Cook at 350 for 30 minutes, stirring occasionally.
Spoon onto bun and top with spinach.
Enjoy!