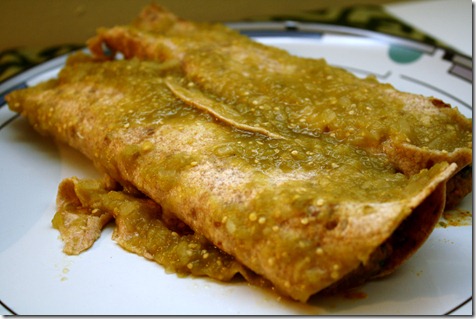 Ingredients (for 5 enchiladas):
3 cups cubed sweet potatoes
2/3 can rinsed and drained pinto beans
Several cups hand-shredded raw spinach
5 whole wheat tortillas
1 can salsa verde
Salt and pepper to taste
Directions:
Preheat oven to 375 degrees.
After peeling and chopping the potatoes, place in boiling water and cook for 15 minutes.  Drain.
Put potatoes, spinach, and pinto beans in food processor and pulse.
Pre-grease casserole dish.
Lay out a tortilla on a plate and scoop out 1/5 potato mix.  Top with extra raw spinach and place in casserole dish.  Repeat four times.
Pour entire can of salsa verde on top, covering the tortillas evenly.
Bake at 375 for 15 minutes, remove, and serve.