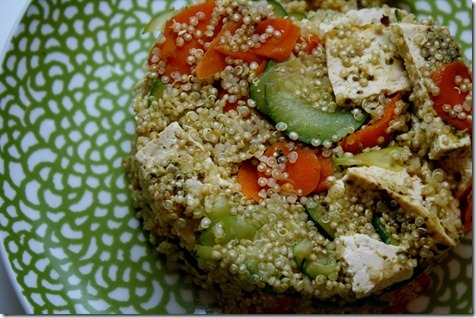 Ingredients (for two servings):
1/2 cup fresh cilantro
Juice of one lemon
1/4 cup nutritional yeast
2 tablespoons olive oil
1 tablespoon water
1 block extra firm tofu
1 zucchini
2 carrots
1/4 cup water
3/4 cup quinoa, rinsed (if necessary)
Directions:
Preheat oven to 375 and grease a large glass casserole dish (or cookie sheet).
Remove tofu from the package and slice into thin, 1/2 inch slices.  Place on greased cookie sheet.
Combine olive oil, water, cilantro, nutritional yeast, and lemon in food processor until smooth (to get the maximum amount of juice out of the lemon, microwave it for 45 seconds before slicing and squeezing).  Drizzle over tofu and place in oven.  Set oven timer for 45 minutes.
Meanwhile, using the slicing attachment on the food processor or by making cuts with a knife, shred the zucchini and carrots into very thin silvers.  Place in wok.  When 15 minutes are remaining on the tofu, pour 1/4 cup water into wok on top of veggies, cover with lid, and cook on high.
Bring small pot of water to boil.  Add in quinoa and cook for 5 minutes (per these directions).  Drain and fluff.
Remove tofu from oven and chop into thin pieces with a knife.
In a bowl, combine quinoa, vegetables, and tofu.  Mix thoroughly.
Serve and enjoy!