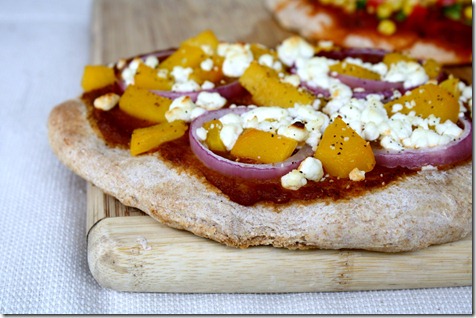 Ingredients:
1.25 cups chopped raw butternut squash
1/6 of pizza dough recipe
1/4 cup BBQ sauce
1/4 cup goat cheese
Several sliced red onion
Pepper
Directions:
Pre-heat oven to 400.
Place chopped butternut squash into small pot, add 1/4 cup water, and cover.  Steam on high until the squash begins to soften.
Meanwhile, grease a cookie sheet and spread out dough.   Let rise for 10 more minutes.
Set aside 1/4 cup butternut squash, add remainder to food processor.  Combine BBQ sauce and butternut squash until smooth.
Spread sauce on pizza dough.  Top with onions, goat cheese, and remaining butternut squash.
Bake at 400 degrees for 17 minutes if eating right away.  If freezing, cook for 15 minutes, let cool, wrap tightly in saran wrap, and freeze.  To reheat, cook at 350 until warmed throughout.