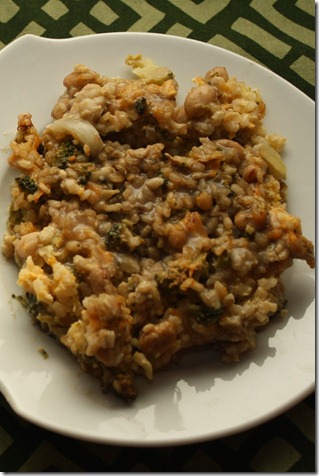 Ingredients:
1 and 1/2 cup brown rice, cooked
1/2 cup sweet onion, chopped
1 head of broccoli (leafy parts only), rinsed and chopped
Pinch of salt
Generous pinch of pepper
1 can white navy beans, drained and rinsed
3/4 cup soy milk
1 egg, beaten
1 and 1/2 cup cheddar cheese, shredded
1.5 cups mushroom soup (watch for MSG! I used Imagine brand)
Preparation:
Preheat oven to 350.
In a large mixing bowl, mix together the brown rice, sweet onion, broccoli, salt, pepper, beans, milk, egg, and cheese.
Pour mixture into casserole dish.
Pour 3/4 cup mushroom soup on top of casserole (evenly).
Bake casserole for 45 minutes or until center is firm.
Heat remaining mushroom soup in microwave or stovetop.
Pour over casserole again.
Slice and enjoy!