Definitely eat these baked wonton cookies fresh out of the oven.  The outside is crispy, and the inside is a delicious, warm mix of banana and almond butter.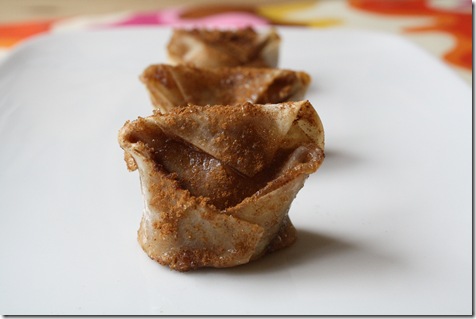 Ingredients (for one serving):
3 Nasoya wonton crisps
1/4 of a banana, cut into three small pieces
1 tablespoon of almond butter, separated
Cinnamon
Brown Sugar
Directions:
Preheat oven to 350 degrees
Lay out wontons on a plate
Fill inside of wontons with small piece of banana and drizzle of almond butter
Sprinkle with cinnamon
Using a wet finger, seal wonton into triangle.  Then, fold in each of the ends
Wet outside of wonton and press on cinnamon and brown sugar
Place on generous cookie sheet and bake at 350 for 5 minutes.
Serve and enjoy!