These creamy, dreamy pie is a perfect casserole for a small dinner party… or for leftovers to enjoy for the rest of the week.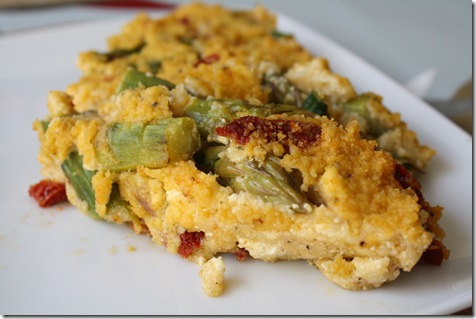 Ingredients (serves 3)
1 tube polenta
2 cups chopped asparagus
1/4 cup sundried tomatoes
1/2 package of pre-cubed extra firm tofu, drained
1/4 cup hummus
1 tablespoon hot sauce
Pepper and Salt to taste
Directions:
Preheat oven to 350 degrees.
Chop asparagus and microwave in water for 5 minutes or until softened.
In a food processer, combine remaining ingredients except sundried tomatoes and asparagus.
Pour mix into bowl and stir in sundried tomatoes and asparagus.
Pour into greased pie dish.
Bake for 50 minutes.
Remove and let stand for 10 minutes before serving.