Good morning!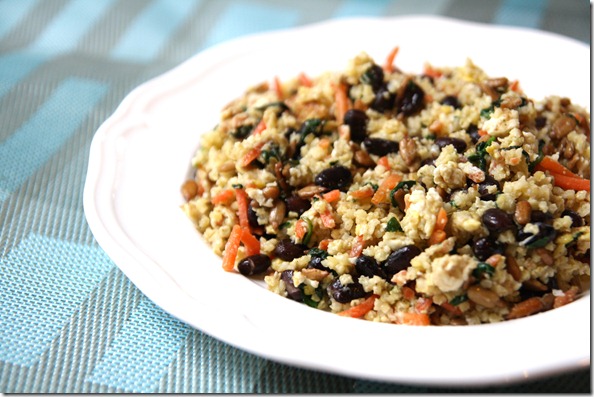 Are you one of those people who eat the same thing over and over again for breakfast?  My mom definitely is!  When I was a kid, she ate a bagel with cream cheese and strawberry jam every single morning.  And then, when I was in high school, she switched over to Great Grains cereal for several years.  I'll have to ask her what breakfast rut she's in now – I'm not sure!  I do know that it involves a lot of coffee.  Hah!
I go through breakfast ruts, too.  For a long time, my go-to breakfast was yogurt with Kashi Go Lean Crunch cereal and raisins.  Then, I got really into oatmeal.  Now, I'm a stickler for eggs, but at least I vary how I eat my eggs – scrambled, over easy, in an omelets.  And in this Millet Breakfast Scramble, which also includes spinach, carrots, sunflower seeds, and black beans – plus a heap of coconut oil for healthy fats.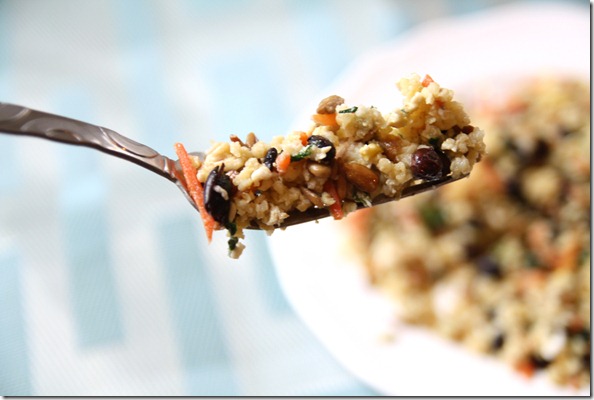 Millet Breakfast Scramble
Ingredients (makes about three servings):
2 cups cooked millet (here's a post about millet and how to prepare it)
1/2 cup spinach, chopped thoroughly
1/4 cup shredded carrots, chopped thoroughly
4 eggs
1/3 cup sunflower seeds (roasted and salted for maximum flavor)
1/2 cup black beans, drained and rinsed
2 tablespoons coconut oil
Salt to taste
Directions:
In a large frying pan, cook the spinach and carrots in a little bit of olive until wilted.
Crack eggs over the veggies and scramble all together.
Once the eggs have cooked, add in the sunflower seeds, black beans, coconut oil, and millet.  Stir to combine and heat throughout.
Add salt to taste and serve!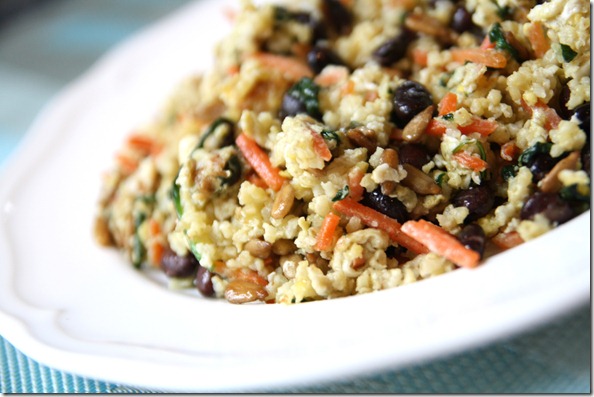 Henry is a typical toddler in that he doesn't like it when foods are combined or touch each other, but he LOVED this scramble.  I was so pleasantly surprised (side note: he sat in my lap watching YouTube videos about digger trucks while I wrote this post – I now know way too much about construction equipment).
I saw this awesome round-up of quick and healthy breakfasts on Buzzfeed yesterday – lots of yummy looking eats, if you're looking to get out of your own breakfast rut.
What's your go-to breakfast?