I've been asked by quite a few people to do a post on this topic, so here it is!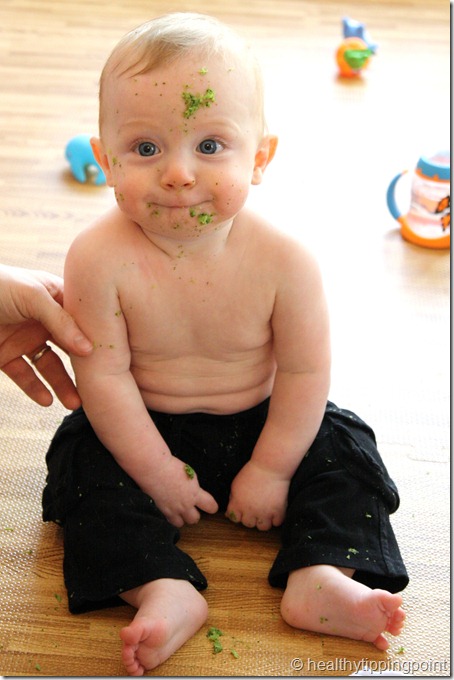 You know, for something that I've done three to six times a day for nearly my entire time, feeding my baby solids felt… a little overwhelming.  What do I feed him?  And how?  And when?  But one of the most surprising things about my journey into parenthood has been how non-obsessive I am about researching the sh*t out of every single decision.  And by that, I don't mean that I fail to educate myself before making choices – because I do – but I don't feel the need to read twenty contradictory books on every parenting topic and confuse the crap out of myself.  I read enough, talk to Henry's doctor, discuss it with the Husband, and then just do it.
So I don't want to frame this 'starting solids' post as "I researched this to death and want to share the wealth of knowledge that I've accumulated" because that's not what this is.  This is more a little update on what we've been doing thus far.
There are a few theories on how to introduce solids to babies.  One is the pureed method.  I was fed this way; you probably were, too.  You know – little jars of mush.  Another (newer) method is called Baby Led Weaning (BLW).  Basically, you let the child lead the way.  You let them taste food when they reach for it and instead of eating mush, they gnaw on more solid forms.  I liked the idea of BLW because it seemed more natural and easier, but I was very concerned about choking.  Here's a good explanation about the 'choking issue' that made me feel better. My one 'obsessive parenting moment' of feeding included watching 4,458 YouTube videos on infant CPR and other safety maneuvers before doing BLW.
In the end, we decided to do a little bit of everything, at least for now.  So we've done some purees and some BLW.  I've bought a few jars of baby food and made my own, too.  It's been a mixed bag with mixed results.
First up:  breastfeeding.   I'm still pumping exclusively.  A few days ago, I asked about early weaning on the HTP Facebook page.  I was really ready to quit pumping and move onto formula.  Pumping is hard – physically and emotionally – and I am definitely reaching the point of "I cannot do this anymore."  I even ordered formula off Amazon.  I had totally come to terms 'with quitting' and was so excited to move forward, but then I realized the high cost of formula and balked.  The decision to quit is really hard.  It seems so final (because I guess it is, practically speaking).  I'm going to wait another month or so and reevaluate.  It would be great if I could get Henry to eat more solids and need less milk to drive the overall cost down.  We'll see.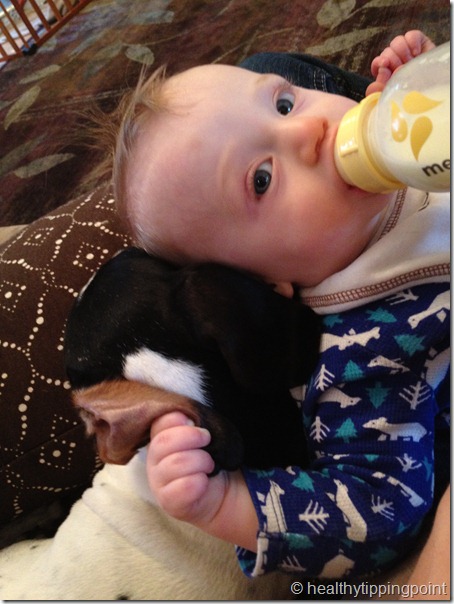 I waited to introduce any type of solids until he was 5.5 months old.  The general recommendation is 6 months, but he had hit a lot of physical milestones that indicate readiness – plus, he was grabbing my food all the time – so we went for it.
As I said, we do a mix of purees and BLW.  Here's what he's had so far (everything has been organic):
Mashed sweet potato puree with breastmilk (his first food)
Roasted sweet potato fries
Boiled sweet potato fries
Pureed broccoli
Steamed broccoli
Boiled carrots
Whole pears
Roasted white potatoes
Pureed jarred pears (Earth's Best)
Pureed jarred apple (Earth's Best)
Baby Mum Mums
HappyPuffs
In general, he doesn't really seem to like anything except roasted white potatoes, Baby Mum Mums, and HappyPuffs.  Great.  Real healthy, right?
He will eat purees if I load them up on a Baby Mum Mum (basically a rice cracker), as you can see in the picture above.  If I try to put them in his mouth with a spoon, he grabs the spoon and refuses to let go.
Henry seems to be a bit more into BLW foods, but not much.  He has figured out how to open his mouth on command (if I aim a HappyPuff at him).  But generally speaking, he makes "I'm disgusted by this food" faces whenever he eats anything (except processed HappyPuffs, Mum Mums, and white potatoes….).  Our daily routine includes lots and lots of bottles, one Baby Mum Mum or HappyPuff treat, and one 'meal' of fruits and veggies.  I'm going to move it up to two meals a day, but at this point, little food actually makes its way into his tummy.  It's more for practice, fun, and exposure.  A bath is ALWAYS required after a feeding – it's so messy!
While a lot of parents do oatmeal or cereal first, I really wanted to introduce him to veggies and fruits… although it doesn't seem like it made him like them more!  We plan to avoid gluten and dairy with Henry for a while, as I am sensitive to gluten and he showed sensitivity to dairy in my breastmilk.  I hope he doesn't have issues with either one long-term, but we'll just have to wait and see. 
After a month, he definitely isn't "into" foods.  However, one thing that I've realized is that Henry will seem like he doesn't care about a toy or can't do a skill and then all of the sudden – BAM! – he's into it or doing it.  For example, he didn't babble at all except for a few gees and goos.  I was just getting worried when all the sudden, his 'language' skills exploded with das, has, nahs, etc.  I figure the same thing will happen with solids.  One day, he'll just be ravenous for solids.
So – that's my "starting solids" post!  As mentioned, I definitely don't feel like an expert in the area.  I'd love some feedback on foods and meals your babies loved, as well as feedback from other moms who decided to wean early.  The obsession with Baby Mum Mums and HappyPuffs aside, I'm excited to continue the solid foods journey!  Cooking for three is great.