Don't get me wrong.  Syrup is a beautiful thing.  It is, after all, a food group (right after candy, candy canes, and candy corn).
But I don't always want a mega-dose of sugar first thing in the morning.  I love waffles and French toast, and there are tons of different ways to top them without the golden stuff.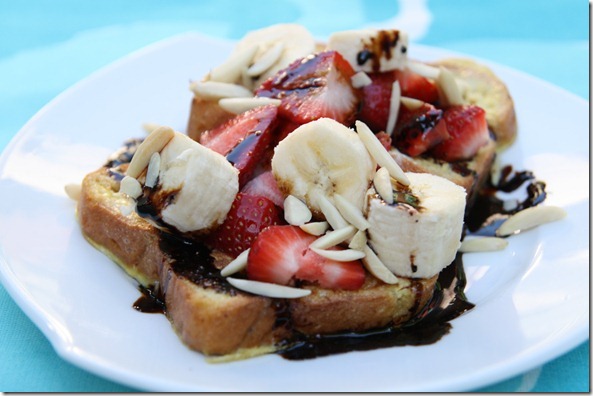 Some of my favorite syrup alternatives include:
Greek yogurt
Peanut butter
Grilled bananas (slice 'em and throw them on a hot pan – just be sure to spray it with non-stick stuff)
And balsamic reduction
Balsamic reduction is very easy to make – it just requires you to keep an eye on the stove because it's very easy to overcook and ruin it.  You need to use a lot of balsamic vinegar to make it work, so we buy a cheap jug of it, not the pricey small bottles of gourmet vinegar.
I pour about 1/2 cup (for two people) into a small pot and turn the heat on high.  Let it boil and bubble for about 5 minutes or so and then begin to watch it very, very carefully. It will get thicker and thicker, and when you pick up the pot and roll the liquid around, you want it to appear gel-like but not sludgy.  I have ruined many a pot of balsamic reduction by overcooking it!
If you get it right, the results are mighty tasty!
French toast with balsamic reduction, strawberries, bananas, and almonds.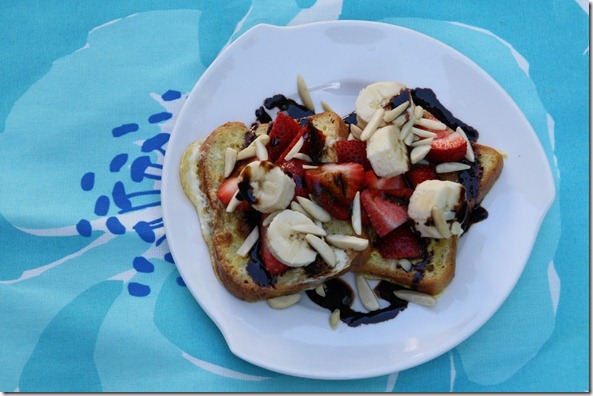 Thought of the Day:
"Don't judge each day by the harvest you reap but by the seeds you plant." – Robert Louis Stevenson.