Things that I've learned over four seasons as a Girls on the Run coach: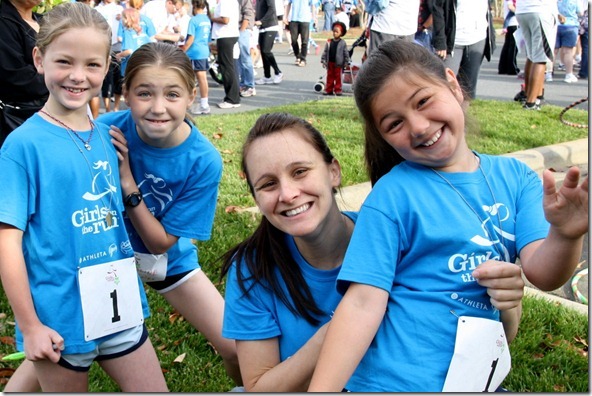 Kids will do nearly anything for stickers.
All you have to do is be yourself.  It's always good enough.
Always bring more napkins than you think you need…
… And in case you don't, sleeves are an excellent substitute.
Elementary school children are very often smarter than most adults.
If you're bringing a treat, make sure all 15 look the same or you'll have a fight over the 'special' one.
Everyone loves the freedom to occasionally act silly, no matter what their age.
If you say, "All the cool people wear sunscreen," kids will put it on.  Otherwise, there's no hope. 
Almost anyone can train to run a 5K in 12 weeks.
Sometimes you have to get the 'sillies' out before you can have a serious conversation.
Issues that 3rd graders deal with are eerily like problems you encounter in adulthood.
Leaping high fives are infinitely better than regular high fives.
Orange slices make workouts that much more bearable.
It's possible to command respect and still be loved.  Just treat others as you would want to be treated.
Popsicles will melt if you put them in a cooler.
You can never have enough band-aids in a first aid kit.
Kids really like to sign their names on things.
Everyone loves a good cheer.
Volunteering with your spouse strengthens your relationship in ways you can't imagine.
It's not "Indian-style" anymore – it's "Cross-Cross Applesauce."
Children really aren't that scary.  In fact, they're pretty darn amazing.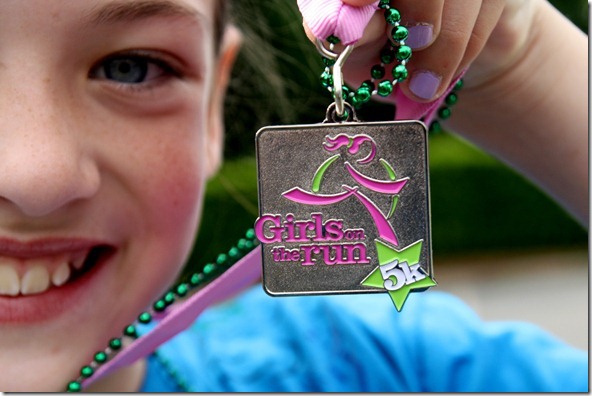 Today was the Girls on the Run 5K – the celebration of 12 weeks of training, learning, and growing.  Every 5K seems bittersweet because it marks the end of a season, but this one was particular rough for the Husband and I because it was our last season coaching (for a while) because of the baby.  I'll miss GOTR so much!
Our 5K started like them all – we met at our designated spot and signed each other's t-shirts.
Before the start, the girls got their "Happy Hair" done (spray-painted pink and green), played games, stretched, and hula hooped.  I tried to hula hoop but was an epic failure.  The bump got in the way.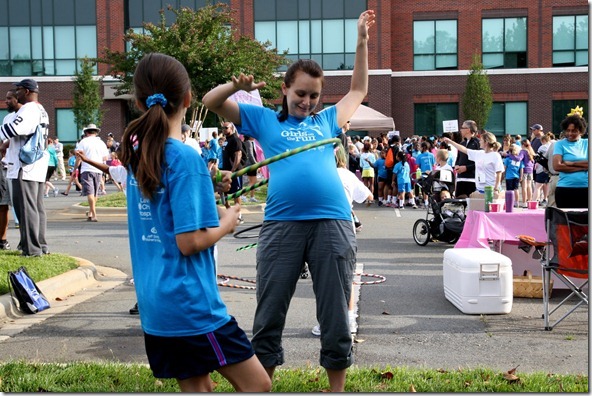 Never going to happen.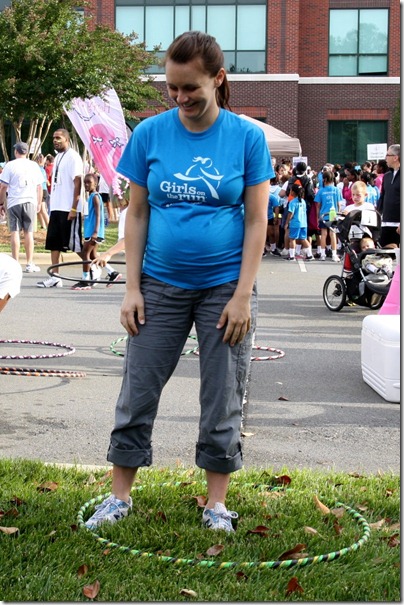 We also pinned on the girls' bib numbers – at Girls on the Run 5Ks, everyone is #1 (it's technically an 'event,' not a race, and it's untimed).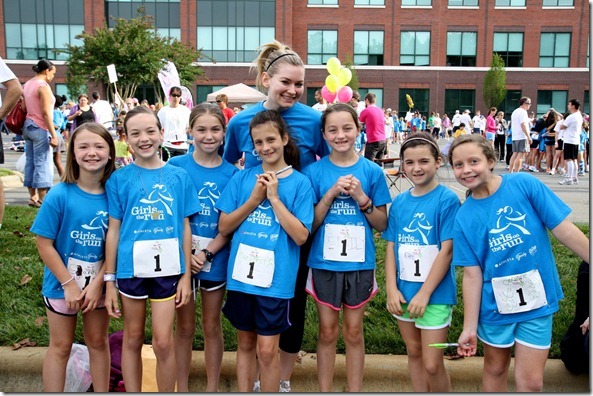 Normally, as a coach, you run with a girl who doesn't have a running buddy (usually a parent).  At 8.5 months pregnant, I'm not really up for running a 5K so I opted to stay on the sidelines and take pictures of the girls.  I was a bit sad that I didn't get to run the race with a girl.  It worked out well, though, because Husband / Coach Kristien ran with one girl, Coach Katy ran with another, and all the other girls had buddies.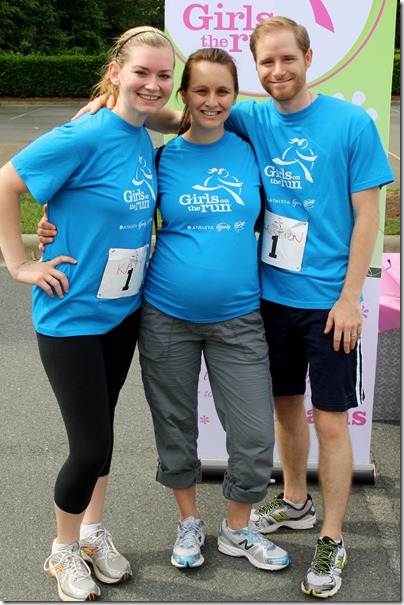 Ready… set… go!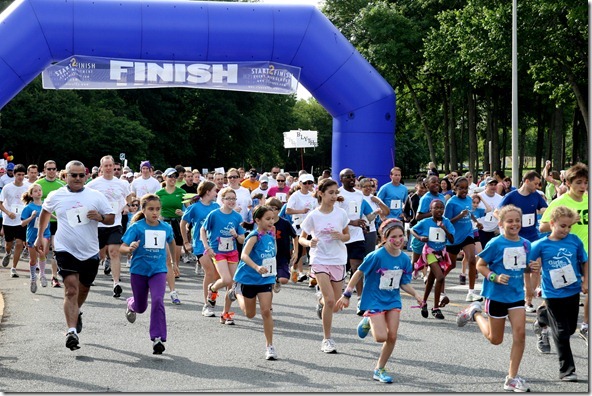 Only 21 minutes after the start, the first girl came tearing around the corner.  She didn't even look like she was working that hard!  I'm jealous of her abilities.  Is it okay to be a jealous of a nine year old's running skills?!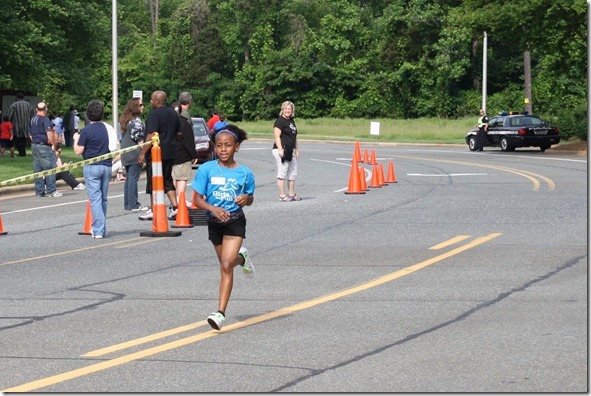 Even though the 5K isn't competitive, it's pretty cool to see one of 'my' girls finish in the front.  Last season, one of my girls actually finished first.  This year, we had a top 10 finisher – pretty impressive considering that over 3,000 girls race.
Soon, Coach Kristien and his girl appeared – I was pretty impressed the Hus had kept up with her.  She is fast, and he was pretty nervous about slowing her down!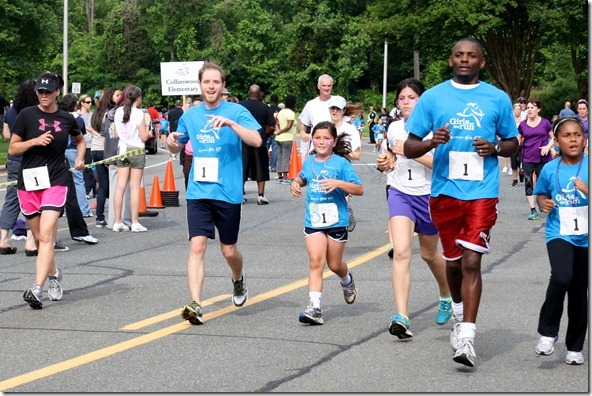 A bit later, Coach Katy and her girl came in.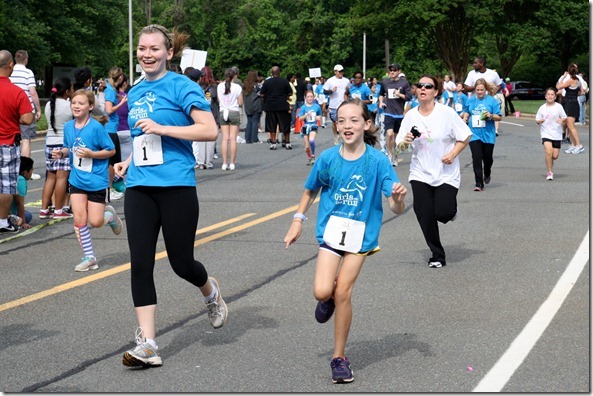 We watched the rest of our team finish – I was so proud of everyone!  Not only did they all do well, but they all finished with big smiles on their faces.  And then… we said our goodbyes.  We're going to organize a frozen yogurt party sometime this summer so we can all reunite. 
Coaching has been such a wonderful experience for both the Husband and I.  Not only do we genuinely enjoy the girls' company, but we both feel like GOTR has given us so much confidence as future parents.  We would be so much more nervous to become a mom and a dad if we had never coached GOTR.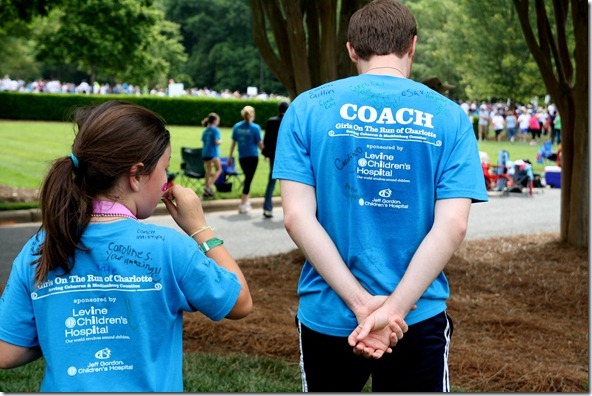 If you want to learn more about Girls on the Run, check out their website and this post –> How You Can Involved with GOTR
Whether serious or silly, what lessons have you learned from kids?  They know so darn much.