The sick day continues. Thus far, I have failed to shower and a giant pile of snotty toilet paper is building next to me (hi, my name is Caitlin, and I am too cheap to buy tissues).  However, I've managed to get a good deal of work done, and I'm watching Sixteen Candles. Sick days aren't so bad.
Plus, I've got this to munch on.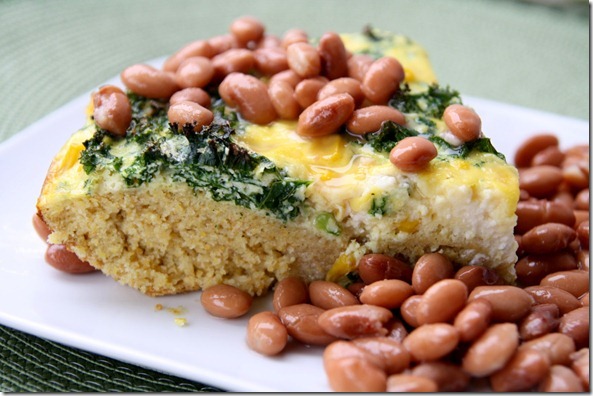 You know how a mullet is 'business in the front, party in the back'?  A cornbread quiche is cornbread on the bottom, quiche on the top.
And this particular cornbread quiche is Southern-style because there's sweet corn and kale baked in, plus loads and loads of 'soup beans' on top.  My momma calls regular old pinto beans soup beans, and the name has stuck ever since.  The beans keep the cornbread quiche from being too dry – other yummy toppings would be sour cream, salsa, or even marinara sauce!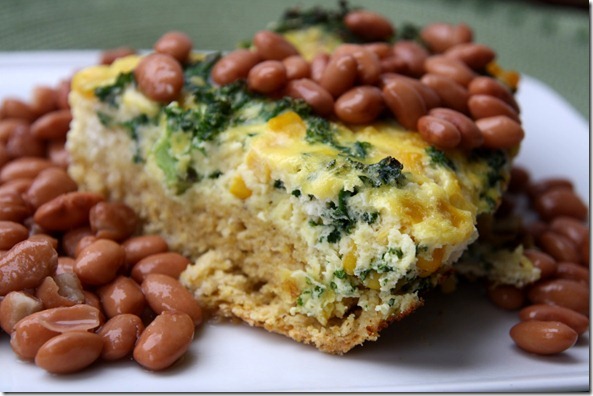 Southern-Style Cornbread Quiche
Ingredients (for 6 servings):
1/2 package of corn bread mix (basically, a half pie or about 10 ounces dry mix), prepared per package directions

5 eggs

1/2 cup canned corn, drained

1 cup loosely packed kale

1/2 cup ricotta cheese

1/4 teaspoon salt

Optional topping: pinto beans, lightly drained
Directions:
Preheat oven to 375 degrees.

Grease a cast iron skillet.

In a mixing bowl, prepare 1/2 package of cornbread mix according to package directions.  Pour into cast iron skillet and bake for 15 minutes.

In a bowl, combine drained corn, steamed kale, eggs, ricotta cheese, and salt.  Mix well.

Remove cornbread from oven and pour egg mixture on top.

Return to oven and bake for another 20 minutes.

Remove from oven, let stand for a few minutes, slice, and top with pinto beans.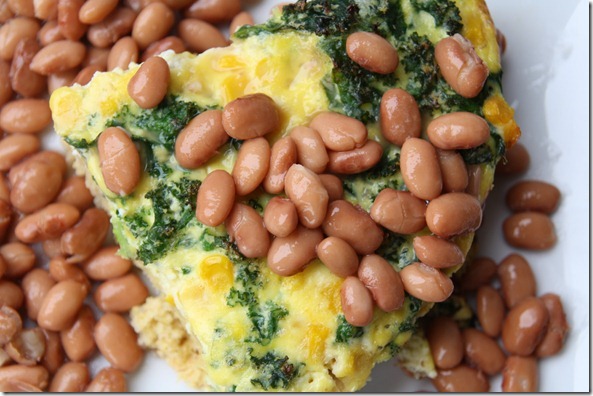 Leftovers, here I come!