Morning!  Let's keep it simple this morning.  After all, I totally overslept and am still in my pajamas, despite the fact that I have to leave for work in twenty minutes… Eck!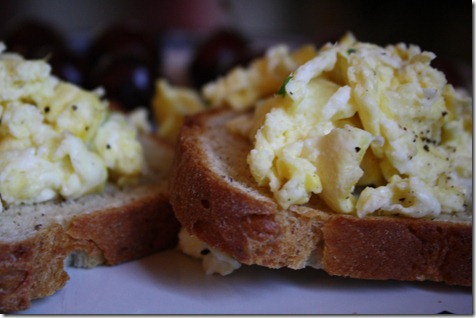 I am so glad I watched this YouTube video on How to Make Perfect Scrambled Eggs because my scrambled eggs are now SO delicious and fluffy.  It's really all about the secret technique, I'm tellin' ya!  I had two slices of toast with fluffy eggs and a bunch of dark red cherries. 
Okay – onto the fun stuff!
It's time for the Peas and Thank You Official Blog Book Tour!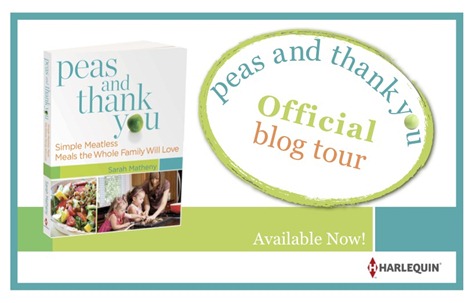 If you don't read Sarah's blog, you should!  Sarah is a stay-at-home-mom with two adorable kids who… actually love to eat their veggies.  And her incredible recipes are now contained in a beautiful, funny cookbook/memoir called (what else?) Peas and Thank You.  Of course, Mama Pea is the creator of my beloved Mmmm Sauce, so you know the recipes in the book are equally amazing. 
Personally, I like the balance between challenging recipes and easy-peasy recipes.  Loads and loads of good meal ideas in here.
And hey – look!  You're in the book, too!  Right there in the acknowledgments.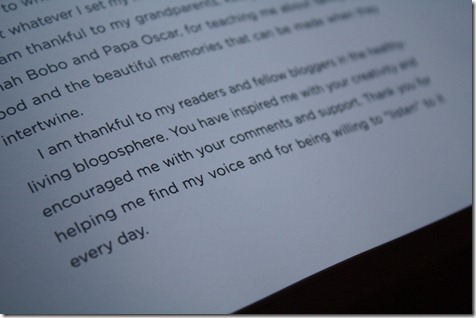 Wanna win a sweet Pea Prize Pack?  The Pea Prize Pack comes with a free copy of the book and branded apron, grocery bag, water bottle, and little pea bib.
Simply leave a comment with one recipea you've been dying to try – it can be any recipe from any cookbook or blog!  I'll pick a winner tomorrow morning.
If you can't wait for the giveaway and simply must have you pea fix now, you can buy Sarah's fun new cookbook on Amazon.