My coffee cup and laptop made out this morning, and now I'm getting the blue screen of death.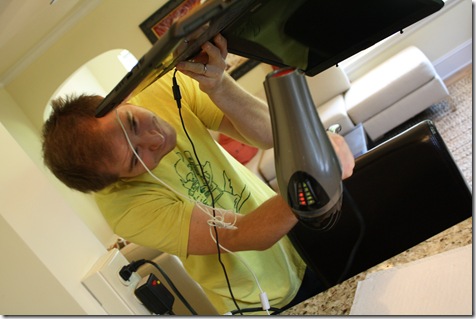 I would be more upset if I didn't constantly back-up my laptop AND if I didn't have a netbook to blog on.  I try not to sweat it when stuff like this happens… it was clearly an accident.
One of my greatest life lessons was when I was 18 and crashed my mother's car.  I was in an empty parking lot and my mom was following me in my car (can't remember why we were driving each other's cars).  I made a quick U-turn without looking and slammed into a concrete pole, pretty much totaling the car… two days before my mom was moving from Florida to Tennessee.  I was SO upset and sobbed hysterically, but my mom didn't even yell at me!  She knew I already felt bad enough.  It taught me a great lesson about not freaking out when material things get trashed… it happens.
Pre-laptop melt down, I went on a lovely 5.0 mile run.  I really need new shoes and are getting horrible shin splints on my right leg.  🙁 I ordered some today!
Distance: 5.0 miles
Duration: 49:22
Mile 1: 9:51
Mile 2: 9:37
Mile 3: 9:57
Mile 4: 9:57
Mile 5: 10:03
Post-run, I made lunch: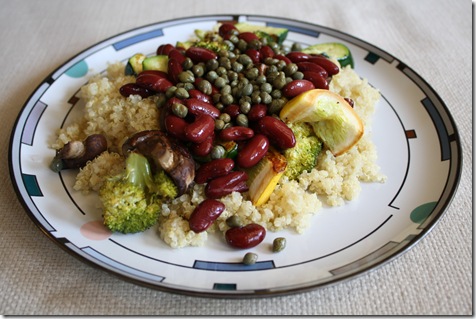 The star of the show was definitely CAPERS!  I've never purchased capers before but love their salty taste at restaurants.  It definitely spiced up this regular old quinoa bowl.
In the mix:
Quinoa
Roasted zucchini, squash, mushrooms, and broccoli
Kidney beans
Capers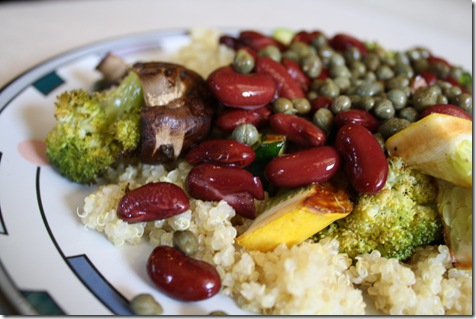 Just had some Resee's for dessert!
Hope you're having a good Monday, too! 🙂