The Fit Bloggin' conference was a great success!  It started off with a wonderful Quaker breakfast buffet.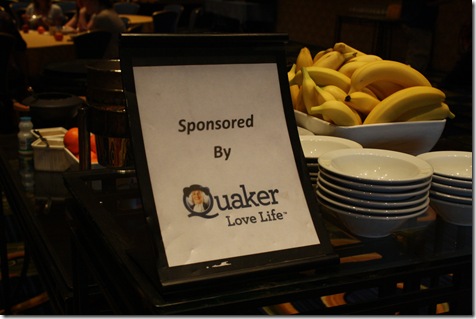 I had a big bowl with cranberries, a banana, brown sugar, and a little bit of POM Wonderful juice.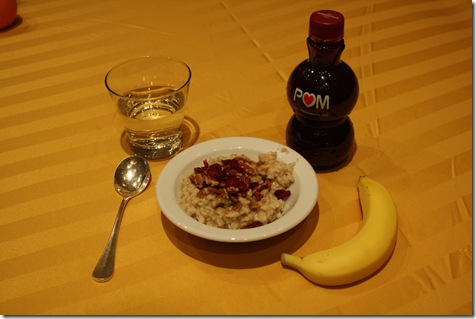 The conference had two tracks so you could choose the breakout conference you most wanted to attend. 
I started with the Search Engine Optimization session.  I still find it confusing, but I did learn a few tips.  Such as:  If you use WordPress for your blog – download the SEO All In One plug-in.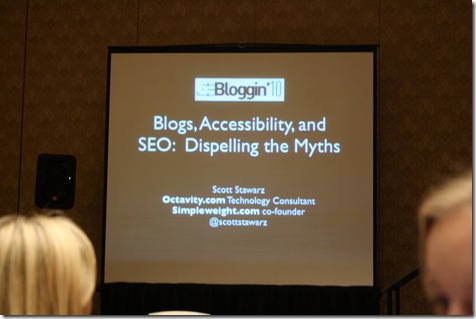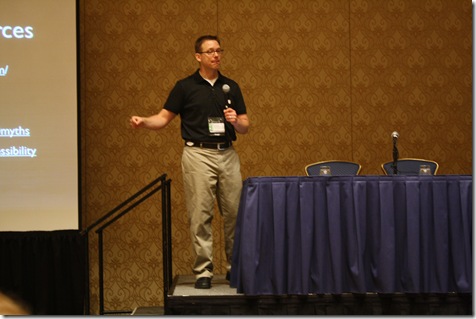 I grabbed a coffee in between: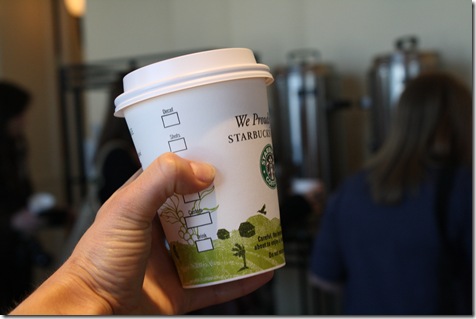 After the SEO presentation, we sat through the How to Pitch to Traditional Media session.  Unfortunately, it was more about pitching to local TV than writing non-fiction queries to magazines or newspapers (which is what I wanted to hear about and think is probably most applicable to other bloggers).  It was still interesting to learn about the process and imagine what a newsroom is like.
After the second session, it was lunchtime.  I was a little nervous about the vegetarian options at a conference, but I totally lucked out!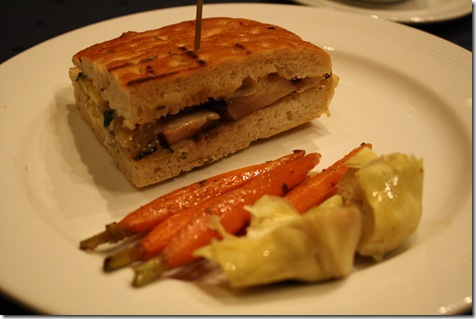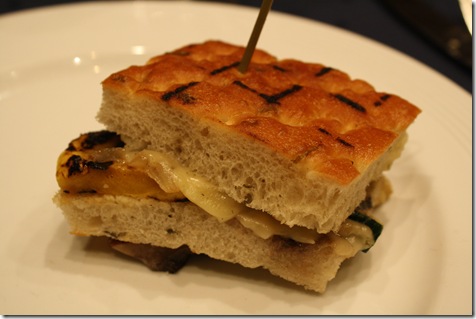 I had two of those vegetarian sammies + grilled veggies.
As well as a small cup of brothy mushroom soup.  It was so good!  I would love to learn how to make something like this at home – anyone have any good recipes I should try?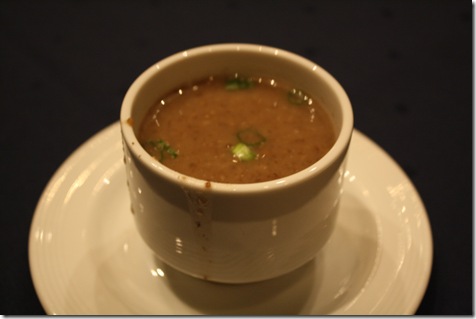 Post-lunch, it was time for my panel.  I spoke on the "From Blog to Book" panel (my book is coming out in August and is based on my other website, Operation Beautiful).  I tried to emphasize that anyone who is interested in writing a book can do a proposal and shop it around to agents or publishers.  It's work, but it's feasible.  One of my other panel members suggested that people check out a site called Absolute Write to learn more about proposals.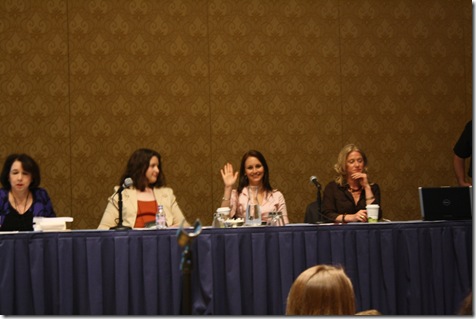 I was a little nervous, but a few of the other bloggers said they couldn't tell.  I try to transfer all of my nervous shaking to my feet underneath the table.  🙂
Post-panel, I had a chocolate chip cookie from Jacquie: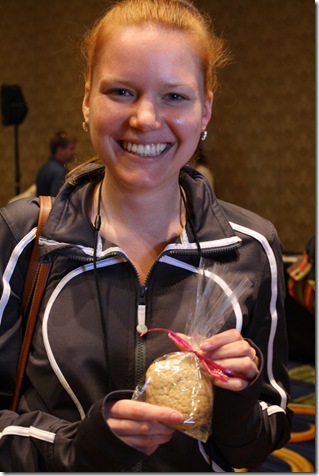 As well as an orange: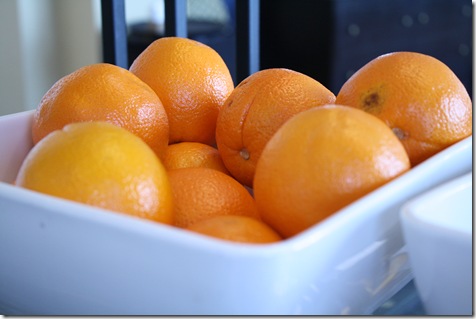 And then it was time for the fourth and last panel of the day, on monetizing your blog.  I actually missed most of it because I was talking in the hallway.  🙂
At this point, a few of us decided to skip the closing remarks and go get dinner.  We were all pretty hungry and cold (how come conference rooms are always frigid?!).  And it was such a gorgeous day in Baltimore that we really wanted to get outside and enjoy it.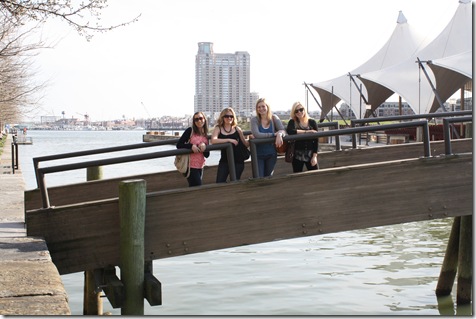 The non-vegetarians really wanted crab cakes (after all, that's what Baltimore is famous for), so we went to a seafood restaurant by the water.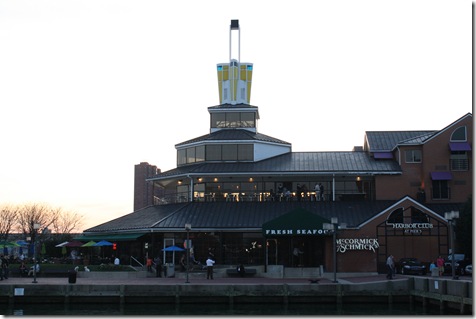 I started things off with a glass of Riesling.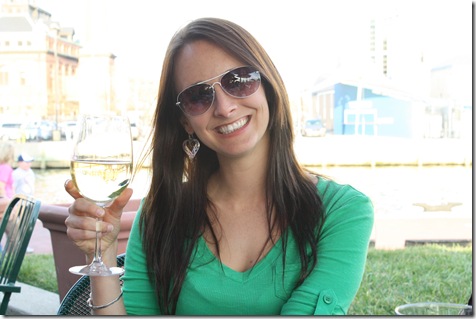 And Julie and I decided to split a bunch of the side dishes instead of opting for the very lame vegetable pasta.  I've never really done that, but it's such a good option for vegetarians at a nice, non-vegetarian restaurant.  I got to eat tons of vegetables!
We split sweet potato casserole, mushroom steak fries, and asparagus.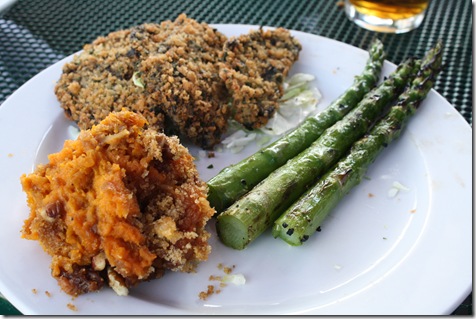 Plus potatoes: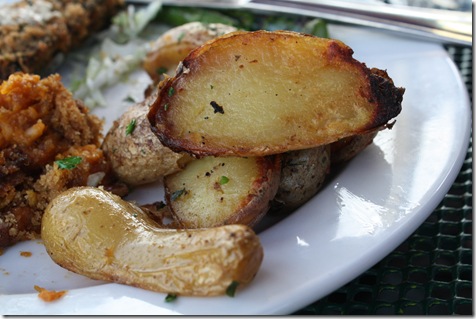 And I had a a slice of sourdough bread with real buttah.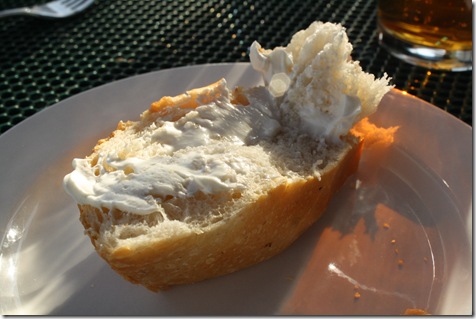 It was so gorgeous out that we ended up sitting outside and talking for a LONG time.  I had a Sam Adam's, too.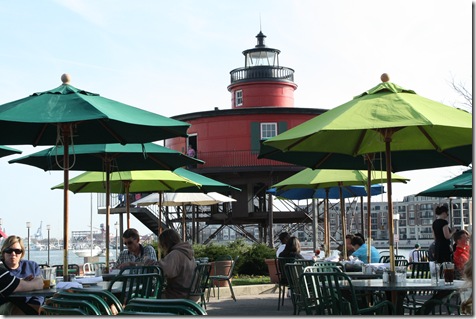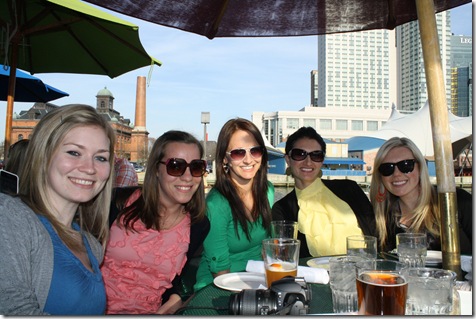 Post-dinner, we ended up tearing up the Inner Harbor.  We went dancing ALL night long and had an absolute blast.  A few more beverages + late night pizza was consumed, too.  :)  I haven't had that much fun in ages.  Baltimore definitely gets two thumbs up from me!
We're all showering and plan to make our way downstairs for Starbucks oatmeal and lattes.  And that I've got to get back on the airplane and fly home to Florida!  I miss the Husband and dogs a lot.