Look what I found in the back of a drawer!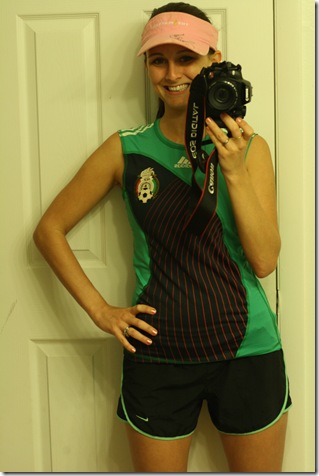 My favorite running shirt!  I used to wear the same jersey for EVERY SINGLE RACE (and vast majority of runs), but then I realized that was kind of… weird and a little gross, especially because I have a blog.  :)  I think I stashed this behind a bunch of old PJs so I'd be forced to wear some of my other gear.
When I woke up this morning, I was pleasantly surprised to find that I wasn't sore from yesterday fast 17.0 mile run!  The most obvious impact marathon training has had on my body is that I recover a LOT faster than I used to.  I don't do anything differently; this is just something that's come to me with time.
I had a 3.0 mile recovery run on my schedule for today and I decided to try out the Galloway Method.  In my favorite running shirt, of course! 🙂
I actually "learned" to run using the Galloway Method, which is when you do walk/run intervals.  Over time, you learn to decrease and/or eliminate the walk intervals.  On today's run, I did 2 minutes of running following by 30 seconds of walking (at a quick pace – 13:15/mile).  Did walking intervals kill my overall performance?  Surprisingly, not at all!  Just look at these statistics:
Distance: 3.0 miles
Duration: 29:40
Mile 1: 9:44
Mile 2: 10:14
Mile 3: 9:43
Not bad! I probably would've paced at 10:00/mile if I had run the entire time.  Galloway Method is so effective because you end up running a little bit faster than you would've otherwise… and (to a point) this results in faster times!
Also, I didn't feel as tired as I would have otherwise, and the run seemed to go by SO fast! 
If you're still not convinced… I used the Galloway Method (ran 0.95 mile, walked 0.05 mile) in the last few miles of last weekend's Half Marathon and set a new PR!  :) 
This morning, I had a bowl of banana oatmeal: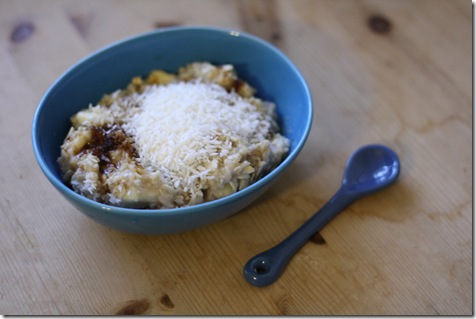 My oatmeal was topped with brown sugar, flax, and coconut.
And I snacked on a Clementine as I edited my book: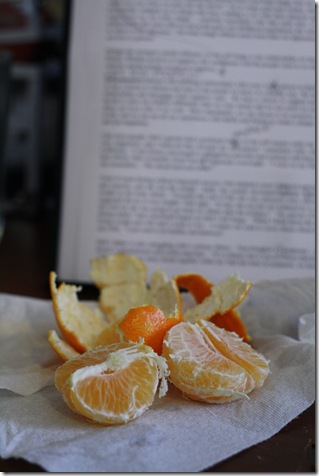 Post-run, I made lunch, which was a simple meal of brown rice and black beans, topped with some Alfredo sauce.  Plus, green beans on the side.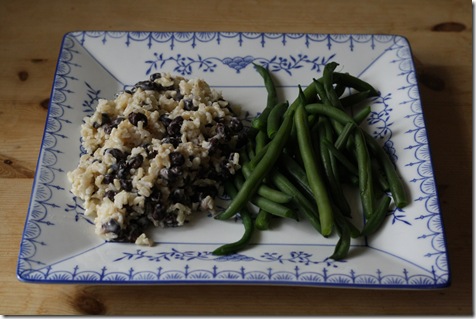 Sorry my meals are a little boring lately – I'm trying to eat through my pantry as part of the Responsible Spending Challenge!  And you know – this was a simple meal, but it sure was good!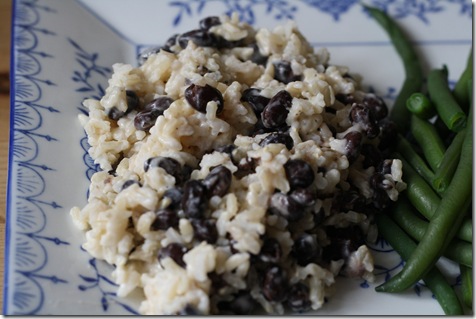 I'm going to a Christmas party tonight! :)  Super excited.
See you soon!  Hope you have a nice Saturday.
Do you use intervals in your runs or workouts?   Ever tried Galloway? I used to LOVE to do intervals on the elliptical machine.