Now – I'll admit that this dish got a lukewarm reception from the Husband, who said it was "lost in translation between dinner and dessert."  But I LOVE sweet rice dishes so I was a huge fan.  Plus, its covered in reduced apple juice.  How could it not be amazing?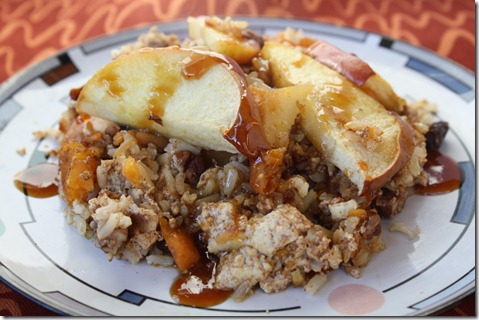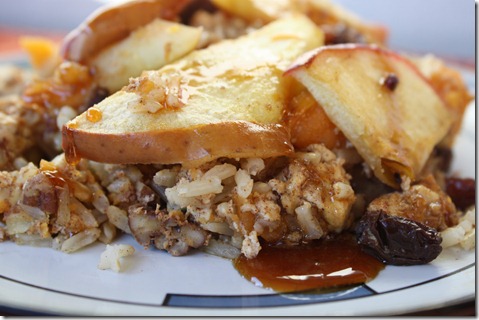 Sweet Apple Baked Rice
Ingredients (makes four servings):
3/4 brown rice
1 sweet potato
1 pack extra firm tofu
1/4 cup pecans, chopped
1/4 cup raisins, chopped
1/4 cup maple syrup
2 tablespoons cinnamon
1/4 cup vanilla almond milk
Sprinkle of salt
1 apple, sliced
1.5 tablespoon butter
3 cups apple juice
Another drizzle of maple syrup
Directions:
Preheat over to 375 degrees.
Prepare brown rice according to package direction.
Drain tofu and press extra firm tofu of excessive juice (for about two minutes)
Chop tofu into squares and, in a large bowl, combine tofu, pecans, raisins, maple syrup, and cinnamon.
Using a spoon, crumble the tofu and mix everything together.
Punch the sweet potato with a fork and microwave for about 4 minutes.  Let cool and then remove the skin.  Chop and add to tofu mix.
Add almond milk and salt.  Mix in cooked brown rice.
Grease a heavy pie dish, pour rice and tofu mix in.  Using a spatula, pack down the mix.
Top rice with sliced apple. 
Melt butter in microwave and drizzle on top.
Cover with alumnium foil and bake at 374 degrees for 45 minutes.
After 45 minutes, remove foil and bake for another 15.
Meanwhile, bring apple juice to a roiling boil to reduce.  It will take about 15 minutes for the mix to reduce.  At the very end, add a drizzle of maple syrup.
Remove serving, plate (it will be all crumbly), and drizzle with sauce.
Enjoy!