The most interesting part of this dish?  The quinoa is raw!  The sauce is crucial because the casserole is slightly dry without it.  I don't like gooey casseroles as much as denser, firm dishes, so I really enjoyed this.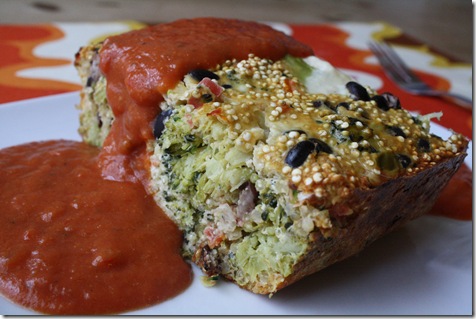 Ingredients (for three servings):
3 cups chopped broccoli
3/4 cup raw quinoa
4 eggs
1/4 cup hummus
1/4 cup salsa
1/2 can black beans, drained and rinsed
1 tablespoon hot sauce
Dash of pepper
Topping: Pasta sauce
Directions:
Preheat oven to 400 degrees and grease a loaf pan.
In a wok, stirfry the broccoli until it begins to brown.
In a mixing bowl, combine all the ingredients + broccoli except the pasta sauce.  Mix well.
Pour mixture into loaf pan and cook for 40 minutes.
Remove and slice.
Top with pasta sauce and enjoy!