Inspired by these wonderful scone recipes: The Pioneer Woman and Peas and Thank You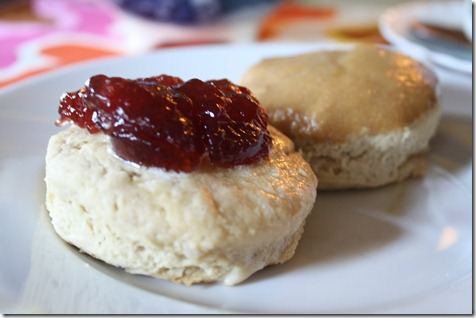 Ingredients (makes eight scones):
Scones:
3 1/4 cups all-purpose flour
2/3 sugar
5 teaspoons baking powder
1/4 teaspoon salt
3/4 cup Earth Balance
1 egg
1 tablespoon vanilla extract
3/4 cup Silk almond milk
1 tablespoon instant coffee powder
Espresso Coffee Glaze:
1 tablespoon water
1 tablespoon instant coffee powder
2 tablespoons almond milk
3 cups powdered sugar
Directions:
Preheat oven to 350.
In a bowl, combine flour, sugar, baking powder, and salt. 
Using hands, mix in Earth Balance until it looks like crumbles. 
In small cup, combine drizzle of water and instant coffee powder.
In a mixing bowl, quickly mix egg, vanilla extract, coffee and water mix, and milk.
Add liquid to dry. Use hands to combine.
Transfer dough ball to a floured cutting board.  Roll out thick to one-half inch thick.  Use an upside-down drinking glass to cut out circles.
Place scones on a greased cookie sheet.
Bake for 18 minutes.
Meanwhile, combine all glaze ingredients in a mixer.
After scones cool, dip into glaze and place on plate for glaze to dry.
Enjoy!