Update:  Mayor Bloomberg changed his mind – the race has been cancelled.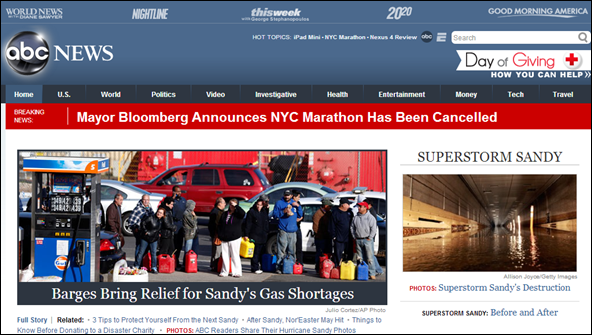 First of all, let me say that I am deeply saddened about how Superstorm Sandy has devastated the East Coast.  As a survivor of a major hurricane (Andrew back in 1992), I know how disrupting and horrifying the experience can be for the people who live through it.  My thoughts are with everyone who has been impacted.
That being said, I'd love to open a little debate about the decision to move forward with the New York City marathon.  Mayor Bloomberg has announced that the race will take place as scheduled on Sunday; the event will be transformed into a "Race to Recover," and the New York Road Runners "will donate at least $1 million, or $26.20 for each of the more than 40,000 runners expected to participate in the race. The Marathon Race to Recover Fund will support a number of charities involved in relief efforts, including the Mayor's Fund and the American Red Cross." (Source)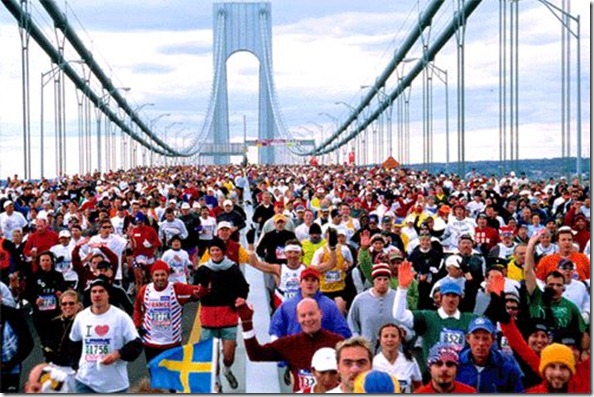 I am very surprised that the marathon is still on.  After all, it was only four days ago that Sandy hit the city.  Dozens upon dozens of people died. A CNN poll states that 4.8 million Americans are still without power (over a million in NYC).  The New York Stock Exchange shut down for two days, for goodness sake!  And storm damage is projected to reach $50 billion – making it one of the costly storms in our history.
Rescheduling a race like the NYC Marathon is, I imagine, a logistical nightmare – if not entirely impossible.  There are 26.2 miles of road closures and police support planned, and thousands upon thousands of volunteers required.  So many people are flying in from out of state or even internationally to run it.  So canceling it would be a big deal.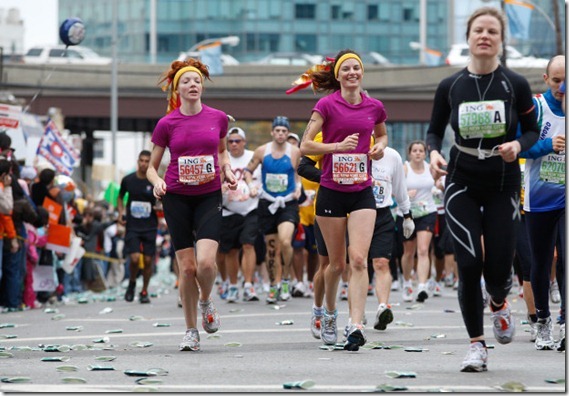 The marathon injects $340 million into the local economy, supporting many local businesses.  And yes – the marathon did take place in 2001, just two months after 9/11.  But running the race so close to the hurricane?  I just can't get behind this idea.  After all – bodies are still being pulled from the rubble, people are without heat or food, and the city is in chaos.  While people are free to disagree, of course, I think it is insanely tacky and insensitive to run the marathon not even a week after the hurricane.  The city's priorities should be with the victims, not the runners.
I think this Forbes article sums it up quite nicely:
Last year, 8,000 people volunteered as part of the marathon, 4,500 pounds of pasta were served at the pre-race pasta dinner, 32,040 gallons of Gatorade were handed out, and 62,370 gallons of Poland Spring Water was made available to runners who splashed it on their faces while throwing 2.3 million cups on the ground.  It doesn't take much imagination to realize that there might be some people who could use food and water in the wake of one of the worst natural disasters to hit the northeast in modern history.

 
But – the race is going on.  At least according to the Mayor and the NYRR.  Who knows how many runners will actually show up when so many people are lambasting the decision online.  And if runners do hit the starting line, some are planning to do their own kind of Sandy flash mob.  There's a group forming on Facebook called NYC Marathon of Relief 2012.  Their idea is to go to the starting line as usual but transform the 26.2-mile course into a on-foot relief effort.
Here's how NYC Marathon of Relief Efforts (NYC MORE) will work:  Runners will show up at the starting line, but will break off en masse at different points of the city to deliver supplies to places hardest hit and without power. This will mean departing from the race, to head to various buildings, running up and down stairs delivering water and canned goods, etc. NYC Non-runners: here's how you can help: If you are planning to watch the marathon this weekend, bring water, cash, canned goods, blankets and/or be ready to donate blood.
So – I'm curious.  Do you think the race should go on as scheduled?  Be shortened to a 5K?  Canceled altogether?  If you are signed up for the race, are you running it?  Personally, I think they should cancel the race and offer everyone the chance to get a refund or donate their entry fee to the relief efforts (not sure if that is logistically possible though).