Milestones, milestones.  So many milestones.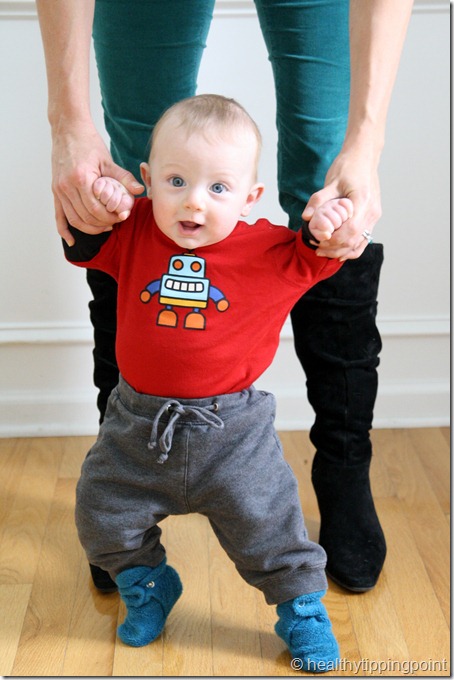 My little man is now 5 months (and a week…) old.  I can hardly believe it – but I say that every month, don't I?  It's just amazing how fast time passes and how quickly children grow.  But in so many ways, it just keeps getting better and better. 
A comparison….
Crazy, right?
He's a certified BIG BOY now.  Accomplishments this month included:  sitting up all by himself – although he only stays in the position if you put him in it – and CRAWLING.  He's mostly doing an army crawl, but he can get into the all-fours position, too.  It's only a matter of time before he figured out how to work his arms.  He's an early crawler, so I think he inherited his dad's hand-eye coordination (it's definitely not coming from me).  I wonder if Henry wakes up with sore muscles every single day – it's like he's doing a million crunches and sit ups every hour.
He teeters between size three and six month clothing, but the three's are getting rather tight.  Henry's likes include:  any teething toy (no teeth yet, though), his jumper, his new soft playmat, and pulling his socks off to eat them.  We are planning to start solid foods in a few weeks (I'm going to start off with homemade pureed sweet potato – yum).  I can't wait to cook for him! Well, technically, I'm always cooking for him, if you know what I mean. 

So that's what Henry has been up to; here's my update…
Mind After Baby
Honestly, this month was a rough time for me mentally.  I have a lot going on in my personal and professional life, and I think I just hit my limit despite my best efforts to be a good time manager.  Everything manifested as incredible, terribly anxiety, which would hit mostly at night.  I've never really struggled with anxiety before, and let me tell you, it totally sucks.  Even though my stressors were not about Henry, I ended up focusing all my nervous energy on him and mommyhood.
I'm curious to see what other new moms say about this, but I think one thing that I've really been struggling with is the transition from being a full-time working woman to a part-time working mother.   I really used to identify myself purely by my career.  Now that my life is mostly about Henry, I feel like I'm not doing enough of something.  The days that only include bathing, playing, feeding, and sleep training are fun, and sometimes, when I get in bed, I feel like I didn't do much.  And when I have a lot of work to do, I feel like I'm failing as a mother because my mind is elsewhere or I'm multitasking.  I start to ask myself (insane) questions like, "Am I good mom?" or "Does Henry hate me?"  Balancing work and baby can be a vicious, crappy cycle, and it really started to do my head in this month. 
I really, really considered weaning Henry this month (I exclusively pump) and switching to formula.  Breastfeeding/pumping is so hard sometimes.  I'm glad that I didn't quit – the Husband told me to think about it for a few weeks – because I realized that I was just focusing my anxiety on breastfeeding and stopping probably wouldn't make me feel any better (does that make sense?).   I'm really hoping to hold out until at least eight months – although my goal end date changes all the time. 
Last year, I went to a seminar about being a working mom, and I remember that the speaker said we should all think of the years we have little kids as 'maintenance years' in terms of work.  That concept has been really helpful.  I also got myself back into therapy (yay, therapy – best thing ever) and am beginning to feel a lot better.  I started a calming nighttime routine (cuddling Henry to sleep, tea, turning off the computer).  I don't know how much of my anxiety is really rooted in becoming a mom, transitioning away from being a full-time worker, or a hormonal storm going on inside my post-partum body, but I did want to just mention it on the blog to see if others had any feedback.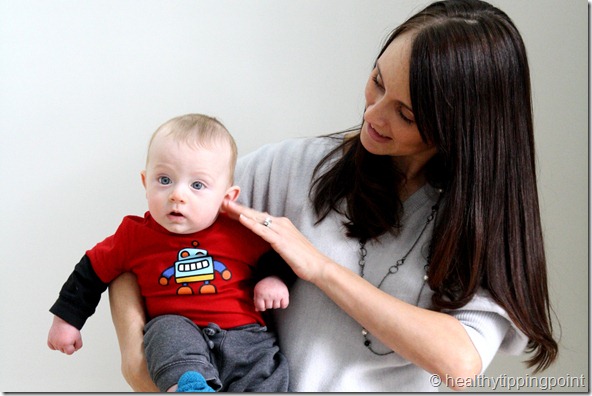 (Fixing Henry's three hairs

)
Body After Baby
This month, I really wanted to talk about my episiotomy.  As you may have remember from my birth story, after three long hours of pushing (so horrible), I ended up getting an episiotomy (an episiotomy is when the doctor or midwife makes a surgical incision between the perineum and vaginal wall).  I planned for (and had) a drug-free birth and wanted minimal medical interventions, and DO NOT GIVE ME AN EPISIOTOMY was written in all caps and bolded on my birth plan.  One of the reasons why episiotomies are so controversial is that they used to be performed way too often, and they generally takes longer to heal than natural tearing.  Bradley Method classes basically told me almost all episiotomies were unnecessary and to avoid one at all costs.  I am okay with the fact that I needed to have an episiotomy because I wasn't tearing naturally and Henry was born two pushes after I received it, so I really believe that I was in the small percentage of women for whom an episiotomy was medically necessary.
Predictably, I tore along the incision line and ended up with a third degree tear.  The initial healing wasn't too bad – my doctor cleared me to run at four weeks, after all – but it's been a long and annoying journey since then.  Exercise was fine, but other bedroom activities were out of the question for a long, long, long, sad, sad, sad time.  I kept going back to my doctor and asking why the scar still felt so terrible, and it took three appointments over three months to finally get the answer I was looking for – I had a massive amount of scar tissue along the incision line.  Because you're so swollen when they stitch you up, sometimes the skin doesn't line up the way it needs to in order to heal correctly.  My options were to get re-cut and re-stitched (ahhh) or try to massage away the scar tissue.  Obviously, I opted for option number two, and so far, it seems to be working. 
I really wanted to tell this story because it took me so long to figure out what was wrong, and I hope I can help another woman avoid all the pain I went through!   I just chalked up the pain to 'normal' healing time, and doctors kept brushing me off.  I really do wish I hadn't needed an episiotomy – and I hope I can avoid it next time – but if I do need another one, I will ask about massage at my first post-partum appointment and start it sooner.
Oh, the things mommies must go through. 

Beyond that,  there's not much to discuss in terms of post-baby weight loss because I didn't step on the scale this month at all.  I figure I'm close to last month (a few pounds away from my pre-baby weight).  All my jeans fit now, which is awesome, and I've even begun to buy some new winter clothes in my regular size.  I'm running more often than ever and increasing my speed.  I feel just as fit as I did pre-baby, and although it is hard to squeeze in time to exercise, it is SO worth it.  It makes me feel like me, reduces stress mad anxiety, and allows to me re-focus my positive energy on being the best parent that I can be.
Can't believe he'll be HALF A YEAR OLD in just three weeks!  It's not always the easiest thing, but being a mother is truly the best thing to have ever happened to me, and I can't wait to see what's in store for Henry and me in the future.  <3  Here's to another month!