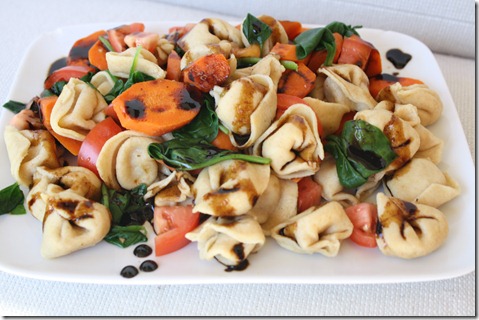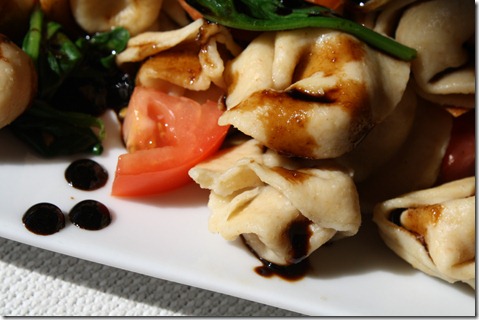 Ingredients (for two servings):
1 package Barilla Tortellini (three cheese flavor)
3 carrots
2 plum tomatoes
2 cups raw spinach
1 cup balsamic vinegar
Directions:
Bring pot of water to boil and turn on your George Foreman.  Meanwhile, slice two small plum tomatoes and three carrots.
Place carrots on George Foreman and grill until they brown (about 3 minutes).   Set tomatoes aside in a large bowl.
Open a container of tortellini and pour into boiling water.  Cooking according to package directions.
Place a small pot on the stove and pour in 1 cup of balsamic vinegar.  Bring to a rolling boil to make balsamic reduction (about 6 minutes or so).
Put 2 cups of raw spinach at the bottom of a colander.  
Remove carrots from grill and add to bowl with tomatoes.
Drain pasta over the spinach in the colander, shaking excessively to remove all the extra water.
Add pasta and spinach to the bowl with the carrots and tomatoes.  Mix thoroughly and place on two serving dishes.  Pour balsamic reduction over pasta and eat!