I have always said that one of my favorite things about blogging is the chance to hear from people that I would otherwise never meet. I've learned so much and greatly expanded my worldview thanks to blogs. It's on that note that I present this guest post from my new friend Mykal.
Henry and I met Mykal on the plane a few months ago. He's a warm, friendly, and open person. Mykal works at the Freedom Center for Social Justice, providing advocacy work for the LGBTQ community. Specifically, he utilizes his recently obtained Associates Degree in Theology and his personal life experiences to work "at the intersections of faith, race, gender and sexual orientation to create true cultural shifts with faith circles and the broader community." He also happens to be transgender (born female, he identifies as a male).
Despite the fact that transgender people are a small portion of our population (estimates are 0.5%, or 1.5 million people in the USA), transgender civil rights are becoming a big discussion topic in our mainstream society. The topic even recently made the cover of TIME magazine. I read the article with interest, as I'd been working with Mykal on several projects, including bringing Operation Beautiful to a local transgender youth conference and this guest post.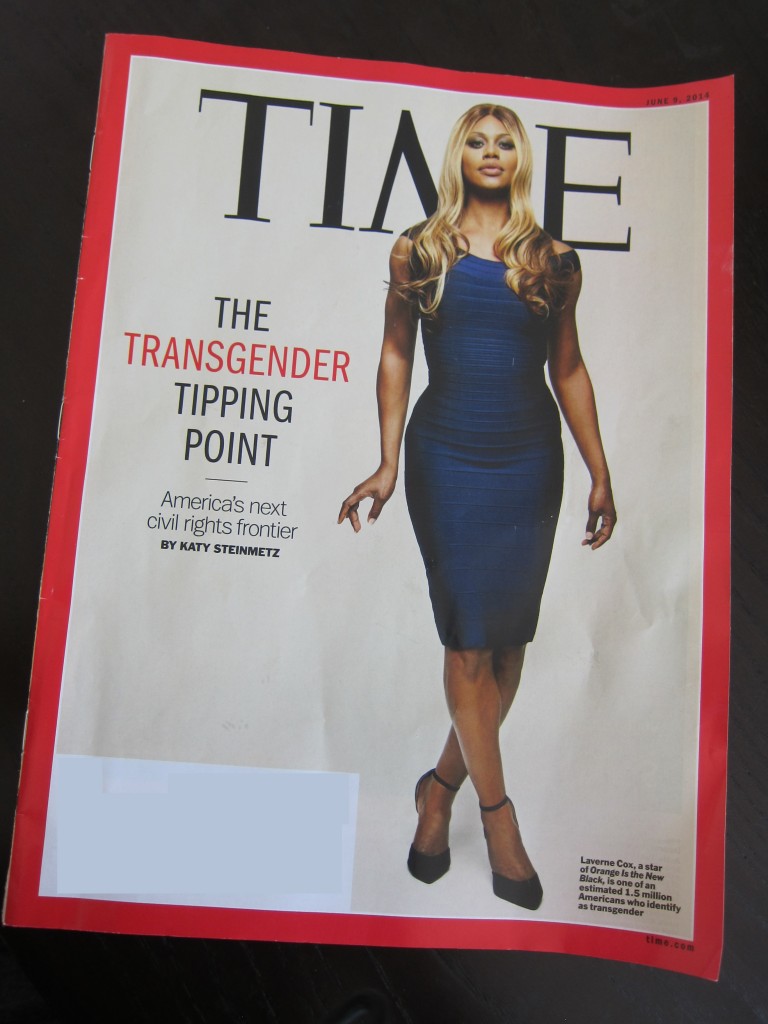 As the article describes, transgender civil rights has a long, long way to go – 80% of transgender youth are harassed at school; 90% of transgender adults are harassed at work; and many are victims of hate crimes. Nearly 20% of transgender adults have been denied a place to live, and almost half have been hired, not promoted, or not hired because of their identity. And, most frightening of all, nearly half of transgender individuals have attempted suicide (compared to less than 2% of the general population).
Only 9% of Americans know someone who is transgender. I believe that a huge part of society becoming more equal and supportive is simply a matter of familiarity. So on that note, I present a Q&A with Mykal. I hope you enjoy hearing his thoughts. If you want to share your feedback or experiences in the comments, please keep in the spirit of being kind and gentle to another human being who was brave enough to open himself up to you.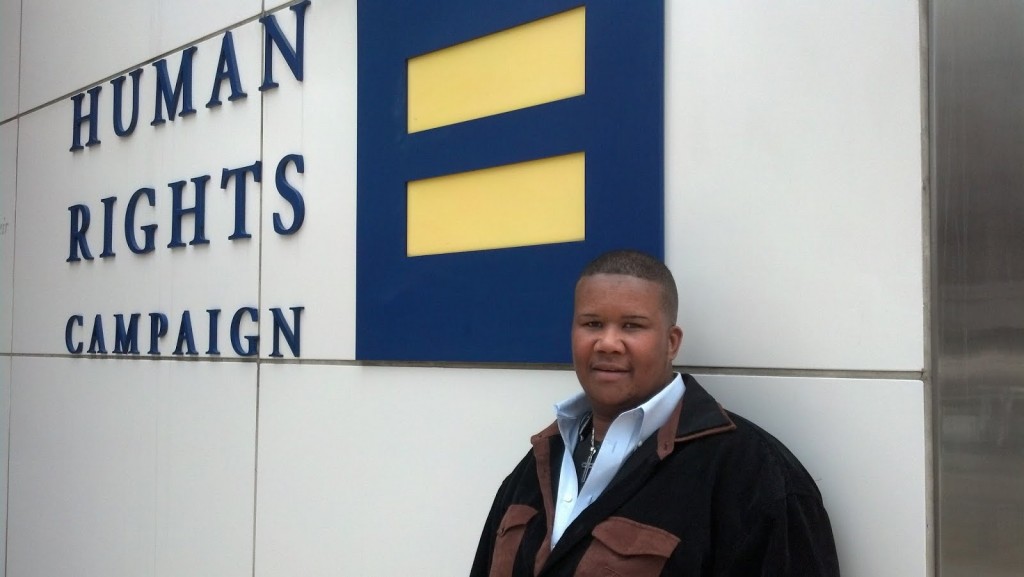 CAITLIN: Most of my readers are heterosexual women.  Like many women (and men) in today's society, some struggle with body acceptance issues, a lot of which comes from pressure in the media for women to look and act a certain way.  As someone who was born female but transition to male, can you talk a little bit about how your journey to mentally accept yourself coincided with body image acceptance?
MYKAL: Body image was an issue for me, but not for the reason you might think. As a young woman, I had a beautiful shape, the Cola bottle thing going on! The problem with that was that I didn't feel comfortable with the attention it brought my way. When I began to notice how it attracted extended stares and men, I began to wear more concealing clothing. I feel that we are often taught early on as femaales that we should not harness our body's physical beauty, that there is something wrong or improper about your body. So it is easy to fall into a negative thought process about yourself before you even truly begin to understand how body image relates to self image.
Over the years, body image did become a problem for me.  It took some time, but I ended up about 100 pounds overweight eventually. I knew I needed to change my not-so-good eating habits, but I also knew that the weight wouldn't go away overnight. So I focused on taking care of myself in other ways. I made it a point to always be neat and pressed. My hair was always sharp. Once I began to do those things, I took care of myself in other ways, too (like diet and exercise). I tried to embrace all aspects of myself. I concentrated on being a better sibling, more conscientious of others in the work place and more appreciative of the blessings I did have. It may sound strange to some people, but I embraced my femininity, not just my body image. Women are queens. Without them, there is no society. I tried to truly embraced my whole self, even with the extra weight and the complicated gender identity issues going on in the back of my head. It is my true belief that we have to first work with what we have and accept where we are before we can began making true changes towards who we really want to be.
CAITLIN: What parts of mental acceptance / body image acceptance are you still working on?
MYKAL: As a trans male, I still have some issues. I now have body parts that don't match my gender expression. Breasts are a real issue for trans males like myself. Even if you "pass" as a male, your breasts are one of the most noticeable things that can give you away.
Trans people can suffer from something called body dysphoria. No matter how perfect the body parts might be to society, in the trans mind, they just don't belong. This is a major disconnect that can become quite serious to deal with on a daily basis. It's like body image and gender issues all tied into one.  While the parts in your pants can go undetected by society, breasts are a whole different story. Not all trans people are interested in reassignment surgery. For some, hormone treatment is the answer, but for those that are, it becomes a critical part of their gender transitioning. I have begun hormone therapy and I feel so much better, mentally and physical. I would also like to have breast reassignment surgery, but on a retirement budget, that part may just be a dream.
CAITLIN: Faith has played a big part in your life. Can you talk a little about your personal spiritual journey?
MYKAL: Faith has indeed played a big part in my life. In the beginning, it was wonderful to be raised in a home with those types of values. Once I grew up and realized that according to what I had been taught all my life, I was unwanted and needed to be different to be accepted; it all seemed to turn against me. Part of why I moved to Charlotte was to keep my private life from affecting my family and my church.
Once here, I finally found a church that was inclusive (Unity Fellowship Church Charlotte under the direction of Bishop Tonya Rawls). After struggling to accept my gender identity, this was a saving grace for me. I began to read the scriptures and study for myself. I learned spirituality instead of religion. I began to build a personal relationship with the Divine as opposed to rules and regulations guided by a denomination.
One website that helped with this in particular was Whosoever. It's a gay Christian magazine that taught me about what John 3:16 says and how I can apply it to me: "For God so loved the world, that he gave his only begotten Son, that whosoever believeth in him should not perish, but have everlasting life." The operative word is "whosoever"…that opens the door to all, even me. I began attending church regularly. I felt at home knowing that I wouldn't have to deal with the despairing looks of being different and not being accepting or feeling worthy. I worshiped in freedom and in my truth.
CAITLIN: What do you wish society knew about trans people?
MYKAL: Despite what many people think, there are not just the male and female expressions of gender. There are male and female sexes, but gender is not necessarily the expression of those physical parts. Gender is everything in between. Gender is more fluid than most realize.
I often think about the cis gender people that don't necessarily fall into the societal acceptance standards, like women who don't want to have children as society expects them to or men who don't act very "masculine" and people question whether they are truly heterosexual. Society often has very narrow definitions on how people should behave, but there is so much variation in the real world. We need to fight back against these very narrow definitions, no matter who they apply to. It's okay to go against the grain as long as you're being true to yourself.
CAITLIN: After we met, you wrote me an email thanking me for referring to you with masculine pronouns as we played with Henry on the airplane. To you, this was a very big deal. Can you talk about why pronouns matter to transgender people?
MYKAL: Pronouns with gender identification are a really big deal. When you are attempting to identify with a gender that better represents who you are, sometimes all you have is the use of applicable pronouns, especially if you are born with a different body than how you present yourself. You certainly don't want to be referred to as the gender you're trying to disassociate yourself with. There are male pronouns and female pronouns, but there are also pronouns that represent those who refuse to identify at all or those that don't want to be classified with gender identification for whatever reason. They prefer the pronouns "they" or "zir" to deflect from the gender binary that society offer.
CAITLIN: Can you tell my readers a little bit about your job?
MYKAL: I am working at the Freedom Center for Social Justice due to an HRC-Human Rights Campaign Fellowship position for 2014. I am Conference Coordinator for the Transgender Faith and Action Network, one of the programs at the Center. This opportunity allows me to fulfill a life-long dream of giving back doing advocacy work for the LGBTQ community. I utilize diverse skill sets developed throughout my 15-year career in law enforcement and my personal transitioning experiences to further impact awareness and support for trans people of faith and allies, particularly in the southern regions. I work at the intersections of faith, race, gender and sexual orientation to create true cultural shifts with faith circles and the broader community. I have just recently obtained my Associates Degree in Theology and am working towards my Bachelor's to further assist with my activist work.
CAITLIN: If my readers want to learn more, where can they go?
MYKAL: If anyone would like to learn more about gender-variant people, National Center for Trans Equality is the place to go. There's a great PDF called "Teaching Transgender" that many people would find useful. You can also like the Freedom Center for Social Justice on Facebook and if you can, consider attending the Trans*FAAN Conference, August 29-31, 2014 in Charlotte, NC. Caitlin, thanks for this platform of expression and opportunity to spread awareness about the trans community.