Four years ago this summer, I was feeling pretty lost.  I was stuck in a dead-end job in the urban planning industry.  It was 2009, and the economy was collapsing around us.  Every month, one of my coworkers was fired.  I watched our company dwindle from 45 employees to 12, and I wonder every single Friday if today was the day.  My husband was in graduate school and only working part-time; my income was very much necessary.  There were some things I liked about my job, but mostly, I dreaded going to work.  It was bad.
I decided to make a change.  I looked around at my life and thought that becoming a physical therapist sounded like a great idea.  I wanted to work with athletes – runners, like me!  So I began to take classes at community college to fulfill my prerequisites. I was working 40 hours a week, waiting to be axed, working hard on HTP, and taking three science courses at night.  What was previously a cloud of depression exploded into constant, urgent feeling that I was too overloaded and wouldn't succeed at anything.  Ever.  I felt like a failure.
One night, I found myself sobbing openly in a public bathroom.  I remember looking at the mirror and thinking, "You are a loser, you aren't going anywhere, you are going to be broke, you suck."  I thought such horrible, terrible things about myself.  And then – I reached into my bag, pulled out a piece of paper, and scribbled, "You are beautiful" on it.  People often think that Operation Beautiful began as a positive body image site, as that's what it's focused on today. But it really started because I just felt worthless in general and needed to remind myself that I was beautiful, capable, strong, and could be successful if I only focused on the task at hand.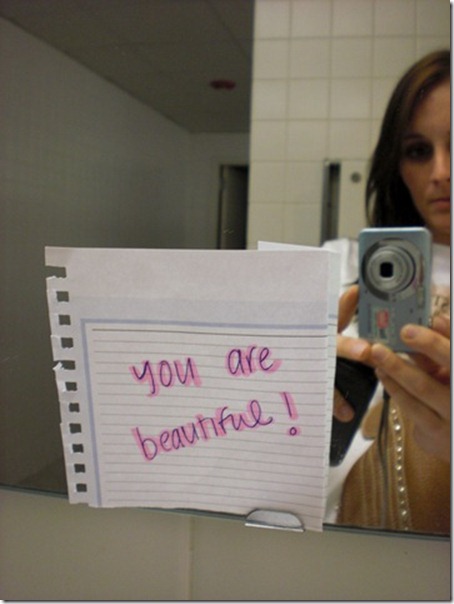 I went home and blogged about the note.  I put two seconds of thought into the name and called it Operation Beautiful, thinking that maybe a few readers would participate and I could make it a fun feature on HTP.  I wish I had that original post still, but in the first few days, I would delete whatever I had written before and add new notes.  It only took a few days of this to realize that Operation Beautiful was something entirely unique from HTP and needed its own home.
I remember calling MomHTP and telling her about the response on the blog.  I said, "I think this could be really, really big – but I don't want to spend $9.99 registering the domain name."  Seriously!  Hah.  To think that Operation Beautiful might've never existed because I didn't want to shell out two lattes' worth of cash.  Mom promised me that if Operation Beautiful flopped, she'd give me $10, and the rest is history.
In the last four years, I've received about 15,000 notes and written two Operation Beautiful books (one for adults and one for tween and teen girls).  I've traveled the country, speaking to about 65 colleges, churches, and businesses about the people and stories behind Operation Beautiful.  I was even on The Today Show, which remains one of the Top 5 moments of my life.
I've said it before, and I'll probably say it a million times, I don't feel like Operation Beautiful is 'mine.'  I am incredibly honored to run the site and represent the movement, but it wouldn't exist without the tens of thousands of people who have posted notes.  I know that the concept of Operation Beautiful is not everyone's cup of tea, and that is totally fine by me.  But it's undeniable that it has touched the lives of so many young girls and women.  I wish I could list all of the stories that I have heard… of women with eating disorders, from girls in abusive relationships, from LGBT teens struggling to fit in, from moms struggling with their postpartum bodies.  I've heard from two separate people that they were taking an elevator to the roof of a building and planning to jump off -  but they found a note in the elevator, and it made them abort their plan.  Each e-mail describes how the individual was in such a dark place and stumbled upon a note from a stranger – and they felt transformed.  I believe that we often underestimate how much a nice word or a random act of kindness can impact someone.  Sometimes, you just need a sign.  You know what I mean?
People sometimes ask me when I will 'stop' Operation Beautiful, and my response is always the same… I will continue to run the site as long as I get notes e-mailed to me at OperationBeautiful@gmail.com.  I hope the site lasts for decades!  I absolutely love everyone who has ever participated – thank you so much.  The site would not exist without your efforts, and from the bottom of my heart…. thank you.  I would not want to do anything else with my life, and I am so grateful for the support.
Thanks for FOUR YEARS of Operation Beautiful.  Happy Birthday!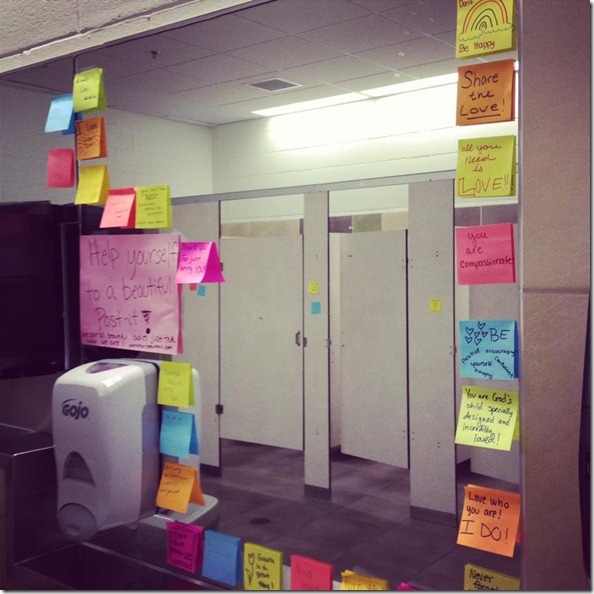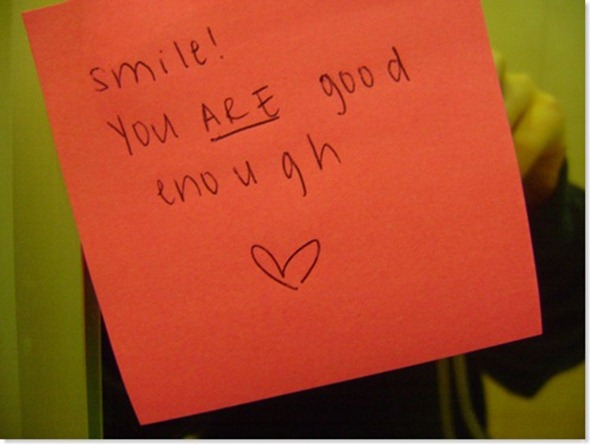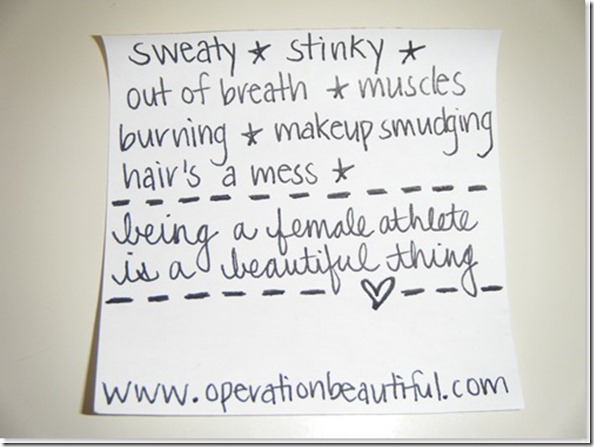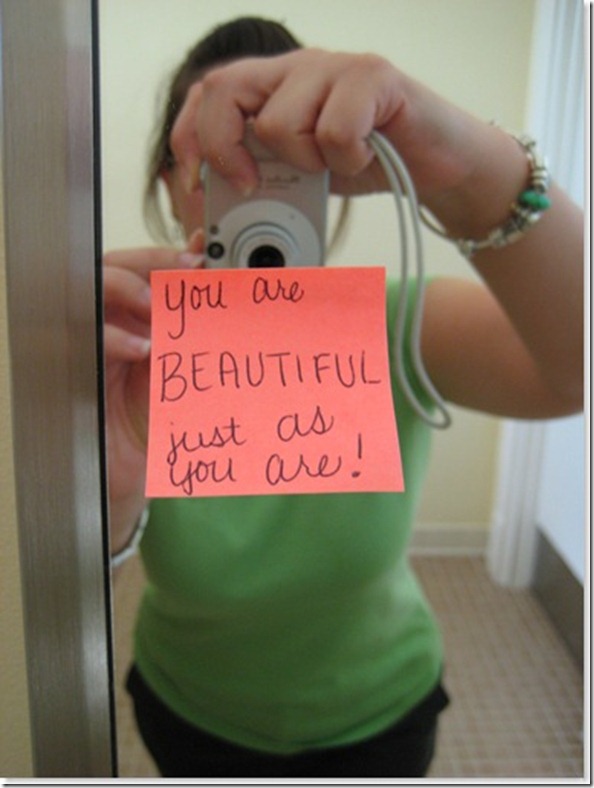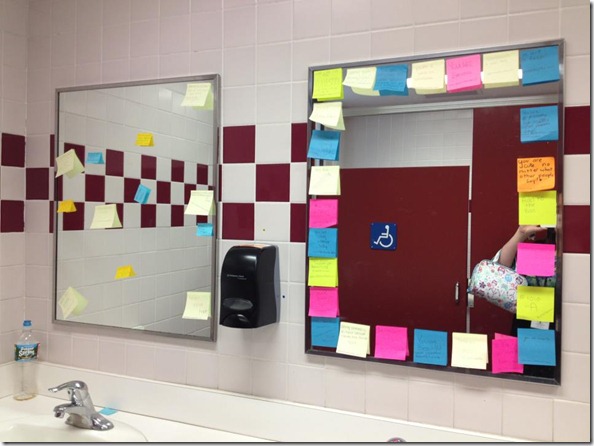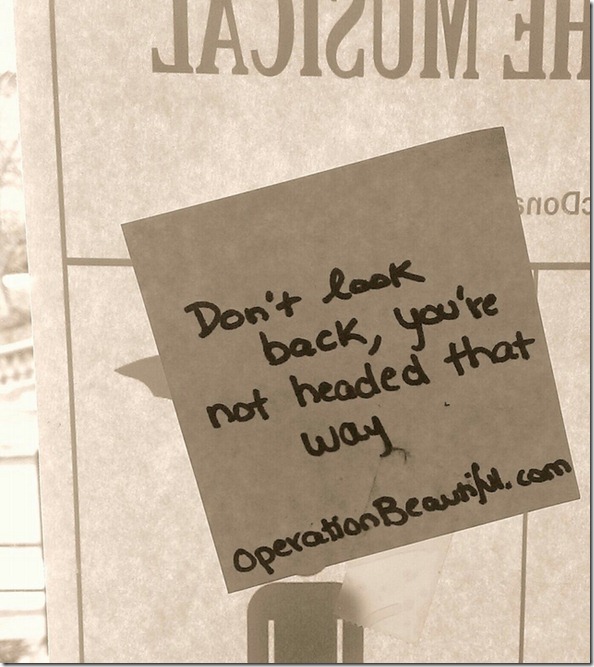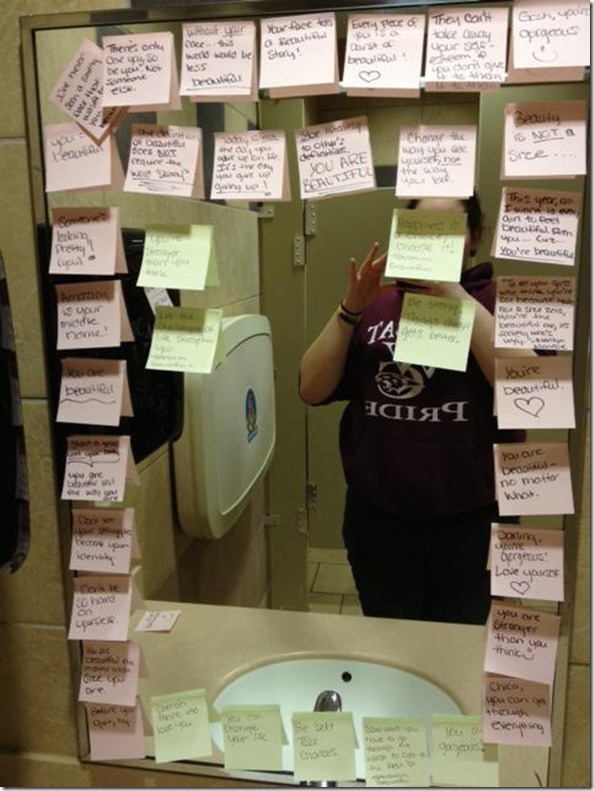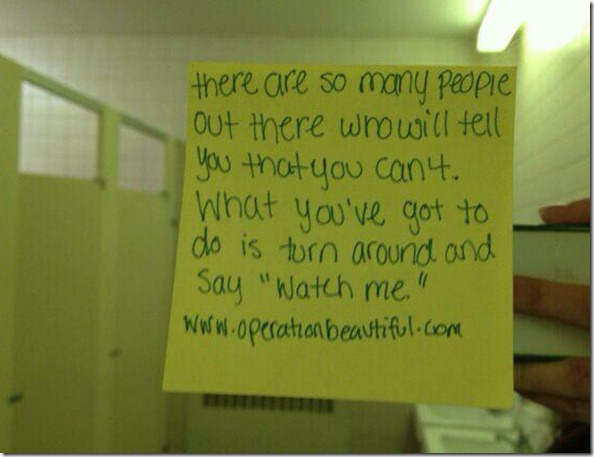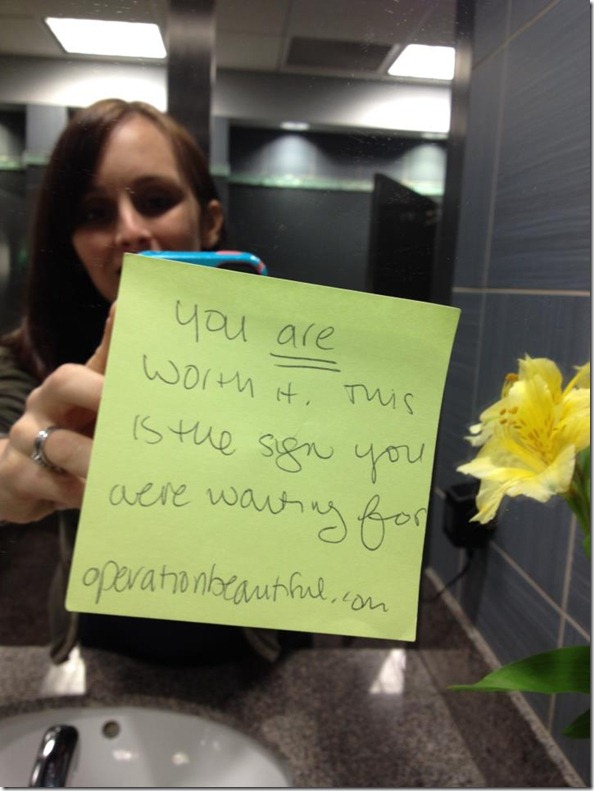 If you post a note, please e-mail a picture of it to OperationBeautiful@gmail.com.  Every note goes up on the site!  And follow us on Twitter and Facebook, too!