When Michelle Obama rolls into town, she arrives in style.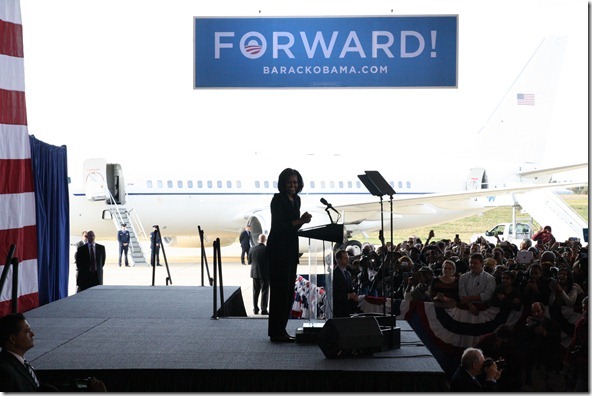 I had such an exciting and unforgettable afternoon.  I snagged a media pass to Michelle Obama's rally, which took place at a hanger at the Charlotte airport.  At first, I was confused that her rally would take place in the airport, and that's when I realized – she was literally going to jump off her plane, run onto the stage to speak, and jump back on.  To the next city!  In fact, I think she hit up three different states today – and that's nothing compared to the whirlwind that Obama and Mitt are experiencing.  I'm tired just thinking about it all.
Healthy Tipping Point certainly isn't a political blog, but I've always admired Mrs. Obama so much.  I think that we can all agree, no matter what our political affiliation, that Michelle is a pretty awesome woman.  She came middle-class beginnings and worked hard to get into Princeton and Harvard.  She was one of the first black lawyers at her law firm.  She's a well-spoken and genuine First Lady who supports military families and spreads awareness about childhood obesity through programs like Let's Move.  And she's a mom to two girls to boot!  Oh, and let's not even talk about those buff arms.  How does she do it all?!  I really can't even imagine.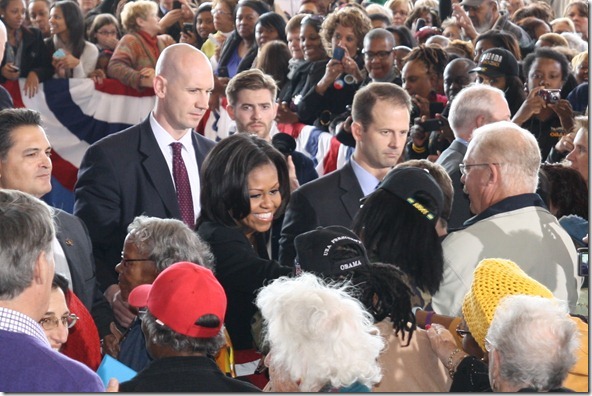 So – here's how the rally went down…
I drove to the airport, parked in the media lot, and checked in.  Check out this fancy pass.  You know I'll be saving this forever.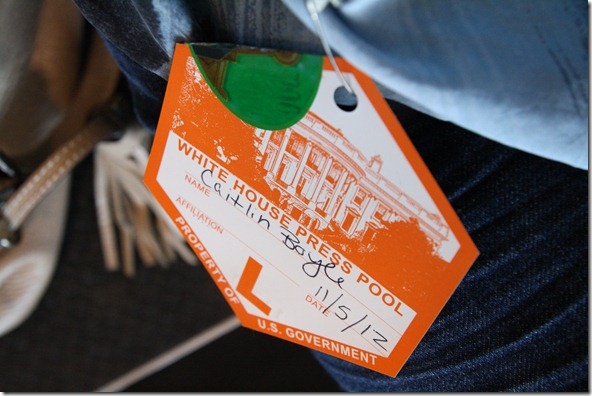 Once I was in the hanger, I scoped out the media area.  There were two risers – one for big cameras and another for people with cameras and notebooks – as well as a bunch of chairs and desks with electrical outlets for laptops.  On my way out, I saw a lot of reporters putting the final touches on their stories and e-mailing them off right then and there!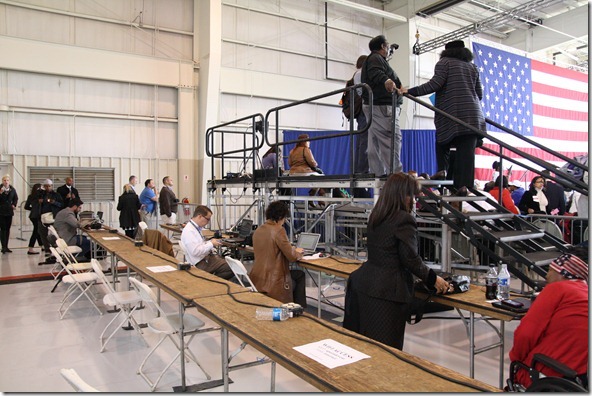 While everyone waited for the First Lady, a few interviews were conducted. I spotted CBS Radio News and my beloved NPR.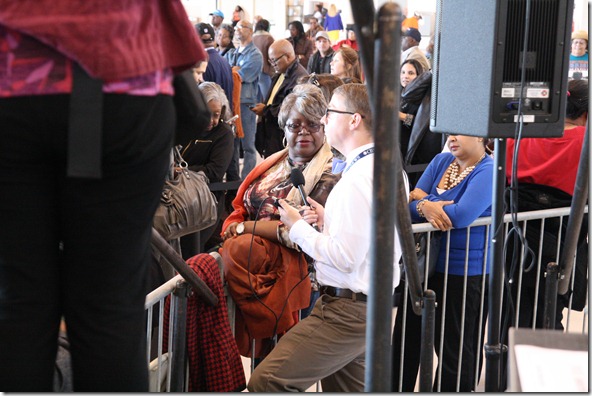 The crowd was enthusiastic and excited.  Everyone sang along to the pop songs playing over the speakers, broke into random chants, and gave each other high fives.  I waited anxiously from one of the risers.  It was pretty cool to be so close.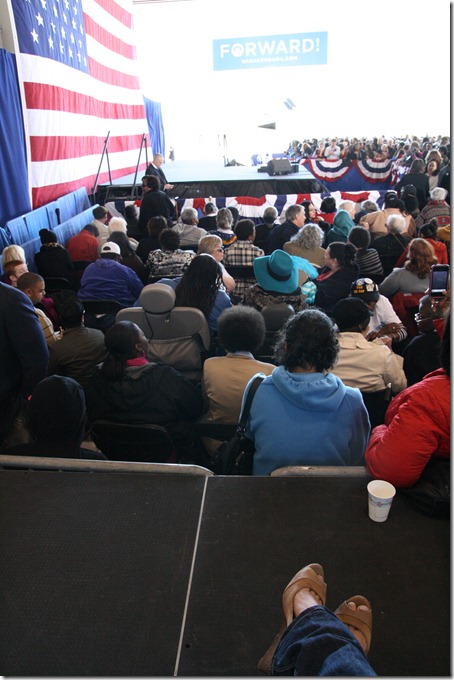 And then the speeches began.  The mayor and our former governor spoke; we heard from a local restaurant owner (300 East, if anyone is curious).  The national anthem was sung and the pledge was – well – pledged.  And then…
Mariah Carey appeared!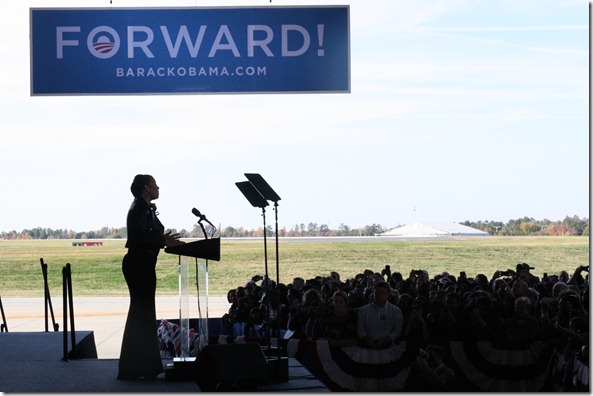 I was so excited that I dropped my iPhone underneath the riser.  Oops.  Thank goodness for a sturdy case.  Mariah didn't sing, but she did reveal that Barack and Michelle were the first people she told that she was pregnant with twins. 
And then, with the roar of jet engine, Michelle arrived.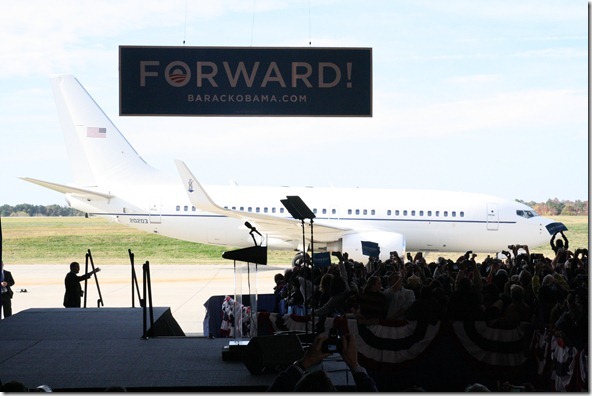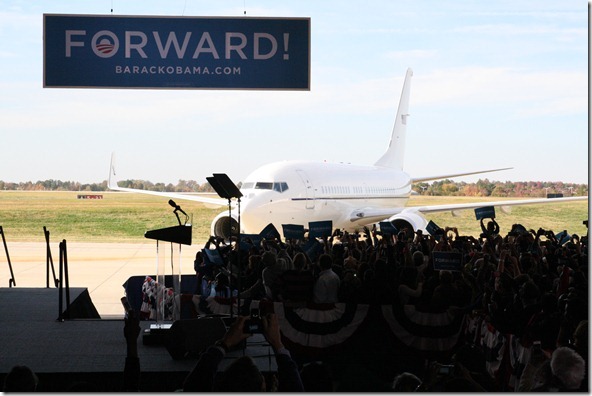 Her speech was fabulous.  It was mostly a "Get Out the Vote" stump speech, but it was so inspiring.  I am not naïve – I realize that so much of politics is just making people believe you care or will actually change things when you don't or can't.  But I really, really believed every word out of Michelle's mouth.   Michelle actually moved me to tears when she said, "When you walk through the door of opportunity, hold it open for someone else.  That's what America is all about."  She is so genuine and really does seem to be invested in our country's future.
She is really good at what she does!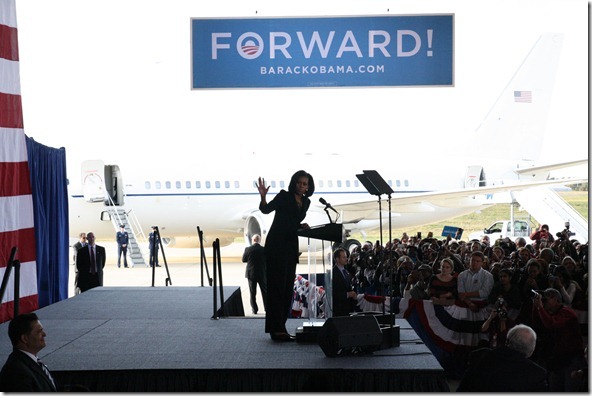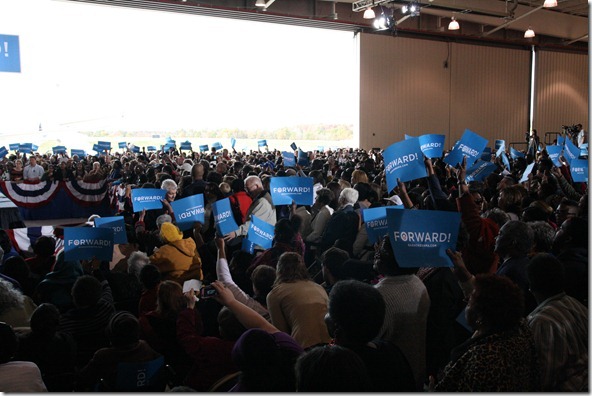 After her speech, she spent about 40 minutes saying hello and shaking hands.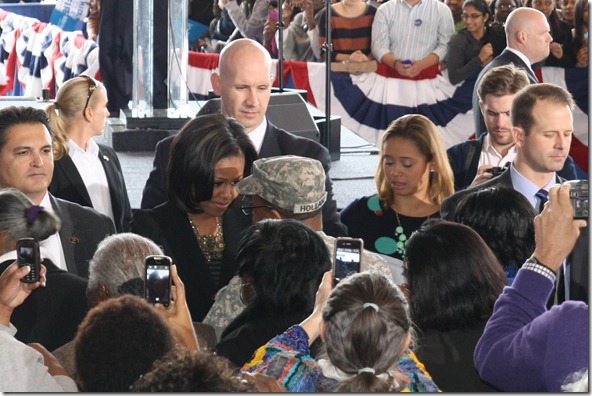 And that was that.
Can you believe tomorrow is Election Day?  I can't!  2008 seemed like it was just yesterday.  Time sure does fly.