Mine is pretty nuts.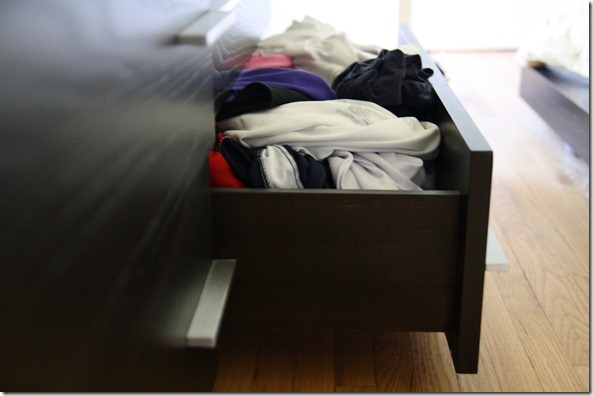 My workout drawer spills over to TWO drawers, and they are positively stuffed.  When I do laundry, I can't completely close the drawers.  Surprisingly, I purchased a very small percentage of my workout gear; most of my stuff are free race shirts, hand-me-downs from friends, and old workout clothes from the 1980s (thanks, Mom).  And, of course, since everything is so disorganized, there's also many socks with no pair, shirts with stains and holes, and shorts that are too-tight, too-shirt, or just too-worn out.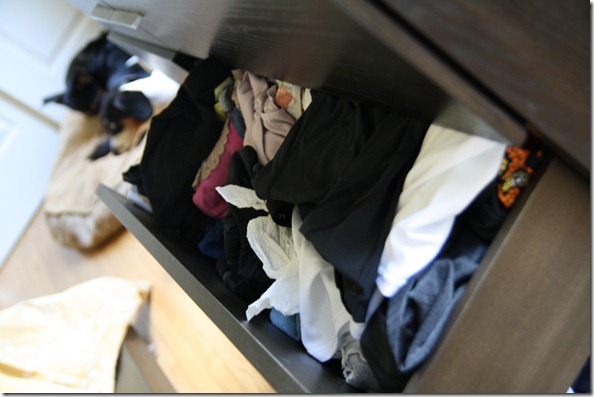 Here's exactly how crazy my workout drawer is was:
Two running skirts
Eight shorts
Three bike shorts
Two bike jerseys
Seven pants, including one pair of fleece tights
Fourteen shirts
Two long-sleeved shirts
Twelve race shirts
Three long-sleeved race shirts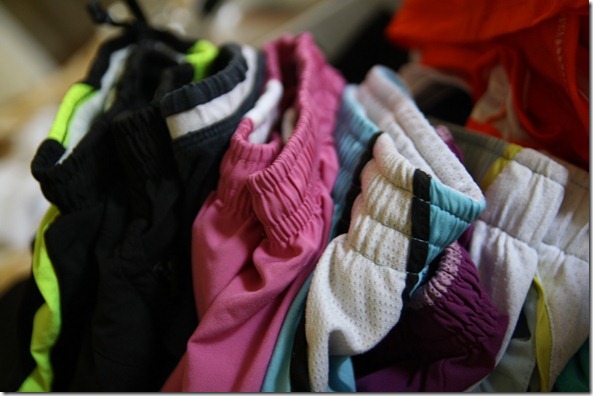 Trust me – I DON'T need all that gear.  I probably wear the same five outfits in rotation (i.e. whatever shirt, short, and pants are on top!).  When I pulled out half of the items, I explained, "Hey! I forgot all about this shirt!"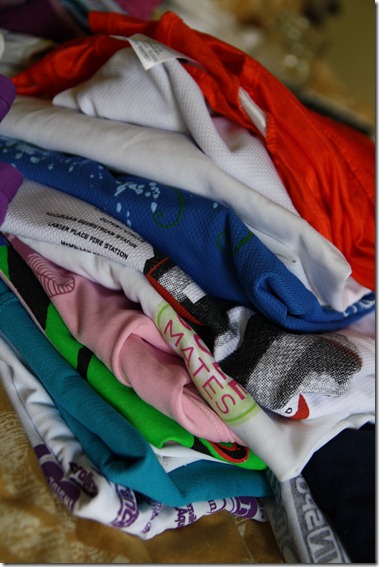 After a callous slash-and-burn, I got rid of at least 1/3 of the gear – I'll admit, I'm pretty attached to many of the race shirts.  Despite being too short, I'd NEVER toss my first half marathon shirt.  I did, however, get rid of nearly everything that was too small.   There's no sense in keeping shorts that I can't get into anymore.
But now I can close the drawers.  And actually find socks with pairs.  It feels pretty good.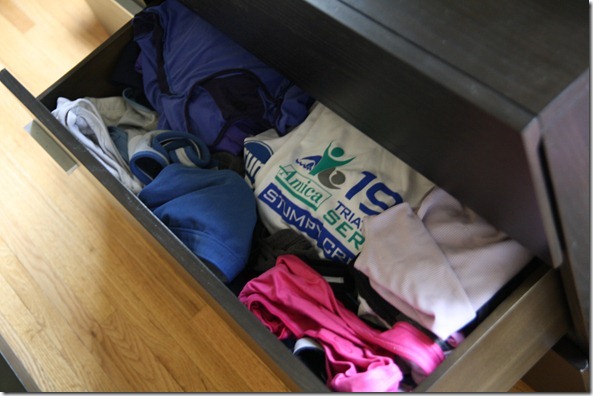 So – are you more organized than I am?  Do you keep race shirts for sentimental purposes?